As hepatitis A outbreak wanes, San Diego County turns focus to the flu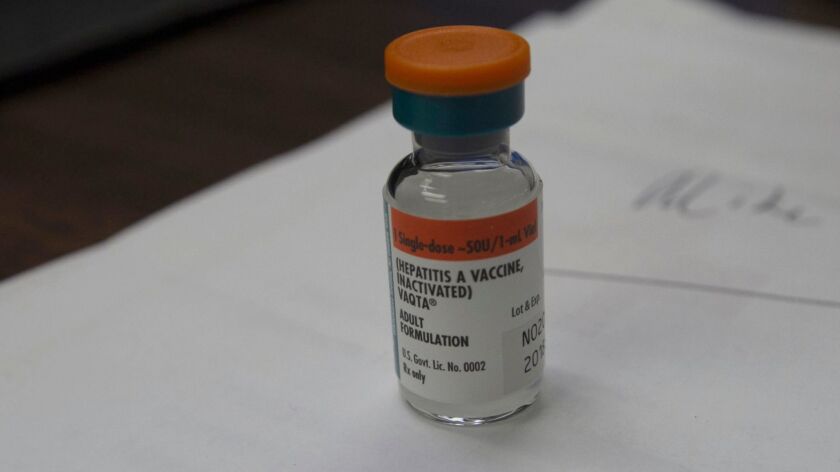 Reporting from San Diego —
San Diego County supervisors voted Tuesday to continue the hepatitis A emergency declared in September, although there were just six new cases added to the outbreak total in the last two weeks and the death total has held at 20 for more than two months.
But they were much more interested in what's going on with the flu, which is nearing epidemic levels throughout the region.
Supervisor Ron Roberts and Chairwoman Dianne Jacob wondered if it was time for a similar public health emergency on influenza, given that the county's most recent report, released Dec. 26, documented 2,227 cases of the flu in a single week.
So far, the current flu season has produced a new-case rate five times higher than the prior three-year average. The eleven deaths reported so far this year eclipse the four reported by the same week last year, according to San Diego County's most recent weekly flu report.
"This seems to be yesterday's news," Roberts said of hepatitis A, "and I'm wondering if maybe we should be thinking about what's going on today?"
"If we are not facing an emergency as a result of the flu epidemic, we may be soon," Jacob said.
The concerns come after the county was criticized in its response to the hepatitis A outbreak. Critics said the county didn't move quickly enough to communicate the situation's urgency after a spike in cases was detected in March. The outbreak went on to become one of the largest of its kind in the nation since the hepatitis A vaccine became available in the late 1990s.
Dr. Nick Yphantides, the county's chief medical officer, noted that most flu years do have a few weeks where a large spike in case volume occurs. But those spikes usually arrive in January or February, not December.
"It's still too early to tell if it's going to be a flu season that outpaces other years, or if we are merely seeing a much earlier spike than we are accustomed to," Yphantides said. "We are not at the point, as of now, that we feel that there is any reason or practical justification for us to declare an emergency."
"If we didn't declare an emergency, I'd like to know what we can be doing, short of that, to see if we could reduce the number of people that are coming down with this," Roberts said.
The health department is due to release its next weekly flu report on Wednesday.
As for hepatitis A, the case total was increased to 577 Tuesday from the 571 reported on Dec. 19. County health officials have said they may lift the emergency declaration by the end of this month.
paul.sisson@sduniontribune.com
Sisson writes for the San Diego Union-Tribune
---
The stories shaping California
Get up to speed with our Essential California newsletter, sent six days a week.
You may occasionally receive promotional content from the Los Angeles Times.