Family of cyclist killed by L.A. sheriff's deputy driving patrol car to be paid $12 million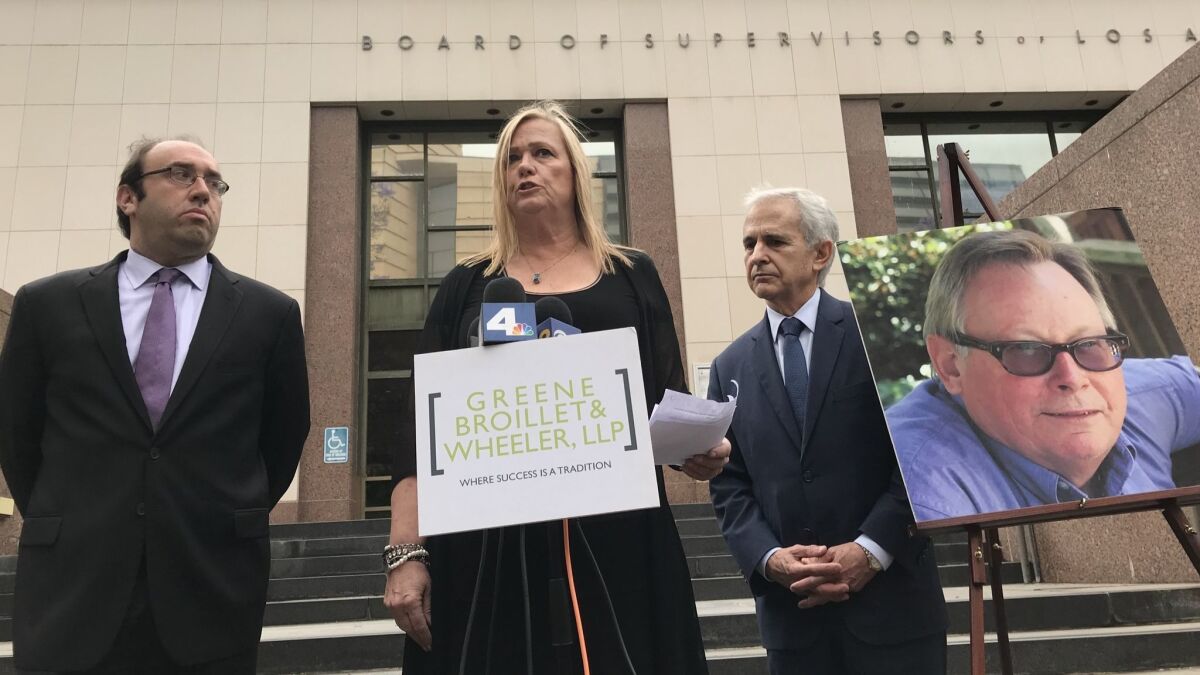 The family of a cyclist struck and killed by a Los Angeles County Sheriff's deputy patrol car will be paid nearly $12 million by the county in a legal settlement announced this week.
Attorneys for the family of Milton Olin Jr. said Wednesday that they uncovered new evidence showing the on-duty deputy was driving on a straight, unobstructed section of the road for 21 seconds before driving into Olin at about 48 miles per hour.
The deputy had plenty of time to see the cyclist but instead sent a personal text message to his wife and typed into his patrol car computer about 15 seconds before the crash, the lawyers claimed.
The legal team is calling on Los Angeles County Dist. Atty. Jackie Lacey to take another look at the case in light of evidence that they believe prosecutors did not obtain, like cellphone records that detail data by the second, not just by the minute.
In 2014, prosecutors said they would not file a manslaughter charge against the deputy, Andrew Francis Wood, noting that although he was not in the middle of an emergency call, police officers are exempted from a state law that bans drivers from using wireless electronic devices.
Prosecutors focused mainly on Wood's use of his patrol car computer, where they found he received a message from a colleague and began typing a response just before the collision. Wood, now 42, had admitted to texting his wife but said it was while he was stopped at a red light, according to a memo by the district attorney's office. Prosecutors concluded the explanation was consistent with cellphone data that recorded minute-by-minute intervals.
The family's attorneys say they obtained more precise cellphone records showing the text was sent while Wood was driving.
Greg Risling, a spokesman for the district attorney's office, said his agency has not been contacted by attorneys for the victim's family, but that it would review any new information objectively.
Olin, a former Napster executive and entertainment attorney, was on a regular Sunday afternoon bike ride in Calabasas, wearing a red helmet, when he was struck from behind by Wood's patrol car just after 1 p.m. on Dec. 8, 2013. Olin, 65, was pronounced dead at the scene.
His family's attorney, Bruce Broillet, said it was sunny out when Olin was riding in a bike lane on a straight section of Mulholland Highway, in clear view of drivers.
The deputy, who was visibly upset after the crash, told investigators he did not see Olin and that the cyclist "swerved" into his lane, according to the prosecutors' memo. But investigators found the deputy's patrol car crossed into the bike lane, the document says.
"He may as well have been blindfolded," said Louise Olin, the deceased man's wife, at a news conference Wednesday. She created the Milt Olin Foundation and an initiative called Stop Wrex to educate people about the dangers of distracted driving.
Louise Olin said her husband, a Vietnam veteran, was a full-time lawyer in private practice at the time of his death and also left behind two adult sons.
"Nothing has been the same without him, holidays or birthdays. They were so much fun with Milt. Now we just do our best," she said.
A statement sent by Sheriff's Department spokeswoman Nicole Nishida said the incident revealed the need for better training and policies regarding deputies' use of communication devices. New department rules say that while driving, deputies should use radio as the primary communication method and should only use the patrol car computer during emergencies or in a limited number of other scenarios.
A county document explaining the settlement says the deputy was found to have violated Sheriff's Department policy. Nishida said the department took "appropriate administrative action" but would not comment directly about whether Wood was punished.
Wood, who is still a deputy, is now assigned to court services, Nishida said.
Twitter: @mayalau
---
UPDATES:
4:35 p.m.: This article was updated with a statement from the district attorney's office.
4 p.m.: This article was updated with information from the Sheriff's Department about new policies created after the cyclist was killed by a deputy patrol car.
This article was first published at 3:40 p.m.
The stories shaping California
Get up to speed with our Essential California newsletter, sent six days a week.
You may occasionally receive promotional content from the Los Angeles Times.