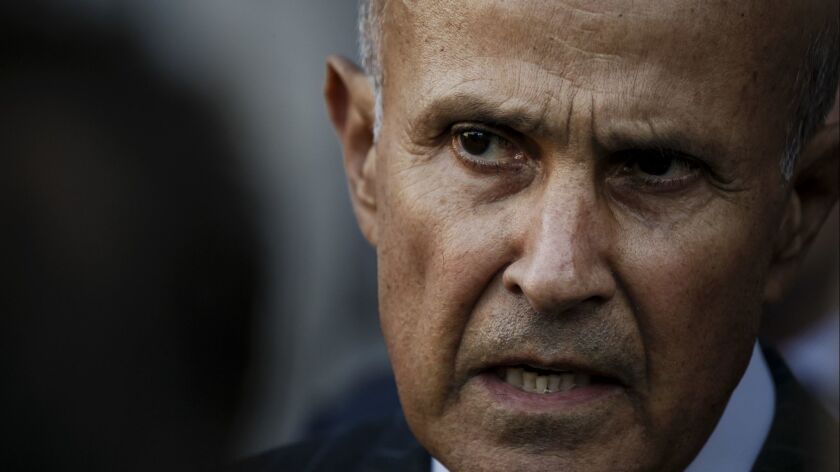 An appeals court will not reconsider its decision to uphold the conviction of former Los Angeles County Sheriff Lee Baca, all but extinguishing the chances the once-towering law enforcement figure had to avoid prison.
Baca, 76, who has been diagnosed with Alzheimer's disease, was sentenced in 2017 to three years behind bars after a jury found he oversaw a plan to interfere with an FBI investigation into abuses in county jails and later lied to prosecutors about his role.
This year, a panel of judges from the 9th Circuit Court of Appeals ruled the conviction was fair and legally sound, rejecting claims by Baca's lawyers that decisions by the judge in the case had prejudiced the jury against the former sheriff.
On Friday, the panel issued an order denying Baca's requests for another hearing or a new hearing in front of the entire 9th Circuit.
The decision leaves the U.S. Supreme Court as Baca's only remaining chance for a reprieve. If he does ask the nation's high court to review his case, it is exceedingly unlikely it will do so. The court's justices agree to hear just a small fraction of the thousands of cases they review each year.
Baca's attorney, Nathan Hochman, indicated that he does in fact plan to petition the Supreme Court, saying in a statement that he believes the government's case against Baca was "fundamentally flawed."
"Mr. Baca will continue to seek justice and avail himself of all legal avenues to do so," Hochman said.
Baca has been allowed to remain free throughout the appeals process, and it was not immediately clear whether the 9th Circuit would permit that to continue. The court could now clear the way for U.S. District Judge Percy Anderson, who sentenced Baca, to set a date when he must begin serving his sentence.
During his 14 years heading one of the nation's largest police agencies, Baca established himself as a prominent, if eccentric, voice in law enforcement who pushed progressive ideals on policing but struggled to put thoughts into action and failed to keep many of the department's deep-seated problems from worsening on his watch.
Baca stepped down in 2014 amid increasing controversy and later was indicted on charges stemming from the plot to thwart the FBI investigation into abuses by deputies working in the county's jails. He was the last in a group of Sheriff's Department deputies and commanders to be accused of playing a role in the 2011 scandal, which involved hiding an inmate who was an FBI informant and threatening to arrest the agent who was leading the investigation. All 10 of the people who faced charges in the case either pleaded guilty or were convicted.
Baca initially tried to plead guilty in a deal with prosecutors, but Anderson rejected it as too lenient and signaled he would impose a stiffer prison sentence than what was called for in the agreement. Baca nearly won an acquittal when all but one member of a jury wanted to find him not guilty. With the lone juror unwilling to budge, Anderson declared a mistrial.
For the second trial, however, prosecutors revamped their case, and Anderson issued a string of rulings that hamstrung the defense. He ruled that a respected geriatrician would not be allowed to testify that Baca's memory could already have been affected by Alzheimer's in 2013, when he made false statements about the obstruction scheme in an interview with prosecutors.
When the case was heard by the appeals court in November, an attorney for Baca argued Anderson's ruling had denied the former sheriff a crucial line of defense. The judges appeared skeptical, asking why Baca's lawyer at trial hadn't tried a different tack that would have informed the jury of the Alzheimer's diagnosis without relying on the doctor's testimony.
A prosecutor from the U.S. attorney's office told the judges Anderson was right to block the testimony, saying it would have been speculative and risked "a verdict based on sympathy instead of evidence."
In their ruling, the judges dispatched the Alzheimer's argument in short order. Agreeing with the government that the doctor's testimony would have been rooted in conjecture and possibly confusing to the jury, the judges found "the district court did not abuse its discretion."
They also rejected a claim by Baca's legal team that Anderson had been wrong to rule that Baca's comment to a senior aide who cautioned him not to interfere with the federal investigation was hearsay and would not be heard by the jury.
Baca's response to the aide — that he believed that FBI agents were violating state laws and needed to be stopped — was evidence that the former sheriff did not have "corrupt intent" to obstruct the investigation and should have been heard, Baca's lawyers argued.
The panel of judges found that Hochman had failed to raise the issue with Anderson during the trial, but concluded nonetheless that Baca's rights had not been infringed because the jury had heard of other instances in which the former sheriff had expressed this belief.
Twitter: @joelrubin
---