Ex-L.A. County Sheriff Lee Baca sentenced to three years in prison in jail corruption scandal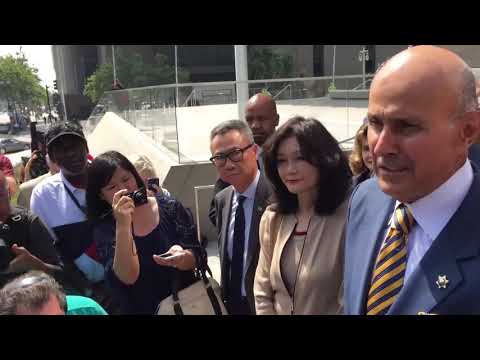 Former Los Angeles County Sheriff Lee Baca has been sentenced to three years in prison, marking an end to a corruption scandal that has roiled the Sheriff's Department for several years.
Former Los Angeles County Sheriff Lee Baca, once a towering, respected figure in policing, was sentenced Friday to three years in federal prison for his role in a scheme to obstruct an FBI investigation of abuses in county jails, marking an end to a corruption scandal that has roiled the Sheriff's Department for several years.
U.S. District Judge Percy Anderson announced Baca's fate in a downtown courtroom filled with loyal supporters on one side and the FBI agents and prosecutors who ensnared him on the other. Baca, 74 and suffering from the early stages of Alzheimer's disease, showed no emotion as the decision was read.
Before issuing the sentence, Anderson, who has dealt unsparingly with the former sheriff throughout his legal battle and last year threw out a plea deal that would have sent Baca to prison for no more than six months, unleashed a scathing rebuke of the man who ran one of the nation's largest law enforcement agencies for 15 years.
Excoriating Baca's refusal to accept responsibility for having overseen and condoned the obstruction ploy carried out by subordinates, the judge portrayed him as a man driven by his desire to protect his own reputation and maintain control over the Sheriff's Department.
"Your actions embarrass the thousands of men and women [in the department] who put their lives on the line every day," Anderson said to Baca. "They were a gross abuse of the trust the public placed in you."
The prison term, Anderson added, should serve as a deterrent to other public servants. "Blind obedience to a corrupt culture has serious consequences," he said. "No person, no matter how powerful, no matter his or her title, is above the law."
Baca was ordered to surrender to federal prison officials by July 25. Although he is expected to ask to remain free on bail while he pursues an appeal, it is an open question whether he will be allowed to do so. Anderson denied the same request from Baca's second in command, former Undersheriff Paul Tanaka, who was forced to begin his five-year sentence.
No decision has been made on where Baca will serve his sentence. His defense attorney requested that he be assigned to a camp in Taft, Calif., or barring that, a camp in Oregon. After serving his time behind bars, Baca must also spend a year under supervised release. He was also fined $7,500.
In going after Baca, a team of prosecutors headed by Assistant U.S. Atty. Brandon Fox meticulously worked its way up the department's ranks, charging lower-level figures and members of Baca's command staff before bringing charges of obstruction of justice, conspiracy and lying against the sheriff himself.
He is the ninth person to be convicted and sentenced to prison as part of what Fox convinced several juries was a cunning conspiracy to interfere with FBI agents as they worked to gather evidence for a grand jury investigation into allegations of widespread abuse by deputies working in county jails run by the sheriff's department.
A 10th conspirator, former sheriff's Capt. William "Tom" Carey, pleaded guilty in a deal with prosecutors and testified against Baca. Carey is scheduled to be sentenced later this month. Several other deputies were convicted in a series of trials for beating inmates or helping to cover up the abuse.
The obstruction plan played out over six weeks in August and September 2011, after sheriff's officials discovered FBI agents had used a corrupt deputy to smuggle a cellphone to a jail inmate who was working as an informant.
The audacious move was part of an investigation opened the year before into the Men's Central Jail, the main facility in the county's enormous detention system. For years, the Sheriff's Department had been dogged by reports of a place run amok, in which deputies routinely beat inmates without provocation and covered up the abuse, often with the knowledge of supervisors. Other corruption, including deputies who took bribes to bring contraband in to inmates, was said to be rampant as well.
Prosecutors argued that word of the smuggled phone and the FBI investigation angered Baca and Tanaka, who viewed it as an unwarranted incursion into their territory by an outside agency.
With Baca's knowledge and, at times, his involvement, Tanaka oversaw a group of deputies and mid-level commanders who worked to derail the FBI investigation. They moved the informant under fake names to conceal his whereabouts from his handlers, pressured deputies and the informant not to cooperate with federal authorities and brazenly tried to intimidate the lead FBI agent on the case by threatening her with arrest.
Anderson on Friday checked off examples of Baca's complicity in the scheme, recalling testimony that Baca signed off on the idea of threatening the agent with arrest by telling deputies they could "do everything but put handcuffs her." His greatest failure, the judge said, was eagerly promoting Tanaka through the ranks until he was running the department's day-to-day operations.
"Rather than fulfill his sworn duty to uphold the law and protect the public, Lee Baca made a decision to protect what he viewed as his empire, and then he took actions in an effort to simply protect himself," said acting U.S. Atty. Sandra R. Brown. "He wore the badge, but ultimately, he failed the department and the public's trust."
Baca's attorney, Nathan Hochman, nearly won Baca an acquittal at a trial late last year by hammering the government for the scarcity of hard evidence tying Baca directly to the obstruction plan. That proceeding ended in a mistrial when the jury deadlocked with all but one juror voting to acquit Baca.
For the second trial, however, Fox revamped his case and Anderson issued a string of rulings that hamstrung Hochman. All along, Hochman argued that while Baca was upset by the FBI investigation, he never authorized anything illegal. Tanaka, he said, was the ringleader who carried out the obstruction without Baca's knowledge.
In giving Baca three years in prison, Anderson struck a middle ground of sorts.
Federal sentencing guidelines called for a term of 41 to 51 months. Under normal circumstances, the government would have urged Anderson to come down within that range, Fox wrote in court filings.
But Baca's age, his diagnosis last year with Alzheimer's and medical experts' expectation that his mind will have deteriorated badly within a few years were legitimate mitigating factors in determining his punishment, Fox said.
"The interests of justice will not be served by defendant spending many years behind bars in a severely impaired state," the prosecutor wrote. He recommended that Baca be sentenced to two years in prison.
Hochman, meanwhile, urged Anderson in court papers and again on Friday to spare Baca any time in prison, saying he should instead be confined to his home for a period of time and perform community service. In a lengthy last-ditch bid for leniency, Hochman reviewed Baca's nearly five decades of service in the sheriff's department, saying he served "with distinction and honor."
The true measure of the man, Hochman insisted, was seen in the the education programs he started as sheriff for inmates and at-risk youth. Hochman submitted to Anderson letters from a few hundred of Baca's supporters, including former Gov. Arnold Schwarzenegger and several local religious leaders.
The inevitable toll from Alzheimer's was another reason to spare him prison, Hochman said.
"This diagnosis is a sentence of its own. It is a sentence that will leave him a mere shell of his former self and one that will rob him of the memories of his life," he wrote in a court filing.
Anderson rejected out of hand the idea that Baca should avoid time in prison. He acknowledged Baca's lengthy record as a public servant, but said it made his crimes more perplexing.
"Mr. Baca's criminal conduct is so at odds with the public image he carefully crafted," Anderson said. Like old B-movies, "you seem to have your own version of the good cop/bad cop routine … that allowed you to keep your hands clean but did not make you any less culpable."
While the two-year sentence suggested by the government was not enough in Anderson's eyes, the judge said he did take Baca's failing health and career into account. Absent those factors, he said he would have imposed on Baca the same five-year sentence he gave Tanaka.
The sentence deepens the stain already imprinted on Baca's legacy and the reputation he enjoyed as one of the nation's most visible and respected reformers in law enforcement. While quirky to the point of being enigmatic, Baca was seen as a champion of progressive ideas, including the need for police to build strong ties to minority communities. He stepped down in 2014 with the department engulfed in the jail scandal.
"When I stand tall, I stand right with what I think is right," Baca said in his trademark elliptical style following the hearing. "There is right and wrong, that I'm clear with. Final comment, I will never accept a cellphone in a county jail, given to a career criminal. I don't care who puts it in."
Follow @joelrubin on Twitter
Times staff writer Victoria Kim contributed to this report.
ALSO
Man shot to death outside restaurant in Orange
After 27 years of hoping, a family's worst fear is confirmed
LAX begins massive relocation of 15 airlines in the central terminal area
---
UPDATES:
2:10 p.m.: This article was updated with additional details from the sentencing hearing and comments from Judge Perry Anderson, former Sheriff Lee Baca, his defense attorney and prosecutors.
10:50 a.m.: This article was updated with additional information about Baca's sentence and comments from Anderson.
This article was originally published at 10:05 a.m.
Sign up for Essential California for news, features and recommendations from the L.A. Times and beyond in your inbox six days a week.
You may occasionally receive promotional content from the Los Angeles Times.