Deputies' union asks L.A. County sheriff to publish additional data on use of force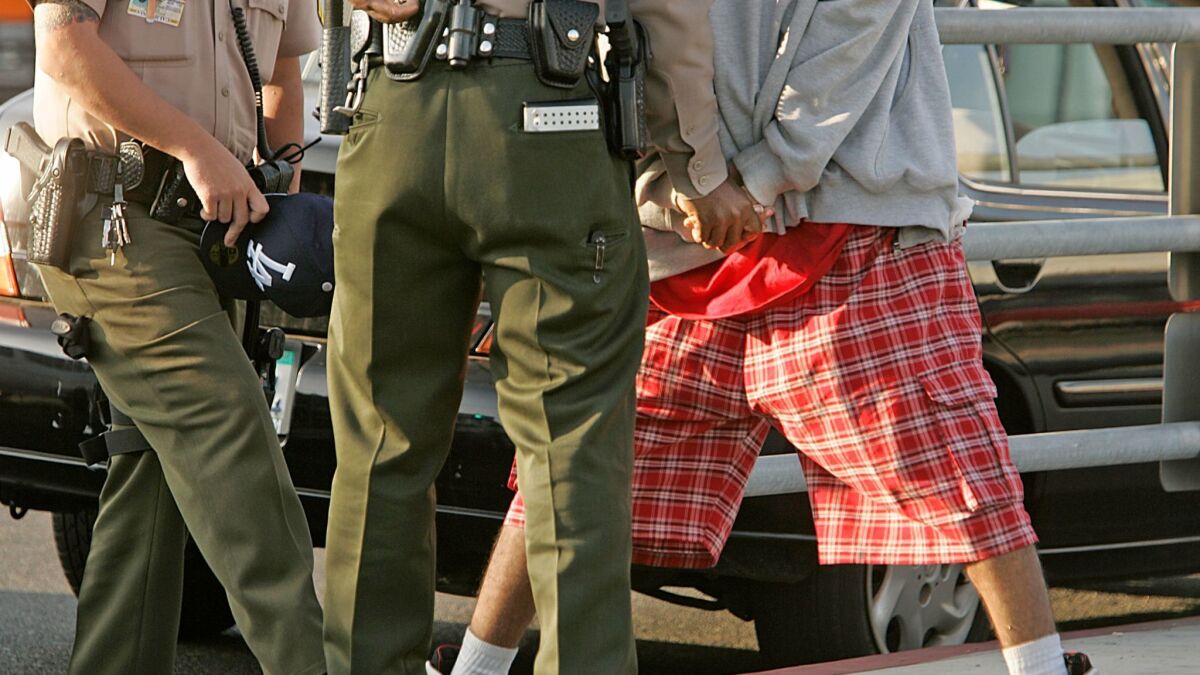 After an oversight group pushed the Los Angeles County Sheriff's Department last week to be more transparent about how often deputies use force and how often they're punished, the union representing rank-and-file deputies says it wants the department to go even further.
In a letter sent Tuesday to Sheriff Jim McDonnell, the Assn. for Los Angeles Deputy Sheriffs says the department should reveal how many times deputies could have lawfully used force but refrained from doing so, as well as how many times deputies are assaulted or handle suspects who resist arrest or disobey orders.
The additional data would give "proper context" for deputies' use of force, ALADS President Det. Ron Hernandez wrote in the letter, which was copied to the Sheriff Civilian Oversight Commission and the Los Angeles County Board of Supervisors.
"Certainly, deputies prefer to resolve incidents without the use of force," Hernandez wrote, adding that the additional data would help capture the "numerous times" deputies are able to de-escalate situations.
The letter marked somewhat of a shift in tactics by the deputies' union, which last year asked the department to take down information from its website that revealed whether shootings by deputies were within department policy or not. After the union objected in a letter to the department, citing concerns over officer privacy, the department removed the information from the site.
"I think we're in a new era, and I think that's good," said Lael Rubin, a former prosecutor who serves on the Civilian Oversight Commission. "I support any amount of transparency."
Rubin and the eight other commissioners voted unanimously last week to ask the department to publish more statistics on its website regarding force, deputy discipline and civilian complaints.
"If ALADS embraces transparency and wants to disclose more information, I wouldn't have a problem with that at all," said commissioner Hernán Vera, who is an attorney at the firm Bird Marella. "The more information the better."
Department spokesman Capt. Darren Harris would not confirm whether the agency would adopt the union's suggestions. In a statement, Harris said providing the data would require resources that "come at a cost" but that the department would work with "all those who share the vision of establishing complete transparency."
Max Huntsman, the department's inspector general, said he supported sharing more information but noted that some of the data requested by the union might be difficult to collect. Determining whether a deputy could have used force but avoided doing so is somewhat subjective and isn't a type of data that's being tallied across the department, he said.
Huntsman has been calling on the department to publish more statistics on force, shootings by deputies, discipline, and civilian complaints since 2014. The department complied with some of his requests regarding shootings by deputies. But at a Civilian Oversight Commission meeting last month, Huntsman said that he was being "slow-walked" by department officials who'd assured him they would carry out the remainder of his recommendations.
His comments prompted the commission to adopt the resolution last week that urges the department to be more transparent.
Twitter: @mayalau
MORE LOCAL NEWS
Oklahoma man found mentally incompetent to stand trial in slayings of Long Beach mother, 4-year-old girl
How a rare DNA match cracked open a cold case of two young women dumped on L.A. freeways
We're in an opioid epidemic that's killing people. Why does a state senator want to make it harder to catch bad doctors?
---
The stories shaping California
Get up to speed with our Essential California newsletter, sent six days a week.
You may occasionally receive promotional content from the Los Angeles Times.