Watchdog group wants Sheriff Alex Villanueva to further separate his department from ICE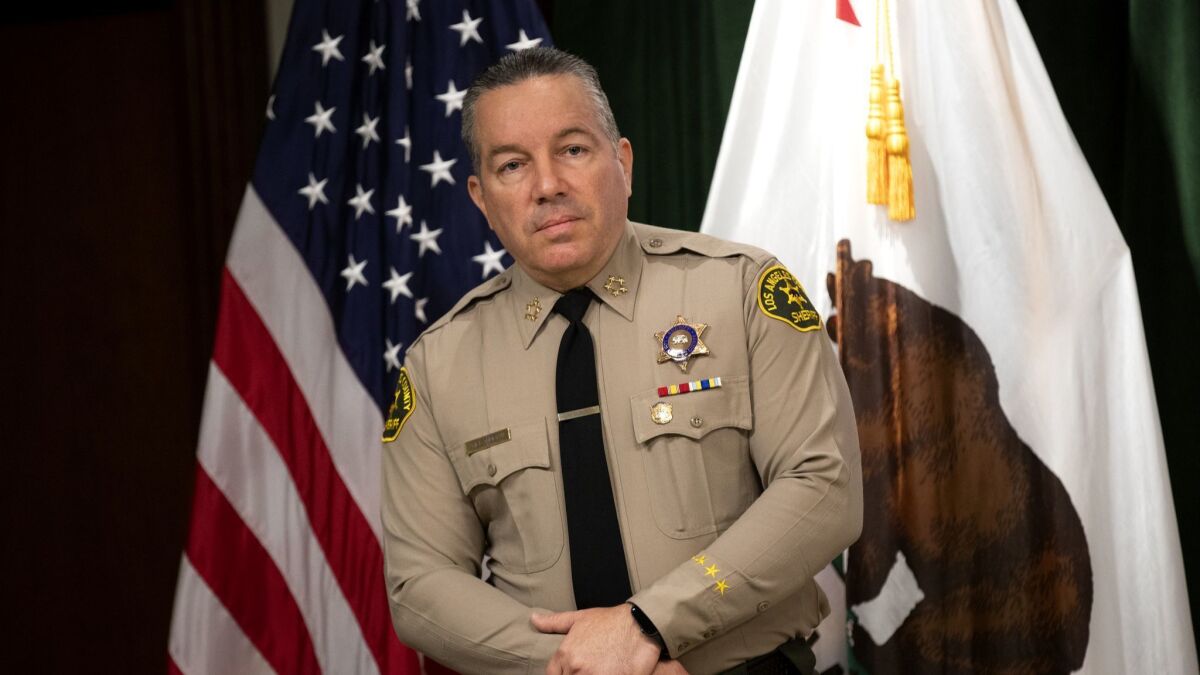 A watchdog group voted Tuesday to urge Los Angeles County Sheriff Alex Villanueva to do more to distance his department from the work of U.S. Immigration and Customs Enforcement, saying the sheriff's policies still allow for federal immigration contractors to take custody of inmates from inside the county jails.
In February, Villanueva began blocking ICE agents from accessing the secure parts of the county courthouses, Sheriff's Department stations and county jails for the purposes of civil immigration matters and removed some of the criteria that would qualify a convicted inmate for transfer to ICE custody. He has also barred ICE from conducting interviews with inmates regarding their immigration status.
Villanueva's promise to kick ICE agents out of the jails was central to his campaign to unseat former Sheriff Jim McDonnell last fall.
But a majority of members of the Sheriff Civilian Oversight Commission said Villanueva's moves do not go far enough to separate his department from ICE and build community trust. Their recommendations — a version of which were initially proposed last year under McDonnell — say that Villanueva should stop allowing his employees to screen requests by ICE to take custody of inmates for civil immigration violations and should not let transport officers that contract with ICE to set foot inside secure department facilities.
"Our recommendations are needed more than ever to send a message to the community that you can trust your L.A. Sheriff's Department. Report crimes. Report them, report them, report them," said Hernan Vera, a commission member who served as chair of the committee that wrote the report approved Tuesday.
Vera, a business litigator, cited data from various news articles that indicated that since 2017, Latinos across the country have been reporting fewer crimes to local police due to fears about federal immigration enforcement by the Trump administration.
Villanueva said he will consider the recommendations and will include commission members in further conversations on the topic, but he stated that he has already made big strides in limiting ICE's role in the jails. He said some transfers to ICE are still necessary for public safety, as allowed by law.
"These are convicted felons who pose a threat to the community. Nobody even in the undocumented population would want them as their neighbor. In fact, neither would you," he said.
Under Villanueva's policies, Sheriff's Department custody assistants screen requests from ICE to evaluate whether an inmate has been convicted of a crime serious or violent enough to qualify for transfer to ICE, as allowed by Senate Bill 54, California's "sanctuary state" law.
Qualified inmates are handed over to transport officers hired by ICE who are allowed inside the secure area of the Inmate Reception Center, the downtown jail that processes the majority of bookings and releases for the county's vast system of lockups.
The oversight commission's report says these practices aren't required by law and could still result in inmates who have already served their time for criminal convictions to be deported for civil immigration violations.
The commissioners also noted that the Sheriff's Department spends $106,000 a year on each of the 13 custody assistants hired to screen ICE requests, at a total annual cost of $1.4 million that commissioners say could be diverted to other causes.
During Tuesday's meeting, several members of the public applauded the recommendations, including Kent Mendoza, who said he was in the U.S. illegally when he was transferred to ICE custody while being held in the L.A. County Jail. He now serves as policy coordinator for the Anti-Recidivism Coalition and has since gained legal status and had his record expunged, he said.
"I really believe that we shouldn't be making it harder for this population that's already dealing with many barriers as immigrants in this country by continuing to dehumanize them, by calling them illegal aliens, by excluding them from having rights within the county jail," Mendoza said.
The meeting briefly erupted into a shouting match when one attendee, who said the recommendations would undermine public safety, made remarks toward people in the room that some commission members found to be inflammatory. The attendee was temporarily ejected.
The commission's recommendations were approved by five members, with one abstention and three members absent.
Commission member Robert Bonner, a former administrator of the Drug Enforcement Administration, has raised concerns in the last several months that the recommendations would erode public safety by allowing people convicted of offenses including child sex abuse, rape and kidnapping to remain in the community. Bonner did not attend the meeting.
Vera said people convicted of the most serious crimes including sexual assault and murder have accounted for a very small percentage of those transferred to ICE.
Twitter: @mayalau
The stories shaping California
Get up to speed with our Essential California newsletter, sent six days a week.
You may occasionally receive promotional content from the Los Angeles Times.