Watchdog group wants L.A. County Sheriff's Department to stop giving ICE access to jails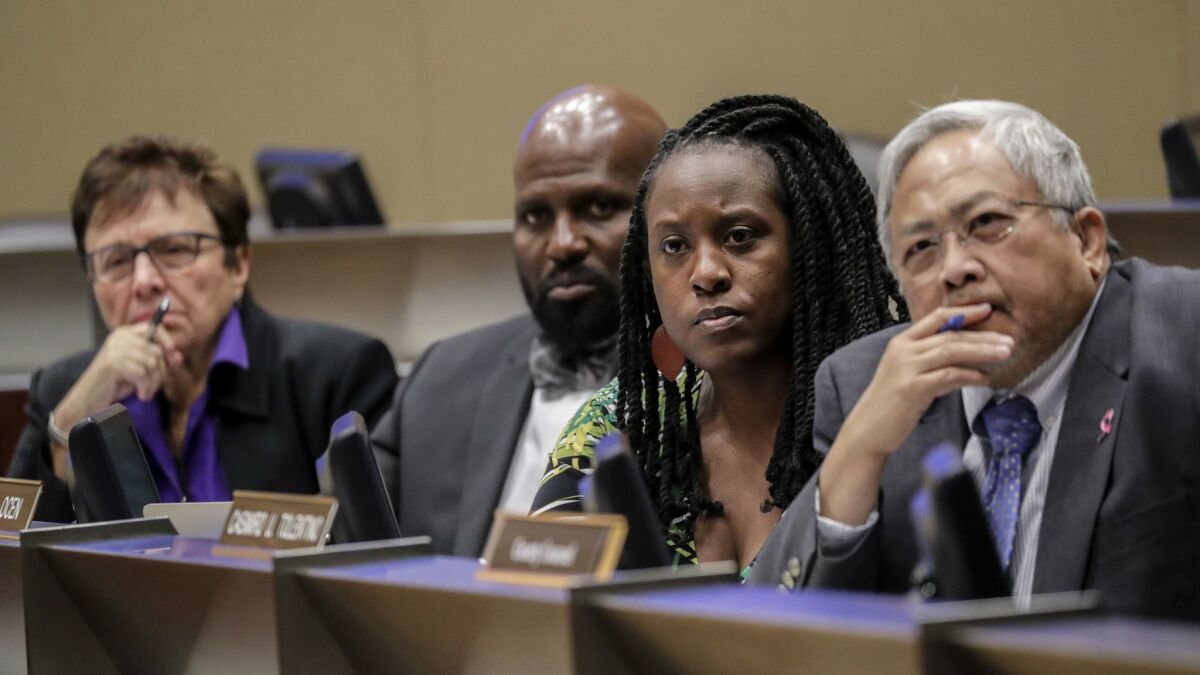 Members of a watchdog group signaled on Thursday they want the Los Angeles County Sheriff's Department to take more powerful steps to distance itself from the work of federal immigration enforcement agents.
A series of preliminary recommendations by the Sheriff Civilian Oversight Commission called for the department to bar jail access to U.S. Immigration and Customs Enforcement officials and stop honoring ICE's requests to detain inmates, except when required by law.
Last year, 1,223 inmates released from the Los Angeles County jail system were transferred to ICE custody, according to the sheriff's inspector general. The department spends an estimated $1.4 million a year on administrative expenses to evaluate ICE detainer requests, an amount that could instead be diverted to other projects, some members of the panel argued.
The recommendations, if adopted, would represent a hard-line stance against immigration enforcement in the spirit of "sanctuary" policies that gained momentum as a reaction against the immigration crackdown under the Trump administration.
The Sheriff's Department has been allowing ICE to use office space inside the jails and gives ICE access to inmates who have been convicted of serious or violent crimes, as allowed by Senate Bill 54, California's "sanctuary state" law.
Sheriff Jim McDonnell has said that shutting out ICE could prompt the immigration agents to wait in the lobby, which could have a "chilling effect" on people and their families.
Deputies are prohibited from asking people about their immigration status and do not participate in immigration raids, McDonnell has said.
Nicole Nishida, a department spokeswoman, did not immediately provide a response to the commission's proposals Thursday evening.
Some members of the oversight commission want the access given to ICE, which is voluntary, to stop.
"When the 18,000 men and women from the Sheriff's Department come into work, the people should know that they're working for them only, and not for Immigration and Customs Enforcement," said commissioner Hernán Vera, a business litigator, who added he was speaking for himself and not the group.
But one member expressed concerns that the proposals could undermine public safety.
"The reality is we are putting people that have been convicted of robbery, burglary, and so forth, who are illegally in the United States, back in these communities. What's the impact there?" said commissioner Robert Bonner, a former federal judge.
Bonner said if the department doesn't comply with ICE detainers, it may leave immigration agents with no choice but to conduct more enforcement in places where people live and work, subjecting officers and residents to greater risk.
Vera dismissed those arguments as scare tactics, saying there's little evidence ICE would continue to pursue all of the people they request to detain in jail.
Phal Sok, a member of the Youth Justice Coalition, a group that advocates for prison and police reform, said targeting felons who are in the country illegally is unjust since those people have already served their time.
Sok, a Cambodian refugee who served 15 years in prison for armed robbery but was recently pardoned by Gov. Jerry Brown, said he's been picked up by ICE before. He now works as an educator and criminal justice reform advocate.
"People like me, out here doing great things, shouldn't be expendable," he said.
The debate over the Sheriff's Department's relationship to ICE has been a feature in the still-undecided sheriff's election, with McDonnell's challenger, Alex Villanueva, garnering support for promising to kick immigration agents out of the jails.
Villanueva, a retired sheriff's lieutenant who is ahead of McDonnell by 22,000 votes, has also said he would "march [inmates] out ... and give them to ICE" in a courtyard adjacent to the jail. Some have interpreted that stance as signaling a closer cooperation with ICE.
The oversight commission's proposals are not final and will be revisited at the January meeting.
Twitter: @mayalau
---
The stories shaping California
Get up to speed with our Essential California newsletter, sent six days a week.
You may occasionally receive promotional content from the Los Angeles Times.