California adopts new wetlands rules to protect them from Trump rollbacks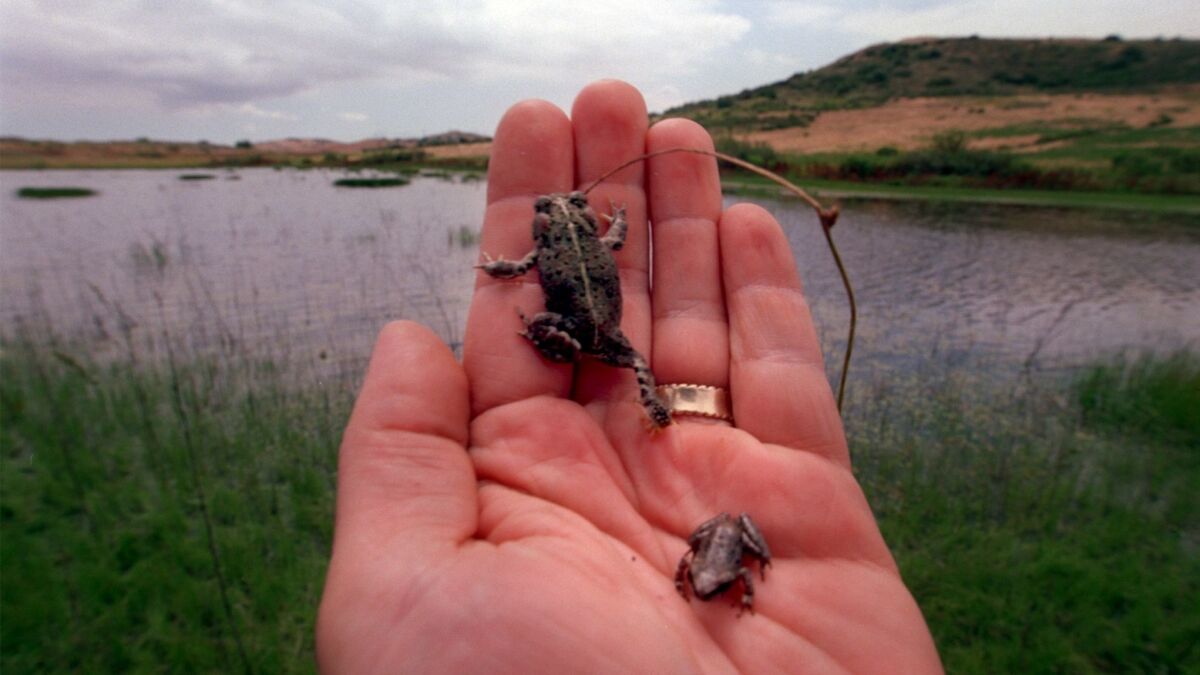 California regulators voted Tuesday to strengthen state safeguards for thousands of wetlands and streams that are about to lose federal protections in a Trump administration rollback of the Clean Water Act.
Nearly 90% of California's historic wetlands have been filled in or plowed under, and the state has said it is vital to preserve what remains.
The new state rules will insulate California from Washington's efforts to drop regulations that prevent the destruction of isolated wetlands and seasonal streams.
The looming federal rollback increased pressure on the State Water Resources Control Board to adopt protections that have been under consideration for more than a decade, ever since a series of U.S. Supreme Court rulings left authorities confused about which waters are covered by the federal law.
In December, the U.S. Environmental Protection Agency launched the formal process of repealing Obama-administration-era regulations that broadened the Clean Water Act's coverage of wetlands and seasonal bodies of water that are common in California and the arid West.
The extent of federal wetlands protections has long been a subject of legal and political dispute. Farmers, the building industry and mining interests have filed lawsuits and lobbied Washington to rein in the rules, arguing that they cover marginal waters and reach far beyond the law's original intent.
The Clean Water Act allows states to adopt pollution standards that are more stringent than what the federal government requires, and under state water law California has always had the authority to restrict wetlands development. But regional water boards have exercised that authority unevenly.
The rules adopted Tuesday set statewide standards and define what constitutes a wetland, boosting safeguards for streams and isolated wetlands that are not wet the entire year but still provide valuable ecological services and contribute to river headwaters.
Farm groups objected to the new state criteria because they are broader than the federal definition. They also complained about the cost and amount of time required to comply with the regulations.
Environmental groups, on the other hand, complained that the rules contained too many exemptions and did not ensure the state wouldn't lose any additional wetlands.
In the end, speakers on both sides of the issue told the board Tuesday that they had compromised and were willing to support the new rules.
Kim Delfino, California director for Defenders of Wildlife, said it gave her and her colleagues at the conservation group "heartburn" to support protections that are weaker than environmentalists' have long sought.
"That said," she added, "we are realists and we see the changes at the federal level."
After hearing several hours of public comment, the board voted with little discussion to adopt the regulations, which will not take effect until next year.
After the U.S. Supreme Court muddied the Clean Water Act's definition of "wetlands," environmental officials in Sacramento directed the water board to develop a wetlands policy for California. The 11-year effort has been fraught with delays and rewrites.
"It's been a very painful process," said board member Tam Doduc.
The board's unanimous vote is one of several actions California is taking to thwart the Trump administration's attacks on water protections.
State agencies are refusing to issue permits the federal government needs to raise Shasta Dam in Northern California because the project would drown portions of the McCloud River, which is protected under California's Wild and Scenic Rivers Act.
The water board can also use state water-quality standards to limit Washington's ability to boost irrigation supplies for Central Valley agriculture by relaxing federal safeguards for endangered fish.
Twitter: @boxall
The stories shaping California
Get up to speed with our Essential California newsletter, sent six days a week.
You may occasionally receive promotional content from the Los Angeles Times.