Student crosses Tijuana border each day hoping to one day work for NASA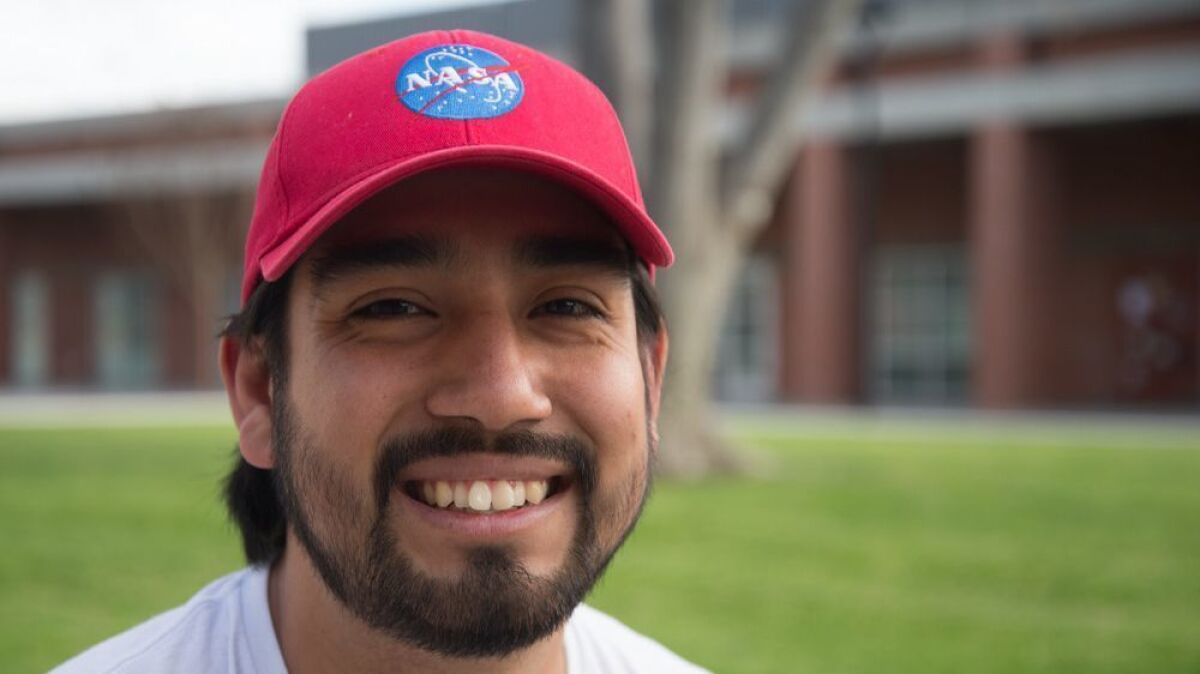 Growing up in Tijuana, Sergio Sandoval didn't know how much his birthplace would affect his ability to reach his dreams.
Sandoval plans to be an aerospace engineer and is well on his way to achieving that goal. He graduated from the Georgia Institute of Technology and works for NASA. He's planning to get a master's degree from San Diego State University.
All of this was possible because of a decision his mother made before he was born — she crossed the border to give birth to him in San Diego, making him a U.S. citizen. As soon as she was released from the hospital, she went with him back to Mexico.
"I have no idea why she wanted to do it, honestly," Sandoval said.
Though he resented not being "full Mexican" during his childhood, he said, once he realized that he wanted to become an aerospace engineer and would be able to attend college north of the border, he came to appreciate his cross-border identity.
Sandoval, 24, was educated through the end of high school in Tijuana, and as he looked to his future, he didn't know what he wanted to do.
"I was a good student, but I didn't have a passion," Sandoval said.
Then someone pointed out to him that with his aptitude for math, he'd make a good engineer, and Sandoval began researching the career.
"It caught my attention because it looked hard," Sandoval said. "I had never thought of how planes fly."
"It was something crazy that I could do," he added, his face lighting up.
In Mexico, he explained, people usually go to universities near home. Aerospace engineering wasn't available as a major at any of the schools nearby, he said. He realized that San Diego State University, across the border from home, had a program.
But first, he needed to learn English and how to navigate the American education system.
He began his higher education in 2011 at San Diego City College, where he joined the Math, Engineering, Science Achievement, or MESA, program. At first, he lived with his aunt in San Diego, but after a couple of months, he moved back in with his family in Tijuana and crossed the border every day for classes.
He woke up at 3 a.m., and an hour later his father would drop him off at the border. After waiting in line to cross, often with his best friend who also attended City College, he took the trolley up to campus, usually arriving by 8 a.m. If the line to cross was shorter than he expected, he sometimes made it to campus well before he needed to be there and would nap in the grass outside his building until it opened for the day.
"It teaches you a lot," he said of the commute. "For me, it was a lot of patience, and it made me realize I was serious about what I wanted to do."
As a child in Tijuana, he was used to crossing the border frequently to go shopping or take trips with his family, so crossing daily for school didn't seem like a big deal. On his journey, he saw many of the same faces every day, people crossing for work or even for high school.
"People think it's the most amazing thing that I did that," he said. "It's just normal. The border, it's always been there for me."
He knew it was the path to achieve what he wanted to do, so he did it, he said.
"When I came to the U.S., I tried to leave behind all my fears and be the person I wanted to be," Sandoval said.
That included being punctual and organized and not being afraid to speak English, a language he had studied a little bit in high school but didn't feel comfortable using.
"I think it took me an entire year to know how to pronounce 'engineering,'" he recalled. He used to emphasize the wrong syllable.
He read books in English, looking up every word that he didn't know. He read the dictionary daily, he said.
After a year, he could understand what people said to him. Speaking fluently took about three years, he said.
To challenge himself more, he decided to go farther away from home to get his bachelor's. He applied to Georgia Tech, a top university for engineering programs.
In fall 2013, he moved to Atlanta. That experience helped him mature, he said.
"From day one, you are on your own," Sandoval said. "You have your family, you have a lot of people who support you, but you realize they are not always there. A lot of times, you're going to have to fight on your own and find solutions for yourself."
While at Georgia Tech, he began interning with NASA, first at the Jet Propulsion Lab in 2016 and then at the Johnson Space Center.
When he graduated in December 2017, his family made the trip to Atlanta to celebrate with him — he was the first to go to college.
"It was really a family effort," he said.
He plans to continue working at the space center in Houston this summer before starting his master's program in the fall.
"Keep faith in yourself," he said when asked what advice he would give to others. "Find your passion. Find the thing that moves you to do every crazy thing, and do it."
Morrissey works for the San Diego Union-Tribune.
---
Life is stressful. Our weekly mental wellness newsletter can help.
You may occasionally receive promotional content from the Los Angeles Times.