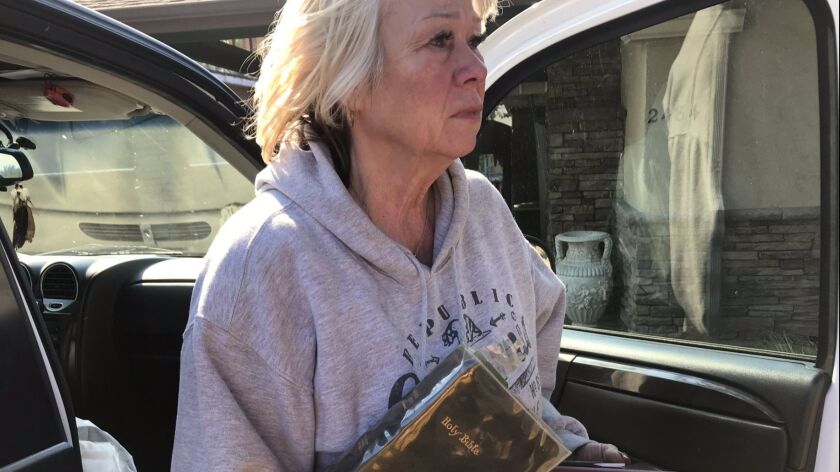 Shirley Hertel returned to her Thousand Oaks home Friday morning after watching it catch fire on TV just hours before.
The sight left her in tears.
Clutching her phone and singed newspaper clippings, she stood in her driveway and wept. Her daughter's car, parked in the driveway, was reduced to its metal frame. The garage door and her daughter's bedroom above it were burned too, the frame and windows now an ash black.
Text alerts and a message from her cable provider left on her TV screen urged Hertel, 68, to leave her house in the early morning hours. She left around 1 a.m.
Before getting into the car, she stopped at her front door. She gave it a kiss, and prayed to God that her house would still be there when she returned.
"I left thinking everything would be OK," she said through tears. "You don't think your house will burn down.
Hertel recalled the feeling of the flames across the street when she left her home. The home directly across from hers was spared, but another across the street was reduced to its brick chimney.
Hertel first came back to her home around 5 a.m., when a police officer was still there. The officer let her in for about five minutes — enough time to grab a few of memories of her mother that she had left behind, including an old painting of the Santa Monica pier. Earlier she had taken photos of her daughter's, important documents and large photo of her mother, who passed away two years ago.
"It's like that saying, you don't think it would happen to you," she said. "I'm just lost for words."
Hertel learned her house burned through a friend who saw it on TV. She immediately went to her niece's house, frantically knocking on the door and telling her she needed to watch the news because her home was on fire.
That's when she saw her house.
"It was so surreal," she said.
Walking though the home late Friday morning, Hertel stopped at her daughter's room at the top of the stairs. The window had blown out, and the bed and dressers were covered in ash. The ceiling fan and walls were left with scorch marks and peeling paint.
"This is unbelievable," she said of her daughter's room. "This is her safe haven, her room. It's no longer habitable."
She paused, tears falling down her cheeks.
"How a fire can change your life in a days?" she said, sobbing.
As she surveyed the home, her husband, her niece and some friends tended to the damage. They hoisted wooden boards and drilled them where the windows once were.
Hertel stepped into a room, and came back with a ceramic rabbit.
"Look what made it," she mused. "My good luck charm."
In the backyard, much of her furniture was left strewn across the patio; burned magazines littered the floor. The fence separating her from her neighbor's house was wrecked.
"I don't even know that I even understand what happened here," she said.
She took the fire — and the water damage she had just fixed in the home last month — as a sign that she should leave the city she's lived in her whole life, she said. Her other daughters and granddaughter live in Kentucky, she said, and she wants to watch her grow up.
"This will always be my home, but Kentucky is where I'll live," she said.
---