Southern California's most toxic polluters will pay more under air board's fee hike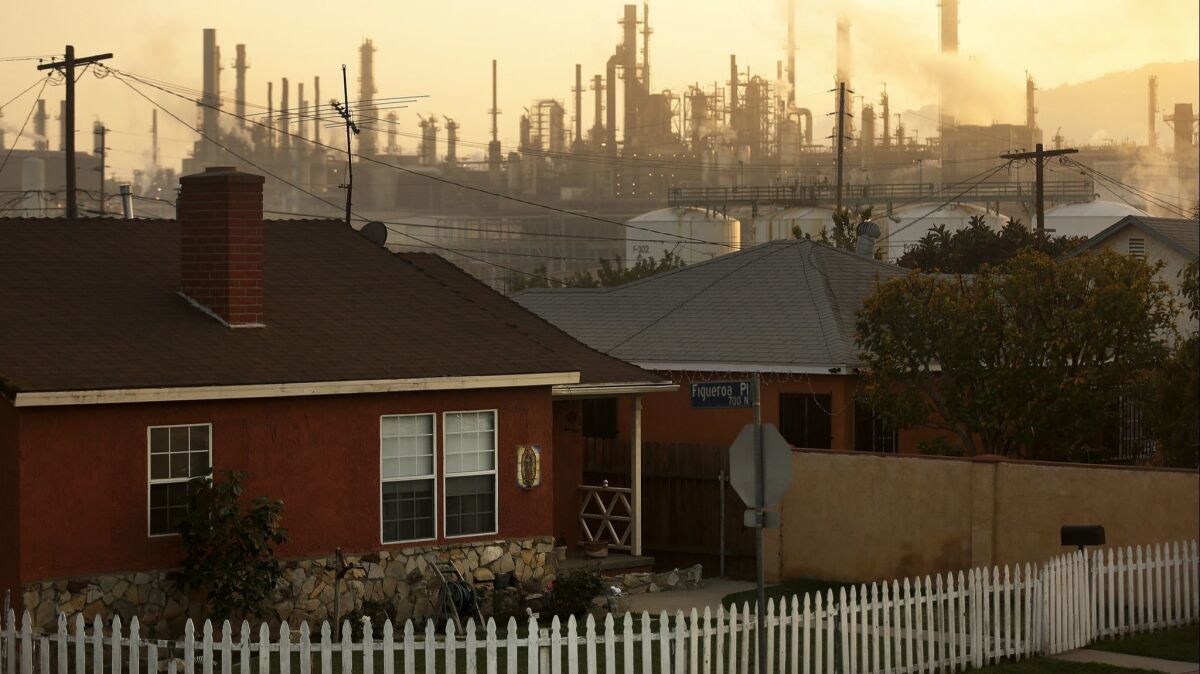 Southern California air quality officials will dramatically raise fees on toxic polluters in an effort to make oil refineries, manufacturers and other industries pay a greater share of the cost of monitoring and regulating their most health-threatening emissions.
The South Coast Air Quality Management District's governing board voted 8-4 Friday to increase the toxic emissions fees it collects almost tenfold, from $500,000 annually to $4.9 million.
Regulators said the fee hikes, which will be phased in over two years, are necessary to reduce a massive shortfall. The air district spends about $20 million annually regulating toxic emissions, but the $500,000 in fees it collects do not come anywhere close to recouping those costs.
The decision followed two public hearings that included emotional testimony from people who reside in some of the area's worst-polluted communities. They urged officials to raise fees as quickly as possible to help ease asthma, cancer and other health problems they suffer living and going to school near oil refineries, cement plants, metal factories and other heavy industry.
"Our communities are predominantly low-income communities of color and we are disproportionately suffering from the toxic emissions of these facilities," said Whitney Amaya, a member of the group East Yard Communities for Environmental Justice who lives in West Long Beach. "As the fees stand now," she added, industry "would rather pay those fines than decrease their emissions."
Air district staff had proposed a slower phase-in of fees over three years, including a one-year grace period that would delay any increases until 2021.
But the 12-member panel opted for a faster timeline proposed by Los Angeles County Supervisor Janice Hahn. Last month, she criticized the delayed plan as letting industry off the hook and called for a two-year phase-in, with higher fees beginning in 2020.
"I think the polluters should be paying a lot more," Hahn said at a public meeting last month. "They're not paying their fair share."
Vanessa Delgado, a real estate developer and former state senator who was recently appointed to the air district board by state Senate leader Toni Atkins, was the only Democrat to join the board's five Republicans Friday in supporting the delayed, three-year timeline — a proposal that failed on a 6-6 vote.
"This fee will do very little to actually change air quality," Delgado said before casting her votes. "We're actually going to get less as air quality improves."
Delgado suggested the district focus on other priorities, such as getting diesel trucks off the road. "I'd rather work on getting leaf blowers that work for real practicing people instead of kind of focusing on things that don't really make an impact," she said.
In May, the air quality board delayed a scheduled vote on the fee hikes to address industry complaints. Business groups wanted a four-year phase-in of the fees, citing among other reasons, the need for additional testing to more accurately report their emissions.
The Regulatory Flexibility Group, an industry coalition that includes oil refineries, aerospace companies and utilities, wrote the air district earlier this year to say it was "deeply concerned" that "these dramatically higher fees would be implemented over a short period of time" and suggested the agency lacks the legal authority to impose them.
Agency staff responded that "statute and case law provides clear legal authority."
The district routinely raises fees on the facilities it regulates, and staff said the amount they are seeking is reasonable and fair.
Environmentalists welcomed the fee hikes as a modest improvement in holding polluters accountable.
"It is still far too cheap to pollute and it's far too expensive to breathe unhealthy air," Carlo De La Cruz of the Sierra Club said at a public hearing last month. "The true cost is already being borne by the residents who can't afford their health bills, who can't afford to take a day off school or work and are therefore paying the hidden costs of air pollution."
The changes come as the South Coast air district, which is responsible for protecting the public from health-damaging pollution, struggles to raise funds to clean the nation's dirtiest air amid a resurgence in smog. The agency spends tens of millions of dollars each year ensuring compliance with a vast array of air quality rules on tens of thousands of facilities across Los Angeles, Orange and San Bernardino counties.
Staffers said their workload monitoring, inspecting and enforcing rules on facilities emitting toxic air pollutants has "substantially increased" as more rules and requirements have taken effect. They cited more time-consuming investigations of complex pollution sources, including emissions of cancer-causing metals from aerospace-related facilities and leaking hydrocarbons from the oil industry.
That has included blanketing the small southeast L.A. County city of Paramount with air quality sensors to pinpoint chromium-6 emissions from metalworking plants operating near homes and schools. Workers have also deployed advanced imaging technology to trace foul odors in Long Beach, Seal Beach and Huntington Beach to oil tankers along the coast.
The increased fees will be paid by polluters from across many sectors, including manufacturing, waste management, refining and power generation. More than 1,500 facilities across the four-county region could face higher fees, the air district estimated.
Some of the new fees will be weighted by the cancer-causing potential of the specific pollutants emitted, meaning that the more a company's emissions threaten public health, the more they will pay in fees.
That provision is intended "to cover the higher level of effort from the District for investigating and enforcing rules on those facilities," according to a staff report.
Smaller and lower-polluting operations would pay less, with 29% facing an increase of $1,000 a year or less, and another 39% seeing no increase at all, according to the air district. Much of the money would be collected from the biggest, most toxic polluters. Each of the region's eight major refineries, for example, would pay an average of $147,000 more per year.
It's not the first time the South Coast air district has had to address major shortfalls between its fee revenues and operating costs.
Two years ago, the district was forced to hike fees after a U.S. Environmental Protection Agency audit found it was not charging the biggest polluters, such as refineries and power plants, enough to recover its costs as required under the Clean Air Act.
The stories shaping California
Get up to speed with our Essential California newsletter, sent six days a week.
You may occasionally receive promotional content from the Los Angeles Times.