Trump administration talks of boosting Central Valley water deliveries. But is it just talk?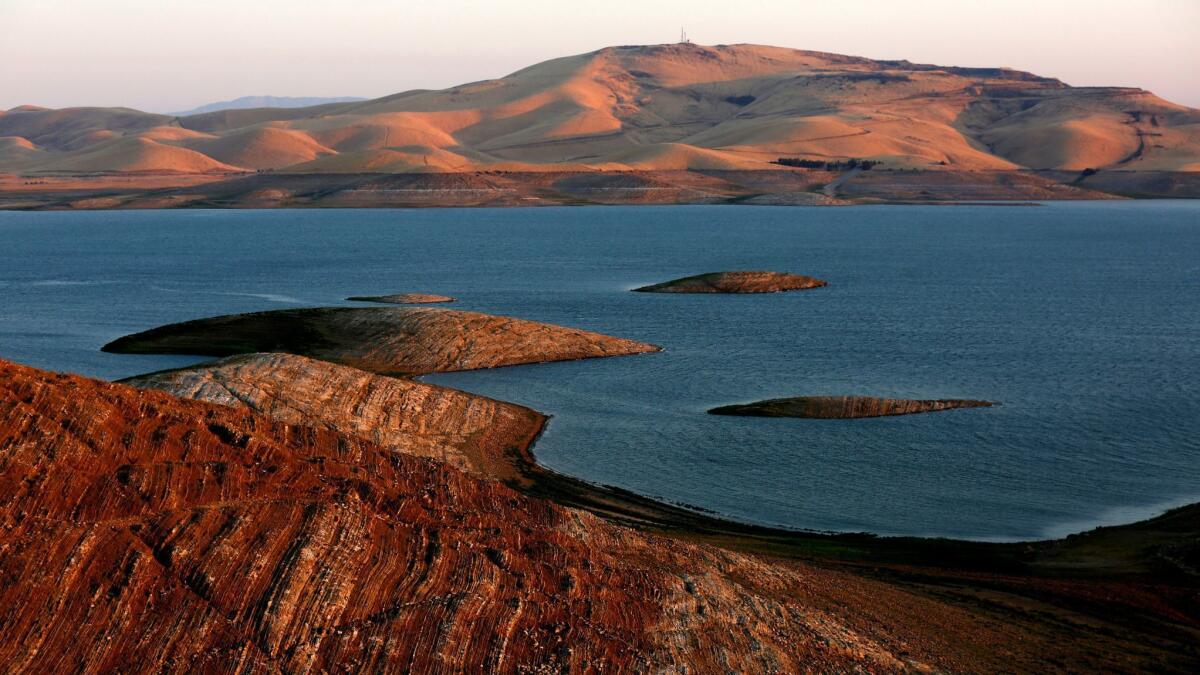 With talk of boosting water deliveries to Central Valley agriculture, the Trump administration is telling growers exactly what they want to hear.
But given California's complex water system and a web of federal and state environmental regulations, such promises could prove more political than practical.
An Aug. 17 memo from Interior Secretary Ryan Zinke, which directed agencies to give him a plan within 25 days to send more water to Central Valley agriculture, was met with cheers from angry farmers who have for years complained that endangered species protections are cutting their irrigation deliveries and wasting water supplies.
"This gives … water users hope that there will be a more balanced approach to water supply adequacy and reliability that is sorely needed on our farms and in our rural communities," Frances Mizuno, interim executive director of the San Luis & Delta-Mendota Water Authority, said in a statement.
But experts say there is little the Interior can do on its own to reverse the delivery decline.
"This is more show than anything else," said Holly Doremus, a UC Berkeley law school professor of environmental regulation. "This administration either doesn't know what the law is or doesn't always care. They will try to do things that they don't have the authority to do."
California's massive federal irrigation system, the Central Valley Project, must comply with U.S. Endangered Species Act requirements and adhere to state environmental regulations and water rights permits.
"You just don't go, 'We're going to change the requirement'" for protecting imperiled fish, said Jerry Meral, a former deputy secretary of the California Natural Resources Agency.
The Interior Department's attempt to do that under President George W. Bush's administration was thwarted by the courts.
Federal and state export operations are also intertwined in the Sacramento-San Joaquin River Delta — the center of California's sprawling water supply system — to a degree that makes it difficult, if not impossible, for Interior to strike out on its own.
Water watchers see a political element in the administration's push for more farm water, which comes ahead of midterm elections and at a time when Trump's policies on immigration and tariffs are hurting the agricultural sector.
"I would say they're showing they're doing the best they can" for growers dependent on Central Valley Project supplies, Meral said.
Zinke ordered the Bureau of Reclamation, which oversees the Central Valley Project, and other Interior agencies to develop an "initial plan of action" that would — among other things — maximize water deliveries, streamline federal environmental reviews of project operations and prepare "legislative and litigation measures" to increase deliveries.
The office of Deputy Interior Secretary David Bernhardt will make final recommendations on the agency's steps in early September.
Before his appointment to the department's No. 2 post, Bernhardt was a partner in one of the nation's top-grossing lobbying law firms, Brownstein Hyatt Farber Schreck. There, he represented the politically influential Westlands Water District, which would be among the chief beneficiaries of improved deliveries to south-of-delta Central Valley Project customers.
Bernhardt promised to recuse himself from matters involving former clients for one year — a period that ended Aug. 2.
"The Deputy Secretary is no longer recused from participating in particular matters involving specific parties where Westlands Water District is a party," deputy Interior press secretary Faith Vander Voort said in an email.
Asked if that meant Bernhardt is involved in preparing the California water plan, she replied, "He is clearly designated in the letter as the lead on executing the plan."
The same day Zinke sent his memo, the reclamation bureau made a potentially more substantive move.
Regional reclamation director David Murillo gave notice that his agency wanted to formally start negotiations to revise a longstanding agreement that coordinates state and federal water operations in the delta and the Central Valley.
A review of the 1986 pact has been underway for several years. But federal and state agencies have yet to settle on changes to the agreement, which in some ways favors state operations in the delta.
Because the federal system has significantly more upstream reservoir capacity than the State Water Project, the Central Valley Project under certain conditions must release more fresh water to prevent delta salinity levels from climbing.
Revise the terms so the state assumes more of the water quality burden, and the Central Valley Project could send more water south to Westlands and other irrigation districts.
The reclamation bureau's demand to start negotiations "is a real attempt to gain leverage over the state," said attorney Kate Poole of the Natural Resources Defense Council, an environmental group.
But state water contractors, including Southern California agencies, are bound to fight any revisions that hurt their delta deliveries. And the process could drag on for years.
As water exports from the delta increased in recent decades, populations of migrating salmon and the delta smelt — a finger-sized fish found only in the delta — plummeted. That has triggered endangered species protections under state and federal law that periodically limit the intake of the government pumping plants that divert supplies to San Joaquin Valley fields and Southland cities.
State water quality standards also mandate that a certain level of fresh water flow through the delta to keep salt water from the San Francisco Bay away from the delta pumps.
In tweets this summer, President Trump echoed farmers' protests that water flowing to the sea is wasted. In one tweet that was quickly condemned by state officials, Trump incorrectly claimed water "diverted into the Pacific Ocean" was hampering efforts to fight Northern California wildfires.
Any attempts by the Trump administration to skirt state environmental regulations could run afoul of a 1978 U.S. Supreme Court ruling in a case that pitted California against the Central Valley Project.
The high court found that under the 1902 Reclamation Act, federal irrigation projects in the West must conform to state laws.
Undermining that "is a huge third rail which will cause a lot of western states to rise up," Poole said.
The Trump administration "seems to be sending us to more chaos and litigation," she added.
Twitter: @boxall
Sign up for Essential California for news, features and recommendations from the L.A. Times and beyond in your inbox six days a week.
You may occasionally receive promotional content from the Los Angeles Times.