San Fernando Valley leads the way in lawn-replacement rebates amid drought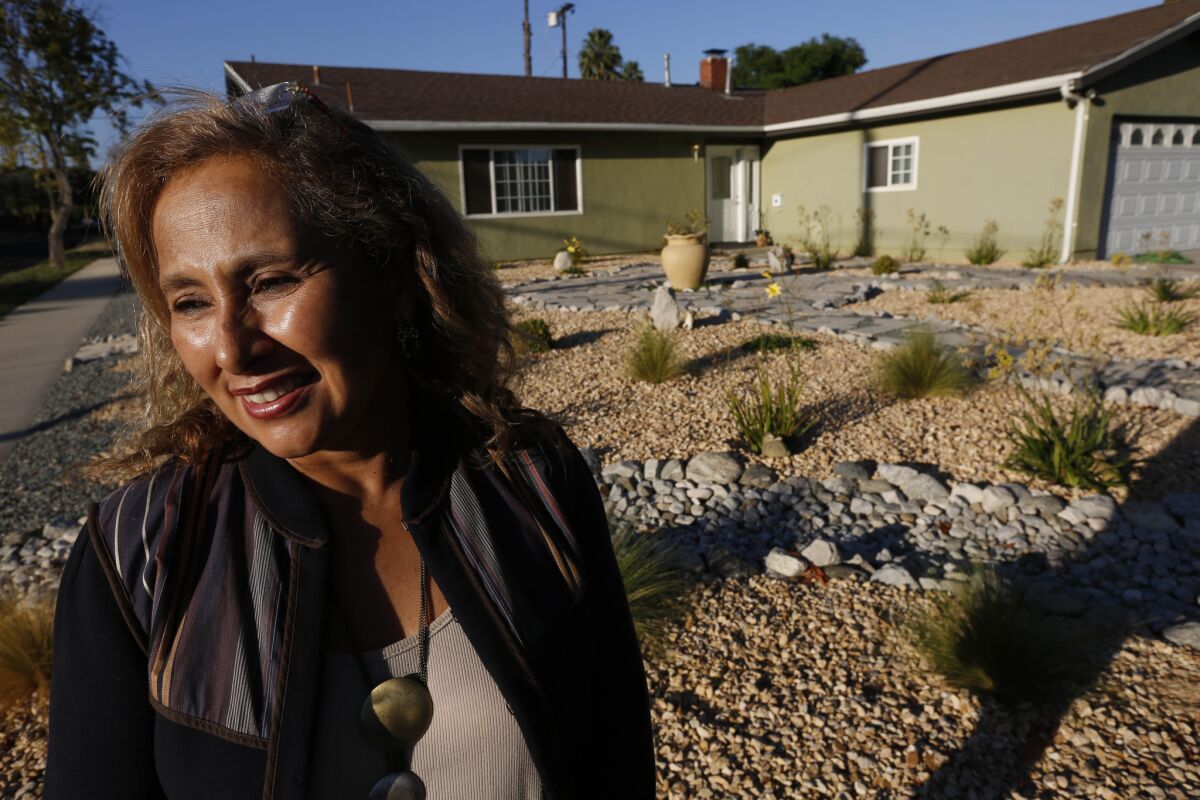 When Joe Benson tore out his dying grass in August of last year, he was one of the first in his San Fernando Valley neighborhood to collect a rebate for doing so, he recalls. One year later, four other households on his block, and several more on his street, have followed suit amid the state's persistent drought.
Valley residents have been among the most aggressive in Los Angeles County in claiming rebate money for lawn replacement, according a Times analysis of data from the Metropolitan Water District of Southern California.
Countywide, 1 in about every 56 residences has received initial or final approval for turf removal projects. The analysis showed that the Valley community of Lake Balboa had the county's highest rate of participation in the rebate effort — about 1 in 14.
Interested in the stories shaping California? Sign up for the free Essential California newsletter >>
Close behind were the Valley communities of Winnetka, where nearly 1 in 14 filed for the cash, and Granada Hills, where 1 in 16 did so, and where alternative landscapes stand out against other pale, brittle lawns on Benson's stretch of Andasol Avenue.
"If you go on any of the streets around here, more and more people are doing it," Benson said. "Most people understand there's a drought; water is going to be expensive."
The majority of areas claiming rebates at rates exceeding the countywide average were in the city of Los Angeles, where the Department of Water and Power added $1.75 to the Metropolitan Water District's $2-per-square-foot payments, according to the MWD data.
And nowhere were residents quicker to seek the cash for grass than in the Valley, with its thousands of yard-rich, single-family homes.
Demand for the rebates skyrocketed after Gov. Jerry Brown on April 1 ordered a historic, 25% mandatory cutback in urban water use.
An initial pot of $20 million was boosted to $100 million and ultimately $340 million as officials tried to induce homeowners to remove their lawns as they saw their neighbors doing it.
The rebates were unlimited until May, when the MWD announced a $6,000 cap on residential grants, among other regulations. The funds were drained in a matter of months, forcing the agency to stop accepting new applications in July.
About $230 million had been committed or paid out to residential applicants through early August, according to the most recent MWD data available. In addition, nearly $32 million has been doled out to commercial applicants. Rebates will soon be in the mail for the rest as projects are finished and given final approval.
Other parts of the county claiming rebates at higher than average rates include pockets of the Westside and South Los Angeles. In some areas, such as East Los Angeles, rebates were far more sparse.
(Some water agencies administered their own programs with MWD funding, such as those serving Long Beach and Santa Monica, and the Municipal Water District of Orange County. They were not included in the data.)
The average rebate in the data analyzed by The Times was $1,312. The largest single grant issued in the county so far went to a San Marino resident for more than $50,000.
The program was a "bold experiment," said Stephanie Pincetl, director of the California Center for Sustainable Communities at UCLA, though on its own won't be enough to jump-start long-term change.
"It's going to take more money, more time, more effort to really transform the landscape as deeply as is probably going to be necessary going forward," Pincetl said.
Water and Power is The Times' guide to the drought. Sign up to get the free newsletter >>
MWD General Manager Jeffrey Kightlinger acknowledged that a mass transition would take years but said the participation in the program thus far is a "huge head start."
"The goal is not to give people money for something they would normally otherwise do or have to do," he said. "The goal is to provide the rebates for the cutting edge, [and] once it's established, move on to the next cutting edge, and then hopefully that one becomes the norm."
Granada Hills resident Dorian Castillo decided to turn her turf removal into a family project after it was preapproved for more than $8,000.
She described what she wanted to her 19-year-old son, who drew up the plans. Over about six weekends this summer, her two sons, her husband and a couple of landscapers turned it into a reality.
The design consists of a spiral rock pathway with flat rocks surrounded by gravel, all leading toward a large ceramic vase holding a plant at the center.
After the project was finished, Castillo said many neighbors came to her door to compliment the job and ask questions about the rebate program. At least three neighbors redid their lawns after seeing her yard transformed, she said.
Castillo said letting the lawn fade to brown and "bringing the neighborhood down" was not an option.
"It's just like a competition between neighbors of who keeps their home prettier, and that's beautiful. That makes California what it is," she said. "When you see all those lawns dying, it's not California anymore."
Times staff writer Sandra Poindexter contributed to this report.
taylor.goldenstein@latimes.com
Twitter: @taygoldenstein
ALSO:
Massive El Niño is now 'too big to fail,' scientist says
In Bel-Air, someone is using 1,300 gallons of water — per hour
California homeowners have the right to remove turf amid drought
---
The stories shaping California
Get up to speed with our Essential California newsletter, sent six days a week.
You may occasionally receive promotional content from the Los Angeles Times.