'Depraved' child abuse and torture were hidden in the Turpin household for years, officials say. Many ask how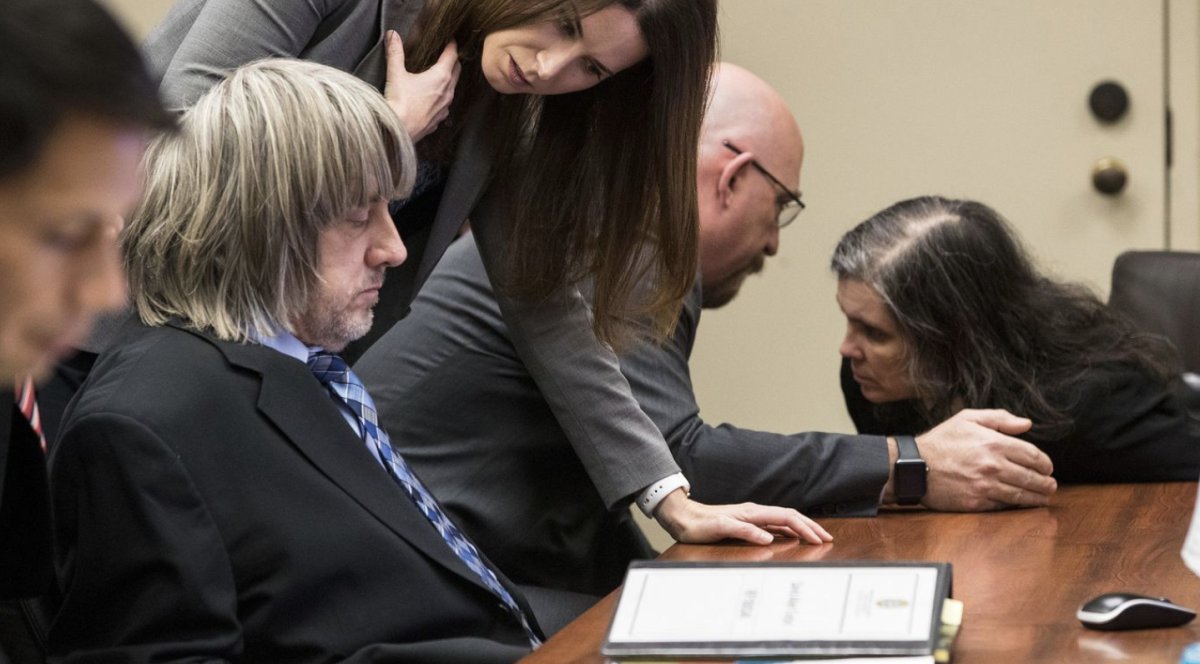 The charges of torture and child abuse leveled against the parents of 13 children have stunned Perris neighbors and riveted the country.
They have also prompted one question over and over: Why did it take so long for the siblings' treatment to be exposed?
Prosecutors say David Turpin, 56, and Louise Turpin, 49, inflicted torture and abuse for years in ways so extreme that the siblings, who range in age from 2 to 29, are severely malnourished and some show signs of cognitive impairment and nerve damage.
The charges against each defendant include 12 counts of torture and 12 counts of false imprisonment, seven counts of abuse of a dependent adult and six counts of child abuse. David Turpin was also charged with one count of a lewd act on a child under the age of 14. Their attorney has said they are innocent.
After the Turpins' arrest and the siblings' rescue this month, those who interacted with the family wonder if they should have seen things differently.
Here is a rundown of what The Times learned of the glimpses neighbors and others had of Turpins in Perris and at previous homes in Murrieta and Texas:
GLIMPSES INTO A HOME OF DYSFUNCTION
'Waist-deep in filth'
Before the family moved to California, they lived down a dirt road in Rio Vista, Texas, a small town 50 miles south of Fort Worth.
The family rarely left the four-bedroom, two-bath home on 36 acres dotted with mesquite trees, said neighbor Ricky Vinyard. They kept lights on at all hours, blinds drawn. One Christmas they bought eight new children's bicycles that sat outside, unused, until they became sun bleached, he said.
Soon after the family arrived, one of the older girls tried to run away but was returned by a local resident.
When the family moved, neighbors said what was left behind disturbed them.
After the family left, repo men showed up for their two cars, and their house was foreclosed. Billy Baldwin and his mother bought the house a year later, the interior trashed, the bathroom floor rotted through, he said.
Inside, Baldwin found a handful of Polaroids taken when the Turpins left. One shows a bed with a metal rail that has a rope tied to it, he said.
Vinyard walked through the family's trailer at the time.
"It was waist-deep in filth. There were dead dogs and cats in there," he said, the smell "rancid."
He found two Chihuahuas that had survived by eating waste from a mound of soiled diapers. The family's Ford F-150 truck was heaped with the dirty diapers and empty Vienna sausage cans, he said. "It seemed like that's all they ate."
The couple had claimed to home-school their children, and the feces-littered living room had the trappings of a makeshift classroom, he said, including eight small desks, a chalkboard, alphabet and number signs stapled to the wall.
As he moved from room to room, he noticed something odd: "Everything had locks on it: The closet had locks, the toy chest, the refrigerator."
QUESTIONS ABOUT THE CHILDREN
Looked so young, seemed so hungry.
When the family lived in Murrieta, neighbor Mike Clifford saw the children marching at night in circles past two front windows.
At the time, he thought the children might have special needs and that the repetitive circling was therapeutic or just their routine.
Any red flags were lowered because his wife often made small talk with two of the Turpins' daughters on their way to the mailbox, he said.
Prosecutors say the Turpins used various methods to keep their children isolated and out of public view, including forcing them to sleep all day and stay up at night. Rather than send them to school, David Turpin registered a private school at his home.
One sibling was allowed to enroll at Mt. San Jacinto College. He was "sweet" but an introvert in a music class, student Angie Parra told NBC4.
At a school potluck, he ate like he was famished, she recalled.
"He stood by the table and didn't sit down," Parra said. "He literally ate plate after plate after plate."
Salynn Simon lives across the street from the family's house in Perris, and moved to the town's Monument Park neighborhood around the same time as the Turpins. Simon said she remembers seeing David and Louise Turpin and a few of their children two years ago, when the neighborhood watch held a community gathering and announced winners of a Christmas decorating contest. She said Louise Turpin talked proudly about having 13 children — each of whose first name starts with J, according to the felony complaint filed in Riverside County Superior Court.
Louise Turpin introduced Simon to the children who were with her at the event. One of the boys, Turpin told Simon, was in his mid-20s.
"I told him 'You look so young, you look 15,'" Simon recalled.
The young man smiled and nodded, but Louise Turpin did almost all of the talking for the family, Simon said.
Louise Turpin told Simon that she and her husband had taken their older children to Las Vegas when they turned 21. Turpin laughed about how her children were constantly asked for an ID during those trips because they look so young.
Over the years, Simon said, she would wave hello and goodbye to the family from across the road. From time to time, she took them their mail, and last year, when Simon's daughter was selling Girl Scout cookies, Louise Turpin bought eight or nine boxes, Simon said.
It was always clear the family was not especially social, Simon said. But the interactions they did have made Simon feel "they were just private."
Now, Simon said, she and many of her neighbors are struggling to process what they have learned about what was happening inside the Turpins' single-story house on Muir Woods Road, where a Nativity star from two years ago still hangs in the window.
'This is depraved conduct'
The siblings were discovered after one of them escaped through a window and called 911.
She had planned to escape for about two years, prosecutors said, and she initially left the home with a sibling. But that sibling grew frightened and returned home, officials said.
When deputies arrived at the house on Muir Woods Road, three of the children were tied up.
The couple punished their children by beating and choking them, tied them to beds for weeks or months at a time and deprived them of food, according to Riverside County Dist. Atty. Mike Hestrin.
They were not allowed to shower more than once a year, he said.
Even as the children suffered from lack of food, the district attorney said, the parents would buy food for themselves and leave it out for their children to see. Even as the children were not allowed to play with toys, the couple had numerous unopened toys throughout the house, he said.
Deputies at first assumed from the children's frail and malnourished appearances that all of them were minors but later determined that seven of them were adults, according to the Sheriff's Department.
The children had not seen a doctor in four years, prosecutors said. None of them had ever been to a dentist.
Many of them did not know what a police officer is, and the 17-year-old who escaped did not know what medication or pills are, Hestrin said.
Their undernourishment was so severe that the 29-year-old weighed only 82 pounds when deputies arrived, Hestrin said. A 12-year-old victim weighed the same as an average 7-year-old.
"This is severe emotional and physical abuse," Hestrin said. "There's no way around that. This is depraved conduct."
This article is based on reporting by Times staff writers Paloma Esquivel, Molly Hennessy-Fiske, James Queally and Sonali Kohli.
---
The stories shaping California
Get up to speed with our Essential California newsletter, sent six days a week.
You may occasionally receive promotional content from the Los Angeles Times.