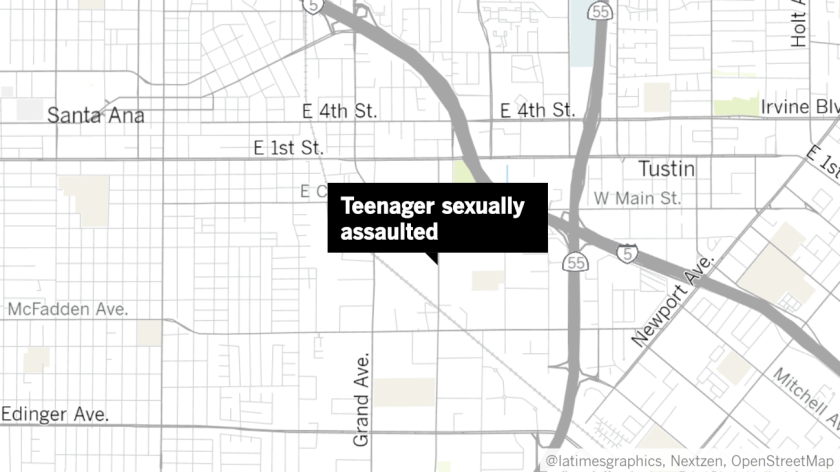 Two teenage girls were sexually assaulted in Santa Ana in incidents that happened 25 blocks apart and within hours of each other. But investigators have determined the assaults are not related.
A suspect has been arrested in one of the assaults, which occurred Monday morning and caused the victim significant injuries.
Alexis Uriel Dominguez, 18, of Santa Ana, was booked on sexual assault charges Tuesday and being held in lieu of $100,000. According to the Santa Ana Police Department, Dominguez is an acquaintance of the 17-year-old girl assaulted Monday.
On that day at about 11:15 a.m., police responded to a call from the girl in the 1200 block of East McFadden Avenue. She was taken to a hospital, where she was treated for her injuries, which were significant, said Cpl. Anthony Bertagna, spokesman for the Santa Ana Police Department. She is in stable condition.
At first, the girl told police she had been assaulted by two transients while walking to her summer school classes at Century High. Detectives then searched the railroad tracks north of the 1300 block of East Edinger Avenue for evidence. They believed the girl might have been kidnapped and taken to the tracks, where the assault took place.
But when investigators spoke with the girl again after she received treatment, they determined she had been sexually assaulted by an acquaintance near 700 South Lyon St., about half a mile from where officers initially responded, Bertagna said.
They determined the Monday assault was unrelated to one that happened not far away late Sunday night.
In that incident, a 15-year-old girl reported being sexually assaulted by a stranger who had sneaked into her home in the 1000 block of North Lincoln Avenue. He lay next to her on her bed, Bertagna said.
When he began fondling her, she screamed, waking up her family. The girl's mother came "face to face" with the suspect, Bertagna said, but he went around her and fled the scene. Police are still looking for the man, described as in his 30s and believed to be homeless.
alejandra.reyesvelarde@latimes.com
Twitter: @r_valejandra
---