UC, roiled by 1st Amendment controversies, to launch national free speech center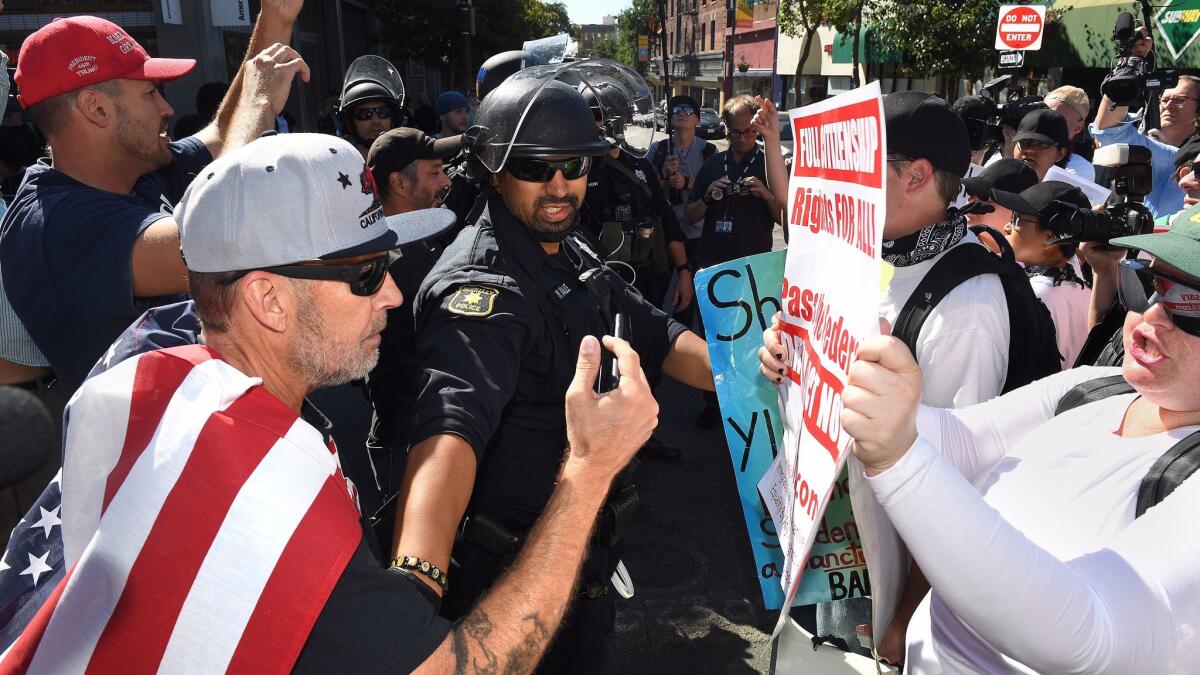 The University of California, where the free speech movement started and students now argue over how far unrestricted expression should go, announced plans Thursday to launch a national center to study 1st Amendment issues and step up education about them.
"There have been more serious issues about the 1st Amendment on campuses today than perhaps at any time since the free speech movement," UC President Janet Napolitano said in an interview. "The students themselves are raising questions about free speech and does it apply to homophobic speech, does it apply to racist speech? We have to consider the student concerns but return to basic principles about what free speech means and how do we better educate students about the extent of the 1st Amendment."
The National Center for Free Speech and Civic Engagement will be based at UC's Washington, D.C., center, and will sponsor as many as eight fellows a year to research such issues as whether student views on free speech are changing and what role social media and political polarization play in shaping perspectives on the 1st Amendment.
Such questions took on new urgency this year when violent protests at UC Davis and UC Berkeley shut down appearances by right-wing firebrand Milo Yiannopoulos. The confrontations — and a tweet from President Trump threatening Berkeley's federal funding — drew national news coverage.
But smaller dust-ups that get less attention are occurring regularly on other campuses, too.
UC Santa Cruz campus police arrested three students this month for disrupting a College Republicans meeting, the student newspaper reported. One student a campus reporter spoke to said the protesters viewed the club's existence as an "act of violence."
Napolitano called the UC Santa Cruz protesters' behavior unacceptable, saying it amounted to a "heckler's veto" aimed at shutting down protected speech.
The question, she said, is why some of today's students seem less wedded to 1st Amendment values than previous generations.
UC Berkeley Chancellor Carol Christ has suggested that students raised with antibullying training and heightened sensitivities about discrimination may be more willing to advocate certain restrictions on speech.
Napolitano said the center will dig into student attitudes, possibly through an annual poll, to find out more.
One issue ripe for research, she said, is who should pay security costs when controversial speakers visit campuses. Her office chipped in $300,000 to help UC Berkeley pay part of the security costs for Yiannopoulous' aborted Free Speech Week last month. UC Berkeley, meanwhile, has spent more than $2 million on that event and others.
The UCLA Republicans club this week took a preemptive free-speech stand against security fees that administrators could charge their club for a Nov. 13 visit by conservative commentator Ben Shapiro. The Bruin Republicans argued that making them pay such fees is a violation of their constitutional rights.
Napolitano sees a need for more clarity.
"In general, campuses ought to pay the cost of security absent an extraordinary situation but what the definition of extraordinary is, is open to question," she said. "The law is gray in that particular area and that's the kind of question that we want to have the space to explore."
The center's advisory board will be headed by UC Irvine Chancellor Howard Gillman and UC Berkeley Law School Dean Erwin Chemerinsky, a renowned 1st Amendment scholar. The pair co-wrote a book, "Free Speech on Campus."
Other board members include former U.S. Sen. Barbara Boxer; New York Times columnist Bret Stephens; John King, president and chief executive of the Education Trust and former U.S. secretary of education; Anne Kornblut, director of strategic communications at Facebook; Geoffrey R. Stone, a 1st Amendment scholar and professor at the University of Chicago Law School; Avi Oved, a UCLA law student; and Washington Post columnist George Will.
The fellows, who probably will include legal scholars, social scientists, journalists and those who study public policy, will research issues involving free speech and civic engagement and hold seminars. Each will spend a week on a UC campus. A national conference is planned for next year.
Funding for the center will come from the UC presidential endowment, as well as private philanthropy.
ALSO
Students are more anxious in the Trump era, teachers say
Ally of Milo Yiannopoulos wins control of California College Republicans
UCLA Republicans protest potential security fees for talk by conservative Ben Shapiro
Sign up for Essential California for news, features and recommendations from the L.A. Times and beyond in your inbox six days a week.
You may occasionally receive promotional content from the Los Angeles Times.