UCLA Republicans protest potential security fees for talk by conservative Ben Shapiro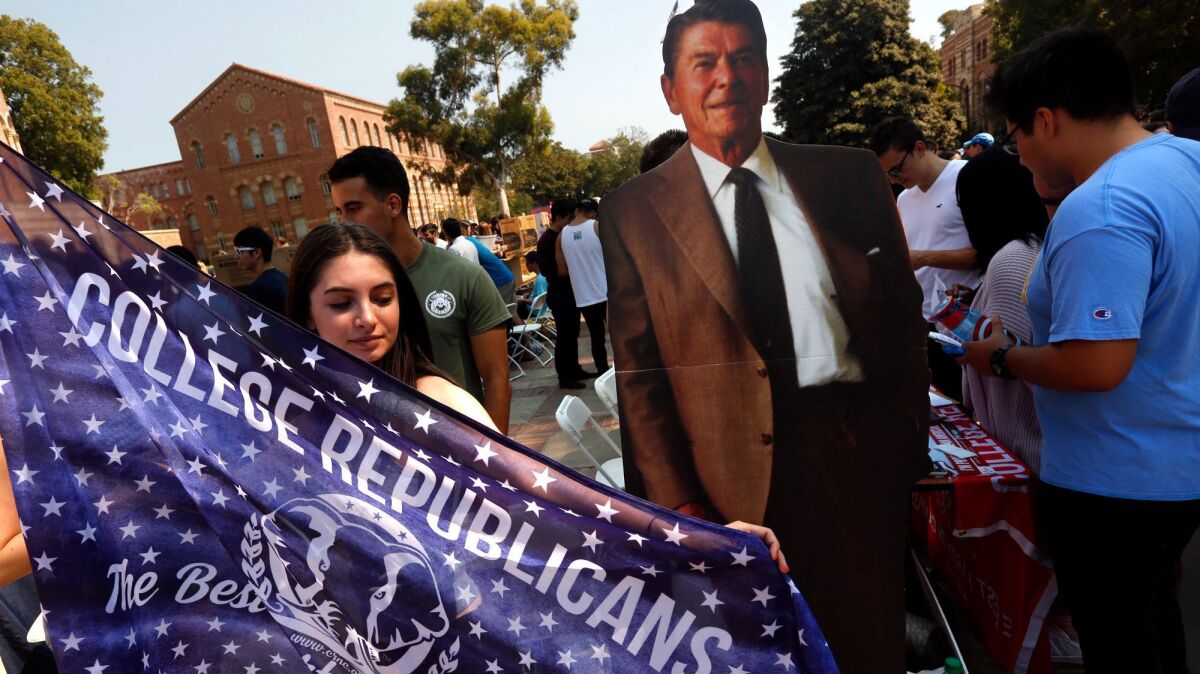 The UCLA Republican club is taking a preemptive free-speech stand against security fees that administrators could charge their club for an upcoming visit by conservative commentator Ben Shapiro.
"The security costs are being used as a barrier to free speech," said Tyler Fowlkes, vice president of the Bruin Republicans. "We have to risk our own financial stability simply to bring a mainstream conservative speaker to campus."

For the record:
9:05 p.m. Oct. 24, 2017A previous version of this article said that campus Republicans paid $358 for security when Milo Yiannopoulos came to UC San Diego last year. The amount was $385.
An attorney for the students, in a letter to UCLA Chancellor Gene Block, said making the conservative political club pay security fees would be an unconstitutional violation of 1st Amendment free speech rights because most of the other 1,200 student organizations haven't had to do so when they've sponsored events.
UCLA, under a 2009 policy, foots the entire security bill for events in which students, faculty and staff make up at least 70% of the audience. Administrators have asked the Republican club representatives to sign an agreement that would hold them personally liable for security costs if the audience for the Shapiro event does not reach that threshold.
UCLA spokesman Tod Tamberg said a speaker's viewpoint is never considered in assessing security fees. Administrators, he said, have worked closely with the Republican club to ensure a "free exchange of ideas, consistent with our university's commitment to free speech."
"The criteria used is content-neutral and viewpoint-neutral," he said. "It is neither Republican or Democrat, conservative or liberal."
According to the policy, university staff, police and fire officials determine security needs based on such criteria as the venue, expected audience size, publicity, timing and length of an event. Free debate, it states, "should be actively protected and encouraged, even where the positions advocated are controversial and unpopular."
Tamberg acknowledged that administrators have not asked all student organizations to sign security cost agreements, but he could not confirm what Bruin Republicans said they had been told by campus administrator Mike Cohn: that the university had required them in only four other cases since 2009.
Although student groups may be asked to cover basic security costs, the university foots the bill for any extra measures needed to control protests, whether the audience threshold is met, Tamberg said. He said security costs for Shapiro's Nov. 13 talk had yet to be determined.
Fowlkes said so far the event does not appear to have generated active opposition, as was the case when the club last year hosted right-wing firebrand Milo Yiannopoulos.
Tyson C. Langhofer, an attorney with Alliance Defending Freedom who is representing the Republican students, has asked that UCLA drop any demand for security fees.
Who pays for security for controversial speakers varies across the UC system. The fees have become controversial in the Trump era, as speakers such as Shapiro and Yiannopoulos draw increasingly large, sometimes violent, protests.
UC Berkeley charges student groups basic security fees, determined by criteria similar to UCLA's, and covers additional costs for major, controversial events. For Shapiro's appearance at Berkeley last month, campus Republicans paid about $9,000 and the university spent more than $600,000, UC Berkeley spokesman Dan Mogulof said.
When Yiannopoulos came to UC San Diego last year, campus Republicans paid $385, and the university, about $5,100, spokeswoman Christine Clark said.
UC Irvine covers all security for all student events.
---
The stories shaping California
Get up to speed with our Essential California newsletter, sent six days a week.
You may occasionally receive promotional content from the Los Angeles Times.