Cancer patient says UCLA gynecologist sexually assaulted her, faults university inaction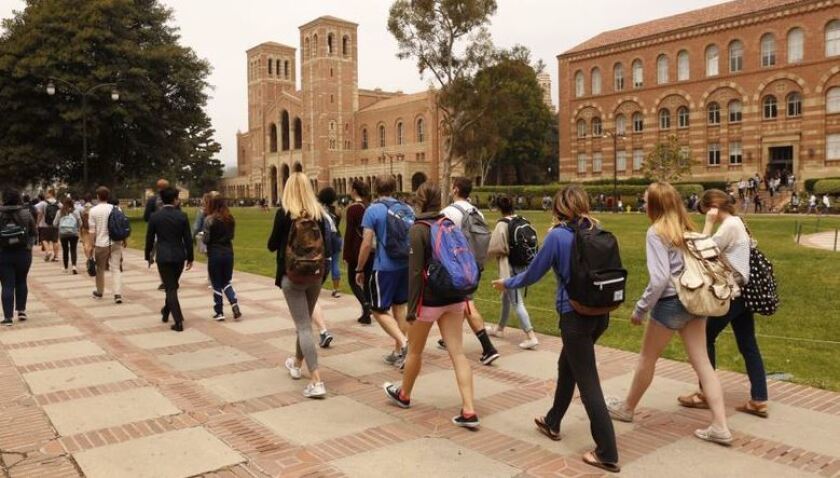 A cancer patient sued UCLA and Dr. James Heaps on Tuesday, accusing the former campus gynecologist of repeatedly sexual assaulting her during her two years of treatment.
The 44-year-old woman was battling mesothelioma when, in October 2015, she went to Heaps for surgery, she said.
During four visits that stretch to June 2017, the woman alleges Heaps abused his position of trust to improperly touch her clitoris repeatedly, fondle her breasts and squeeze her nipples — all under the guise of medical examination.
The latest accusations come as UCLA is facing criticism for its handling of Heaps — and why officials didn't immediately alert the public or his patients about the allegations of misconduct when the university first learned of them.
Heaps has denied any wrongdoing.
A UCLA Health spokesperson told The Times on Tuesday that "the allegations against Dr. Heaps contained in the lawsuit are very disturbing."
Last week, Heaps pleaded not guilty to criminal charges of sexual battery during his treatment of two patients at a university facility. His attorney, Tracy Green, said Heaps was a "respected, talented and thorough gynecological oncologist" whose treatment was always medically necessary and done with respect for patients.
"Everything was done for a medical reason," Green said. She called the general allegations baseless and said Heaps would fight them.
At least 22 other women have stepped forward alleging that Heaps sexually assaulted them while he was practicing at UCLA, according to attorneys representing former patients. The university also discovered two other complaints about Heaps while it was investigating a 2017 allegation.
In addition, about 75 people have contacted UCLA about Heaps since the university announced that Los Angeles County prosecutors had filed charges last week.
The lawsuit, which does not name the woman, seeks damages from the doctor and UCLA.
UCLA's actions have come under scrutiny since officials announced criminal charges against Heaps last week in connection with two patients at UCLA Health in 2017. One of those patients, a married mother of four, reported the alleged conduct in December 2017.
UCLA officials could have immediately removed Heaps from the campus or restricted his practice to protect the public while investigating the allegations, as allowed under University of California guidelines. They could have warned the campus community — which federal law requires if university officials decide someone accused of sexual assault is a safety threat. They could have encouraged other potential victims to step forward.
UCLA officials did none of these things before announcing Heaps' retirement in June 2018.
The lawsuit filed Tuesday claims that UCLA had a massive financial incentive for concealing complaints as the doctor was a top earner for the medical center. The university also wanted to protect its reputation, said attorney John Manly, the patient's lawyer.
"For cancer patients to have to not only worry about dying, but being sexually assaulted, is truly horrific," Manly said.
According to the lawsuit, the woman was treated in the emergency room three times in two weeks for severe pain in the abdomen and eventually underwent emergency surgery and was diagnosed with mesothelioma, an aggressive cancer that can line the abdomen.
After the surgery, she would see Heaps four times as he told her she needed diligent monitoring, the suit said.
Without a chaperone present at each of the visits, Heaps allegedly fondled her breasts, molested her genitals and attempted to sexually stimulate her, according to the lawsuit filed in Los Angeles County Superior Court. The woman, the suit alleges, knew that her life depended on Heaps and that she felt powerless in reporting or objecting to his behavior.
Heaps and the UC regents also face two other civil lawsuits filed this week by women treated in 2017, who are each identified as Jane Doe.
One lawsuit, which alleges that a female medical chaperone in the room witnessed the "horrific encounter" between Doe and Heaps but remained silent, includes allegations of sexual battery, emotional distress, gender discrimination, negligent supervision and failure to warn the public and properly train and educate UC staff on sexual misconduct. That lawsuit was filed Tuesday.
The second lawsuit, filed Friday, involves a college student who was 18 at the time of her July 2017 appointment with Heaps. She alleges he sexually touched her genitals, made vulgar comments about her body and asked embarrassing and medically unnecessary questions about her sex life.
Times staff writers Teresa Watanabe and Jaclyn Cosgrove contributed to this report.
---
Life is stressful. Our weekly mental wellness newsletter can help.
You may occasionally receive promotional content from the Los Angeles Times.