UCLA rocked by charges that former staff gynecologist sexually abused patients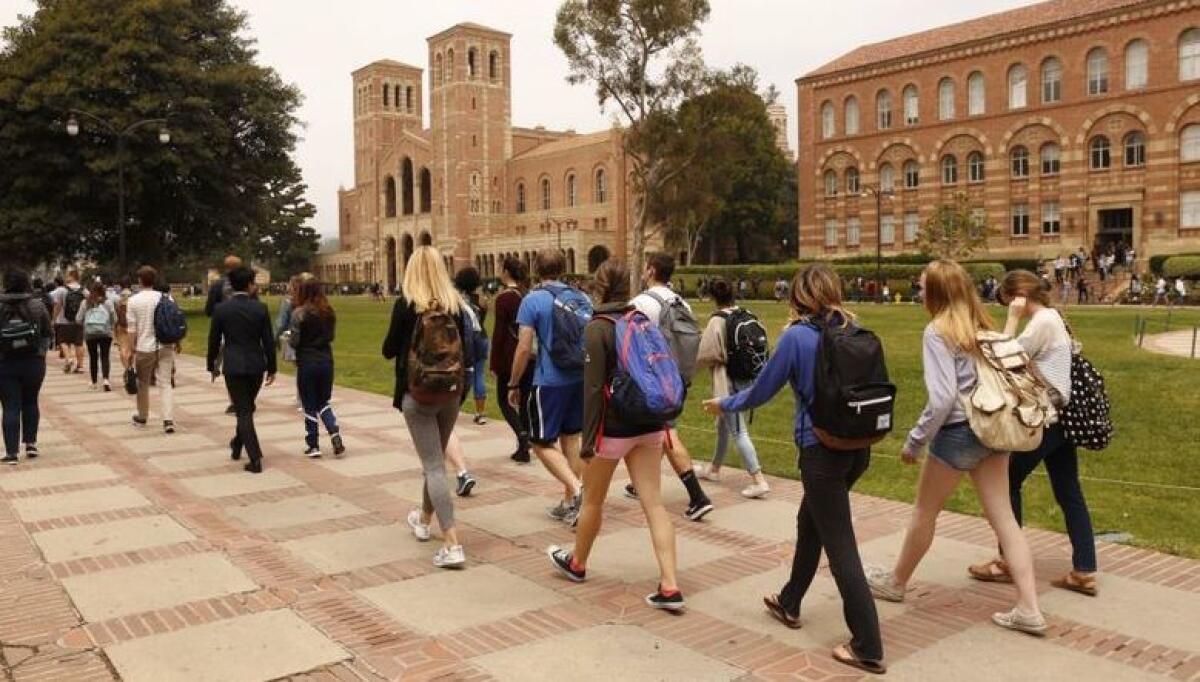 UCLA came under public scrutiny Monday over its handling of a former staff gynecologist who has been charged with sexual battery and exploitation during his treatment of two patients at a university facility.
UCLA acknowledged first receiving a complaint against Dr. James Mason Heaps in 2017; he was placed on leave the following year, but the university did not publicize the reason for his departure until this week. That decision is now the subject of an internal review, UCLA said. The university has asked other students and patients who believe they were treated inappropriately by Heaps to come forward.
"We are deeply sorry for this," Rhonda Curry, a UCLA Health spokeswoman, said. "We know we could have done better. … We want and need to hear from other possible patients."
The charges against Heaps became public Monday after he surrendered to law enforcement and later pleaded not guilty in a Los Angeles courtroom. His attorney said Heaps did nothing wrong and will fight the charges.
"These are baseless allegations," attorney Tracy Green said. "He's a respected, talented and thorough gynecological oncologist who always sought to treat his patients with dignity and respect."
The arrest comes more than a year after USC was rocked by allegations that its former campus gynecologist had acted inappropriately toward hundreds of students for nearly three decades. The Times revealed that USC allowed Dr. George Tyndall to leave the university with a settlement and without notifying authorities or his patients. Tyndall has denied the allegations, which are the subject of a criminal investigation.
UCLA officials apologized to the campus community Monday and vowed to review how such complaints will be handled in the future.
"Sexual abuse in any form is unacceptable and represents an inexcusable breach of the physician-patient relationship," UCLA Chancellor Gene D. Block and Vice Chancellor John Mazziotta, UCLA Health chief executive, said in a joint statement. "We are deeply sorry that a former UCLA physician violated our policies and standards, our trust and the trust of his patients."
Prosecutors have charged Heaps with two counts of sexual battery by fraud and one count of sexual exploitation in connection with acts involving two patients.
USC was told gynecologist could be preying on Asian women, secret records show »
The doctor worked part time at the UCLA student health center from about 1983 to 2010, was hired by UCLA Health in 2014 and held medical staff privileges at the Ronald Reagan UCLA Medical Center from 1988 to 2018, according to the university.
Curry said the university launched an internal investigation after receiving a patient complaint in December 2017 of inappropriate and medically unnecessary touching and comments.
During the investigation, the university discovered complaints about Heaps from two other patients, one in 2014 and another in 2015. One of those, Curry said, was a student at the time she saw Heaps. Neither of those complaints was included in the current criminal case.
UCLA notified Heaps in April 2018 that he would not be reappointed, Curry said. In June, he was placed on leave and announced his retirement later that month.
UCLA notified the medical board about Heaps on June 14, 2018 — about a month after The Times first published its investigation about Tyndall. The university placed a second report with the board in March 2019.
Curry said the university has settled claims made by one of Heaps' former patients but did not provide the settlement amount.
According to prosecutors, a patient who saw Heaps while the university was investigating him — her appointment was on Feb. 28, 2018 — later reported him for inappropriate behavior.
Heaps' attorney said one of the patients he is accused of victimizing saw him in 2017 and reported having severe pelvic pain. During the appointment, Green said, Heaps asked about the patient's genital piercing and examined her lower back; the woman accused Heaps of touching her buttocks.
Green said Heaps was looking at her body to identify the reason for her pelvic pain. That patient also accused Heaps of touching her breasts inappropriately. Green said that Heaps only touched the patient's breasts to identify cysts or other specific problems, and insisted that his practice was in response to presented symptoms.
"Everything was done for a medical reason," Green said.
The patient who saw Heaps in February 2018 submitted a complaint about nine months later that alleged an inappropriate and uncomfortable appointment, Green said. That patient, who identified herself as a 48-year-old mother of three, accused Heaps of improperly putting his fingers in her vagina, Green said.
USC's doctor scandal awoke a horrific memory. Now Nicole Haynes fights for the truth »
Green said her client was blindsided by the charges and by how UCLA handled it. Heaps' medical license is current, according to the state medical board's website. His address on the board's website is listed as an office in a UCLA medical plaza near campus.
"The Board is unable to provide information on its complaints/investigations as both are confidential by law," spokesman Carlos Villatoro said in an email. "However, the Board is aware of the allegations against Dr. Heaps and is looking into them."
Attorney John Manly, who has represented hundreds of plaintiffs on several high-profile sexual abuse cases, told The Times that at least one patient has reported that she believes she was abused by Heaps at the student center when he was a doctor at UCLA in the 1990s. The alleged victim has been interviewed by Los Angeles Police Department detectives.
In the complaint filed against Heaps, prosecutors allege that the doctor touched both patients "for the purpose of sexual arousal, sexual gratification and sexual abuse" while they were unconscious.
The district attorney Monday asked for $70,000 bail, and Heaps was released on his own recognizance.
Attorneys Darren Kavinoky and Jennifer McGrath, who are working with at least one of Heaps' former patients, said they were frustrated that the doctor was released.
"On behalf of our clients, it feels offensive frankly, and it's like revictimizing the victims," Kavinoky said. "We wish we would have been heard on that point."
Sign up for Essential California for news, features and recommendations from the L.A. Times and beyond in your inbox six days a week.
You may occasionally receive promotional content from the Los Angeles Times.