United outrage is felt in Little Saigon: 'Did they think he's a quiet minority who won't resist?'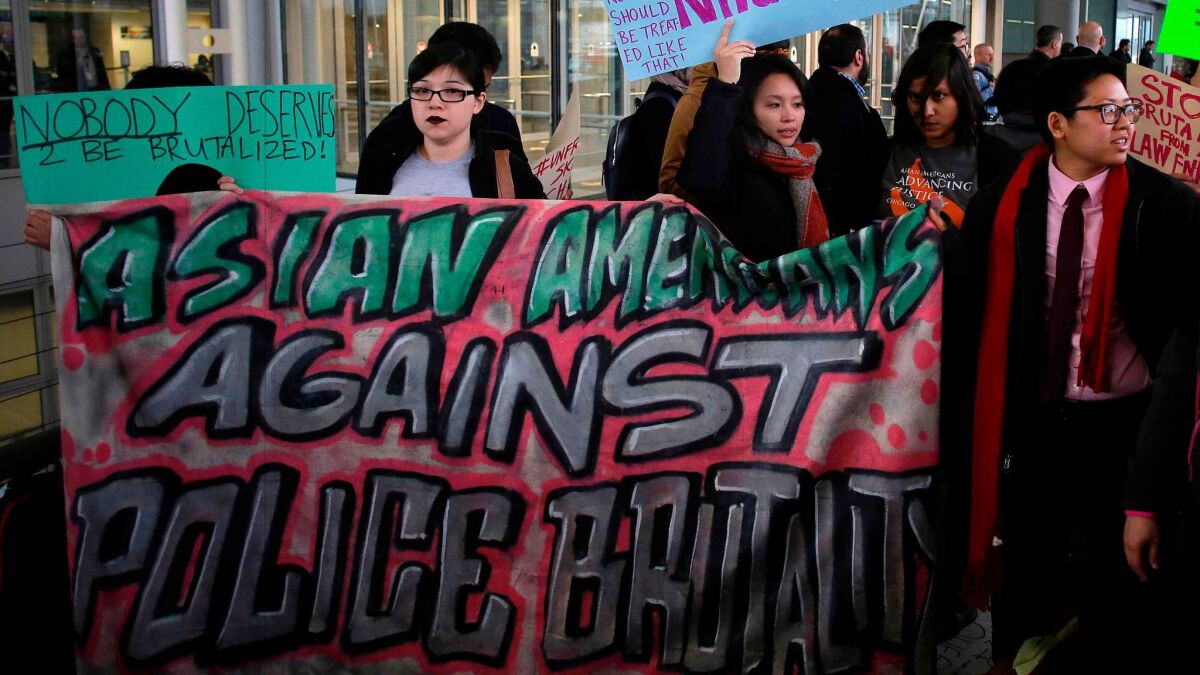 Minh Phu Le's cousin called her about the news shaking up Little Saigon: The man who'd been dragged off a United Airlines flight, seen in a viral video, was someone they all knew.
"I can't believe it's him," Le recalled saying after viewing the footage, over and over, of Dr. David Dao. "And I can't believe they're treating him like that, bloodied and confused. I was so angry."
Dao is a familiar presence in Orange County's Vietnamese cultural district, where he frequently performs traditional music, as well as his own compositions, at community concerts.
Talk of his online image — ashen and injured — has dominated discussions this week at bakeries where immigrants sipped iced coffee and in hair salons in between cuts and perms.
Dao, 69, had been heading home to Kentucky after celebrating at a reunion of medical school friends in California. During a stop in Chicago, officials forcibly removed him from his seat after he refused to leave the overbooked United flight.
Dung Nguyen, a leader in Kentucky's Vietnamese community, said he was stunned when he recognized Dao as the central figure in the viral video.
This video posted on social media shows Dr. David Dao being dragged from a United Airlines flight from Chicago's O'Hare International Airport to Louisville, Ky., on April 9, 2017. (Jayse D. Anspach)
"I just heard about what happened and when I played it, I saw his face so scared and hurt. It made me very upset because he is a passenger — he bought a ticket properly. He was already seated and to be pulled out like that, nobody deserves that."
Nguyen said he texted Dao to see how he was doing. Dao responded that he remained in the hospital in Chicago, "so I left him alone," Nguyen said.
"He needs rest and time to recover. But everyone I've emailed with and everyone in the community that I've talked to finds this treatment unacceptable. It doesn't matter if you're Chinese, Vietnamese, American or whatever. Nobody deserves to be treated this way."
It doesn't matter if you're Chinese, Vietnamese, American or whatever. Nobody deserves to be treated this way.
— Dung Nguyen, a leader in Kentucky's Vietnamese community
Nguyen described Dao as a "thoughtful and reliable" community volunteer, eager to help at Tet festivals and offering to teach traditional Vietnamese music for free to teenagers, schooling them in the arts of his homeland.
Dao, who came to the United States in 1975, plays several instruments and has performed throughout the United States with well-known Vietnamese entertainers.
Expatriates this week have been clicking on YouTube videos featuring his work and posting them online in a show of solidarity. On Facebook, Vietnamese Americans have highlighted his community work and his support of a Kentucky group that helps the homeless, saying his past "shouldn't matter" when it comes to the "tragedy" committed against him by United officials.
That past? Dao was convicted in 2004 of illegally prescribing painkillers to a patient in exchange for sex. He surrendered his medical license in 2005. Regulators cleared Dao to return to medical practice in 2015.
"It's unconscionable, what [United Airlines] did. And the outrage is international," said author and essayist Andrew Lam of San Francisco. "Not only Vietnamese Americans are angry, Asian Americans are furious, and that reaction has rolled across the Pacific because all of us can see ourselves in that situation. We can be a sitting duck, with no resource when you're just caught in the power game."
Yet in a community where hundreds of thousands of dollars can be raised quickly — demonstrated by past fundraisers for flooding victims in central Vietnam — there's been no rush in Little Saigon to help Dao, with many believing he will end up with millions from suing United.
"I don't worry about his income at this point," said Tammy Hong as she waited for her turn at the My Ngoc beauty salon in Westminster. "He's totally doing the right thing in hiring the big lawyers."
But, she said, "you wonder if they picked on him because of his age or because he's Asian. Did they think he's a quiet minority who won't resist?"
Twitter: @newsterrier
ALSO
United Airlines vows not to call police on passengers as CEO apologizes for fiasco
'Get off or pay for another seat.' United customers share their bad experiences
That time passengers were told to give up their seats for United's CEO and his family
---
The stories shaping California
Get up to speed with our Essential California newsletter, sent six days a week.
You may occasionally receive promotional content from the Los Angeles Times.