Protests decry USC administrators' takeover of student-funded scholarship program
For decades, students at USC have been charging themselves a small fee each semester to support classmates who come from low-income households or are the first in their families to attend college.
From the start, the fund has been administered largely by fellow students. Over the years, it has supported over $10 million in scholarships, fostered a close-knit community of scholars and garnered national attention for the ways in which its programs help underrepresented students navigate the emotions, logistics and academics of the college experience.
One recent Topping student became a Rhodes scholar. Another was elected student body president. All have contributed to their local communities.
But now the university has stepped in and taken charge.
Administrators announced this month that they were restructuring the program in order to let more than the current "small number of students" benefit.
"USC now enrolls more than 7,000 undergraduates who are potential Topping Scholars," Provost Michael Quick wrote.
Administrators have yet to detail what changes they will make to the program. But under the restructuring, USC students learned, the provost's Office of Undergraduate Programs will oversee the fund, and the fund's director for 11 years, Christina Yokoyama, will be removed.
The news has angered many students, who have described it as a "money grab" and "takeover."
Students and alumni on the fund's governing board said they were not adequately consulted. Many people emailed and called in to protest but say their concerns have not been answered.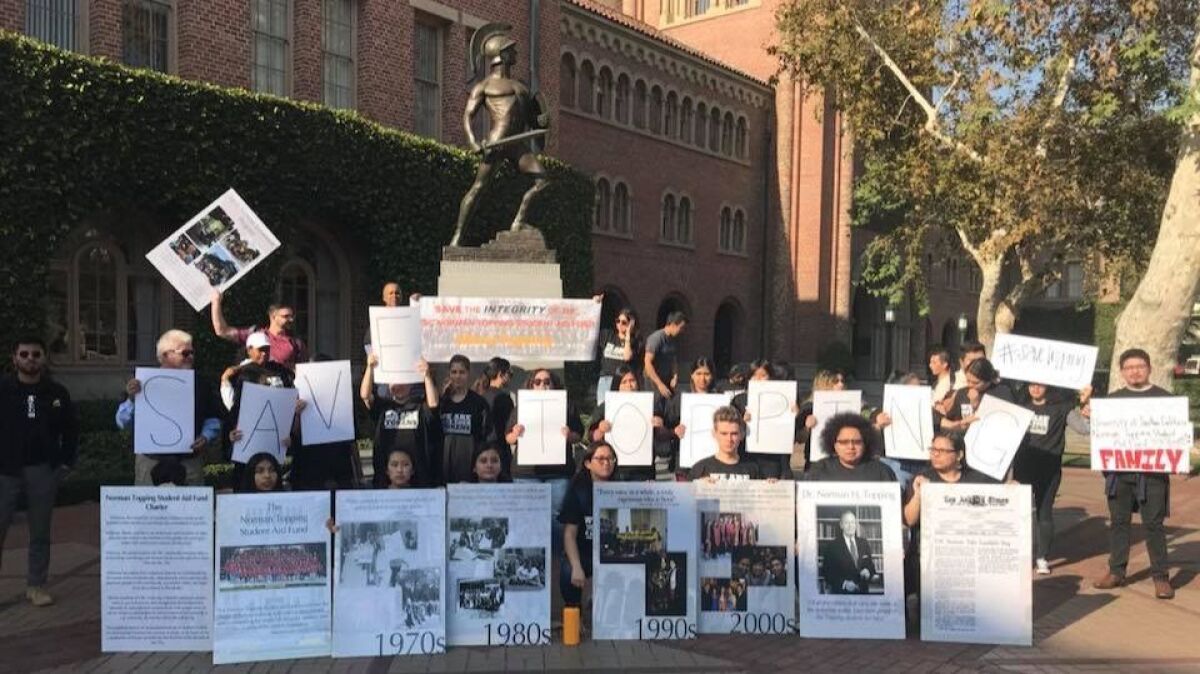 "They're gutting it under the guise of expansion," said Sabrina Enriquez, a Topping scholar who questioned how the administration could expand the program without losing the intimate guidance and mentorship, under Yokoyama's leadership, that sets it apart. Enriquez is one of more than 2,200 who have signed an online petition demanding that Yokoyama be reinstated.
George Sanchez, a professor of American studies, ethnicity and history, was a first-generation student himself and has been a mentor to many Topping scholars. Yokoyama, he said, has made a difference in so many students' lives, and giving more students money is not the same as deciding to expand the program's unique efforts to counsel and guide those in its care.
"If you want to expand, that's great, but you have to have staff, you have to have a budget. Instead they cut what good this program has been doing," Sanchez said. "They show a consistent pattern of trying to do things on the cheap and shoveling money around but not really paying attention to what the students say they need."
He and professor Gene Bickers, who formerly served as vice provost of undergraduate programs, wrote to the provost's office calling for a reversal of the changes and warned of the diminishing impact of the fund if it gets absorbed into USC's overall financial aid operation.
Yokoyama said she was "blindsided" by her termination, but said she had been facing pressure from university administrators in recent years to expand the program while at the same time fighting to preserve its hallmark features. One is the biennial trip to Japan, the first time abroad for many Topping scholars, which got cut in 2016, she said.
"Although this decision directly affects me, let me be clear: This fight is not about me," she said. "This is about the USC senior administration's attempt to take over this extraordinary and historical program."
Each semester, USC's 45,500 undergraduate and graduate students pay $8 each to support the fund.
Quick, in an interview with The Times, said the decision to restructure came after his office reviewed the efficiency of programs across the campus. He pointed out that the fund currently supports about 120 students at a time.
"We're not doing enough with that money if that's all we're touching. If we think about doing away with a lot of the administrative overhead, the money that isn't being spent every year, I bet we can easily, over the next couple of years, double that number," he said.
"I would love to see us even do more, and I think if we do more, we'll be able to even raise more money from donors that will want to see even more done. So my goal is, let's start to grow this. Let's get the word out about the number of students we're touching in a big way and talk to our donor base about what an amazing program it is, and let's see if we can double it."
Quick said the fund's governing board would play a key role as "a good partner with the university" in deciding how to use the money.
"I want our Topping scholars to be consulted on what are the programs they need, how much should go to scholarship versus how much should go to programming. All of those things are things that have to be figured out."
In recent days, students have protested outside the provost's office and spoken passionately about Yokoyama's crucial role — helping students who had mental breakdowns, sitting in a hospital room to lend support when one Topping scholar's parent was dying. They've sent numerous letters to the provost objecting to the changes, including one signed by ten former Topping board chairs.
Edwin Saucedo, a Topping alumnus who served as last year's student body president, said the program's support was crucial to him. The first in his family to attend college, Saucedo said he often felt like the only person in class who didn't understand the material and wondered if he deserved to be at USC. When he bombed his first midterm, he said, Yokoyama reached out — and she made sure he never felt that way again.
Follow @RosannaXia for more education news
---
Life is stressful. Our weekly mental wellness newsletter can help.
You may occasionally receive promotional content from the Los Angeles Times.