Vietnam War memorial in Venice vandalized by taggers again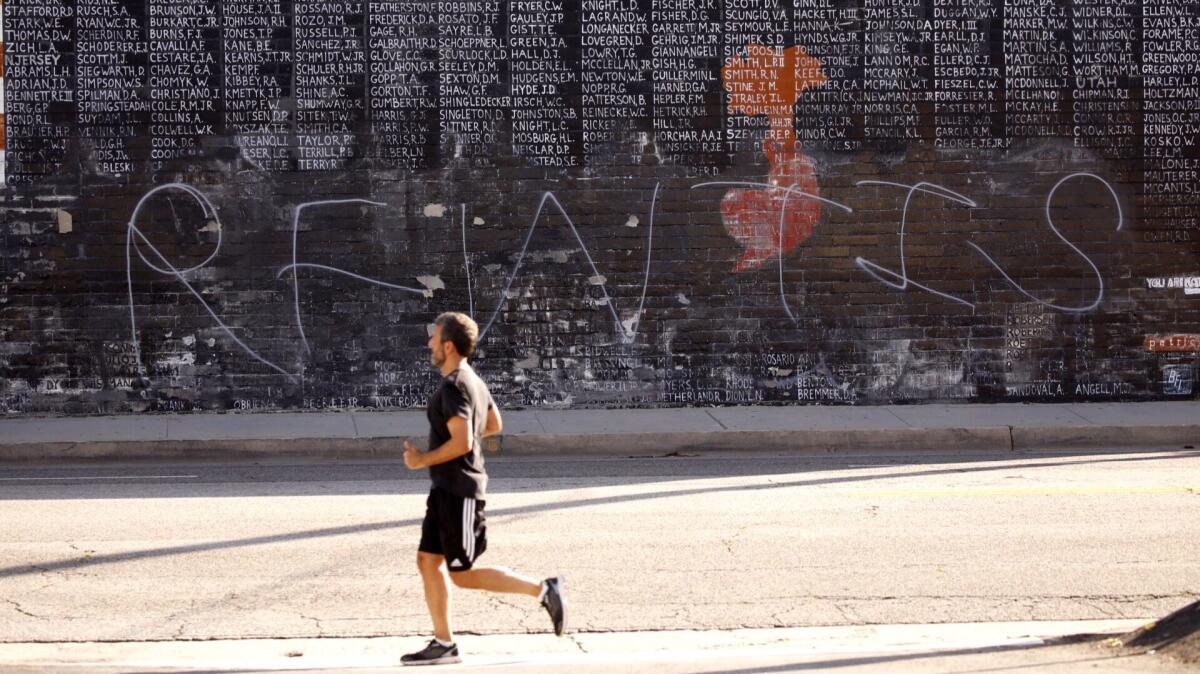 A Vietnam War memorial in Venice that was damaged by a tagging crew last year has again been marred by graffiti, authorities said.
Los Angeles County sheriff's detectives are investigating the latest defacement, which was reported to authorities Friday by a citizen who sent photographs, said Ramon Montenegro, a spokesman for the sheriff's Transit Policing Division.
Montenegro said the graffiti, which consists of thin, hastily written letters, appears to have been painted by gang members.
The massive mural on Pacific Avenue, which fills a blocklong brick wall, is reminiscent of the Vietnam Veterans Memorial in Washington, D.C. On a black background, it bears the names of 2,273 soldiers counted as either prisoners of war or missing in action in Vietnam, as well as the words "You Are Not Forgotten."
In May 2016, just before Memorial Day, the wall was marred by Angel Castro, a 24-year-old tagger known as "Liter," whose moniker was spray-painted in giant white letters on the wall. Castro was sentenced in January to four years in state prison after pleading no contest to vandalism and robbery. He also was ordered to pay $38,000 restitution.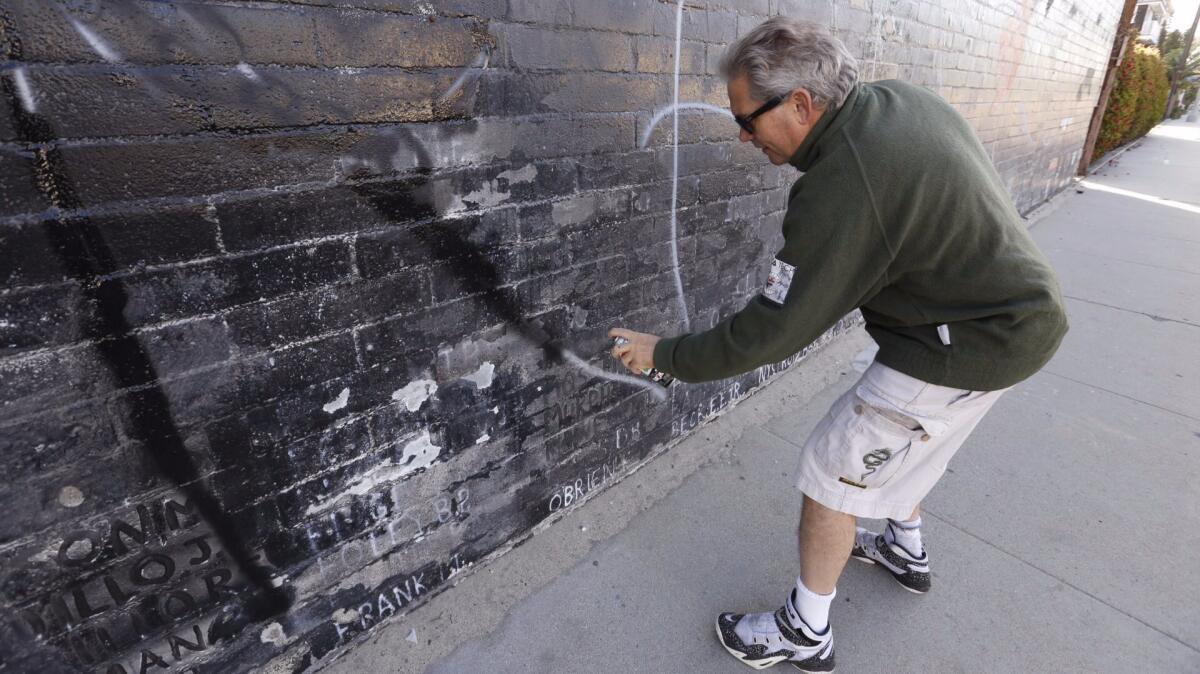 The graffiti covered dozens of veterans' names, and detectives still are searching for other vandals who may have helped, Montenegro said.
The most recent tagging does not appear to be related, Montenegro said.
"We're treating this as a completely separate crime," he said. "It's a different style. The tagging last year was done by what our people classify as 'prolific taggers,' people that might consider themselves artists except for the fact that their canvas is someone else's property."
Montenegro said the new graffiti "looks a lot more amateurish … like it came from somebody that had a spray can of paint."
Detectives do not have suspects in the latest vandalism, he said.
"We do have nationally renowned graffiti-tagging detectives working on this. … I feel confident that if it's possible to identify this person, they will find them," Montenegro said.
The Sheriff's Department is investigating the vandalism because the mural, which was dedicated in 1992, is painted on a Metropolitan Transportation Authority building and, therefore, is under the sheriff's jurisdiction, Montenegro said.
The graffiti on the veterans memorial "strikes a nerve with people, including me because I'm a veteran myself," Montenegro said.
"Somebody went out of their way and took their time to put those names of Americans that gave their lives in the Vietnam War to keep us free," he said.
The nonprofit Social and Public Art Resource Center, which is based in Venice, will begin restoring the mural in the coming days, it said on Facebook.
Authorities have asked anyone with information about the latest tagging, or last year's vandalism, to contact the sheriff's Transit Policing Division at 888-950-7233.
Twitter: @haileybranson
Sign up for Essential California for news, features and recommendations from the L.A. Times and beyond in your inbox six days a week.
You may occasionally receive promotional content from the Los Angeles Times.