Decades after deadly arson fire at Westlake apartment complex, LAPD announces arrests and possible motive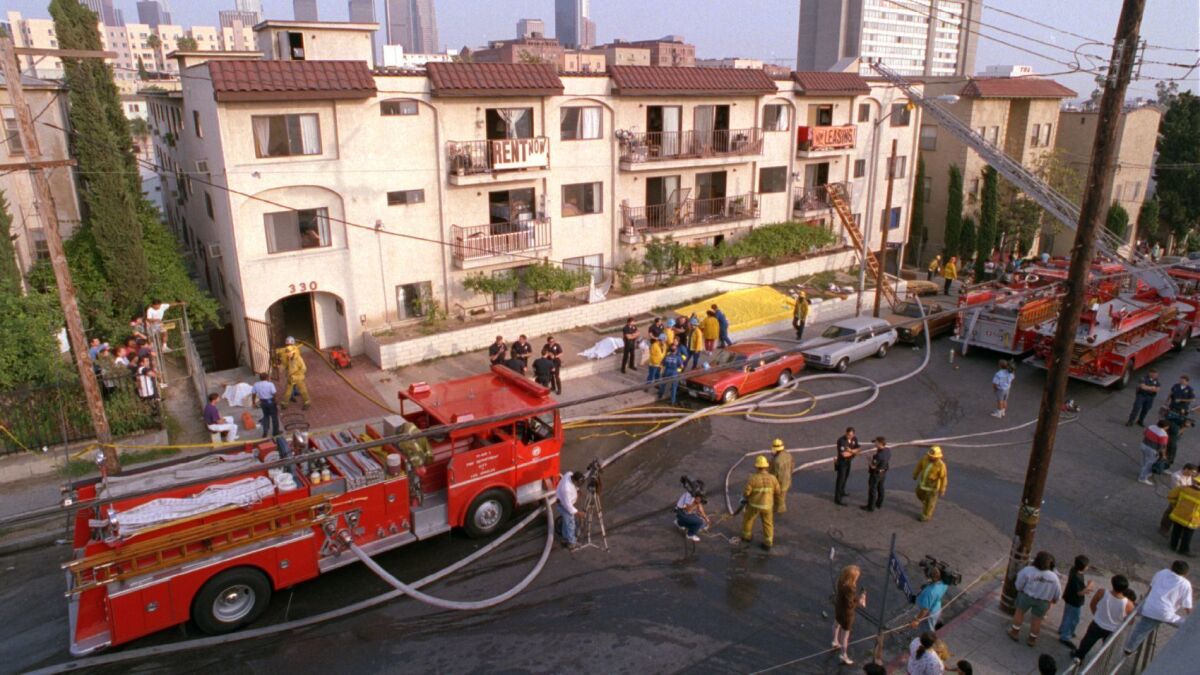 It came down to retribution, police said.
A powerful drug distributor was pushing crack cocaine in Los Angeles' gang-plagued Westlake neighborhood in the 1990s. But she was hampered by the vigilant manager of an apartment complex, who repeatedly changed the locks on one building and called police in hopes of discouraging dealing inside.
Fed up with the interference, in 1993 the distributor contacted two members of the 18th Street Gang to whom she'd been paying a "drug tax" to deal on their turf, and told them "they needed to take care of the problem," according to court records detailing conversations she had with a Los Angeles Police Department detective before her 2011 arrest.
Before long, a furious blaze raced through the complex populated mostly by Latino immigrants, filling the building with acrid smoke. Residents formed human chains to help older neighbors escape. Mothers threw babies out of windows, hoping someone would catch them.
Despite those desperate attempts, the fire killed 10 people, including two pregnant women and seven children.
The case haunted police for more than two decades — with investigators long suspecting the blaze had been set by vengeful drug dealers but never being able to prove it.
The LAPD's hunt appeared to come to a close last week with the arrest of several suspects officials believe set one of the worst arson fires in the city's history.
On Monday, police and prosecutors said that Johanna Lopez, 51, Ramiro "Greedy" Valerio, 43, and Joseph Monge, 41, would be charged with 12 counts of capital murder in connection with the blaze. Police also have identified a fourth suspect, who remains at large and may have fled the country. The murder counts encompass the 10 people killed in the fire and the fetuses carried by the two pregnant women who died, prosecutors said.
The fire occurred at a time when the gang dominated the district west of downtown L.A., terrorizing immigrants — both legal and illegal — who lived there. The gang's grip on the neighborhood has loosened dramatically in the last 24 years, and officials said that prompted more witnesses to come forward and help police.
"In this case, time was on our side. During the original investigation, witnesses who were living in fear of the gang members that controlled their neighborhood would not cooperate with the police," Los Angeles Dist. Atty. Jackie Lacey said. "Now, 24 years later, they are willing to testify to what they saw and heard on that deadly day."
Valerio and Monge were arrested Friday. Lopez had been arrested in connection with the fire in 2011 and has been awaiting trial. New charges will be filed Tuesday against the three suspects who are in custody, said Lacey, who added that prosecutors had yet to determine if they would seek the death penalty.
Investigators have known of the suspects' involvement for at least five years, according to LAPD Capt. Billy Hayes, who heads the elite Robbery-Homicide Division that began reexamining the evidence in 2013.
A transcript of a preliminary hearing that followed Lopez's 2011 arrest shed light on a possible motive behind the blaze.
According to retired LAPD Det. Olivia Spindola, Lopez told her she had been paying Valerio and another man for the right to sell drugs in the 18th Street Gang's territory. In 1993, Lopez said, she had told Valerio that a watchful apartment manager was driving down her profits and urged gang members to intervene on her behalf, according to the transcript.
Lopez said she met with the men and hatched a plan for a fire, according to Spindola's testimony. Valerio was supposed to bring a cigarette lighter, and a confidential informant told police they saw either gasoline or lighter fluid in Valerio's apartment the day of the fire, court records show.
About 3:30 p.m. on the day of the fire, Lopez stood across the street, staring at the apartment complex, when one of the gang members she had contacted approached her, according to the transcript.
"Leave, this … is about to happen," the man said.
The blaze, which started on the second floor, surged quickly through the building, in part because fire safety doors had been propped or nailed open, fire officials said at the time. The complex had been cited repeatedly for fire code violations, including faulty smoke detectors.
The owners had been ordered to place a 24-hour fire watch on the building in April 1993, just weeks before the fatal blaze, until the violations were dealt with.
Despite residents' efforts to help one another escape, columns of thick smoke claimed a number of lives. One man watched in horror as his wife and three of his children ran into the smoke, where they perished, huddled in a hallway. Another man also lost three children and his pregnant wife.
More than 100 residents were displaced, and more than 40 were injured. The seven children who died ranged in age from 15 months to 11 years.
The fire exposed major flaws in the city's fire inspection system and came to symbolize the desperate conditions faced by immigrants, both legal and illegal, who found themselves living in old, substandard apartments and facing daily threats from gangs who controlled the area.
Valerio was a "shot caller" with the Columbia Lil Cycos in the 1990s, a violent sect of the 18th Street Gang, according to court records.
His attorney, Gregory Rubel, said Friday marked the "fourth or fifth" time his client had been arrested in connection with the same crime, although he has never been formally charged.
"Every time someone gets assigned to it, they arrest him," said Rubel, who claims his client is being "targeted by the LAPD."
Valerio moved to the Antelope Valley years ago and now works as the manager of a drugstore in the area, his attorney said. Hayes disputed Rubel's account, saying the 41-year-old had not been arrested in connection with the fire until last week.
Lopez had been convicted in a federal racketeering case and served more than 12 years in prison before being arrested in 2011 in connection with the blaze.
Monge also had a criminal past, serving nine years in a Mexican prison for killing his girlfriend, according to Hayes.
Calls to attorneys representing Lopez were not returned Monday. It was not clear who was representing Monge.
Those who lost loved ones in the blaze still remember staring at smoke clouds that day.
When Jairo Morales found the apartment complex smoldering, he began frantically searching for his partner, Rosalia Ruiz.
The couple had recently moved to Los Angeles from Guatemala and found work at a textile factory, but Ruiz had stayed home from work that day because she was about to give birth to their first child.
"Things were so hard, so sad. Pure suffering," Morales, now 50, said in Spanish as he recalled the loss of his partner and their son. "That was so long ago. I don't wish bad things on anybody, but everyone is responsible for their actions. The law will do its work… Everyone pays for their errors."
Times staff writer Cindy Chang contributed to this report.
Follow @lacrimes & @JamesQueallyLAT for crime and breaking news in Los Angeles.
---
UPDATES:
7:55 p.m. This article has been further edited and reorganized.
3:45 p.m.: This article has been updated with additional information from court transcripts.
2:10 p.m.: This article was updated with additional comments from prosecutors and details about the fire.
12:55 p.m.: This story was updated with additional information from law enforcement officials.
12:15 p.m.: This story was updated the names of suspects arrested and with additional information from an LAPD news conference.
This story first published at 8:30 a.m.
---
Life is stressful. Our weekly mental wellness newsletter can help.
You may occasionally receive promotional content from the Los Angeles Times.