Yorba Linda grapples with loss, randomness of fatal plane crash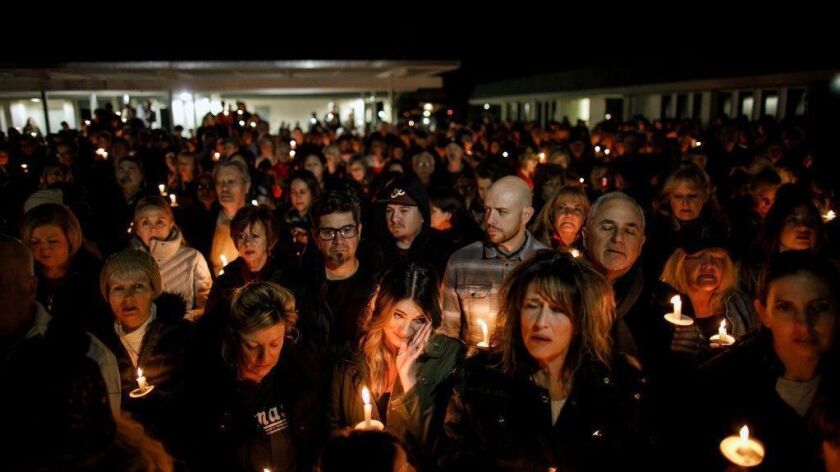 Four days earlier, they raced to put out the flaming wreckage of a small plane that had pelted their quiet Orange County neighborhood. On Thursday night, they lit candles to remember the four people killed when pieces of the plane came hurtling out of the sky and set their home on fire.
About 1,000 people gathered for a vigil at Glenknoll Elementary School in Yorba Linda, a few blocks from the crash site. They mourned Roy Lee Anderson and Dahlia Marlies Leber Anderson, two residents who died in their home Sunday, along with Stacie Norene Leber and Donald Paul Elliott, who were visiting the couple.
Ron Elenbaas lived across the street from the Andersons for the last two decades. Roy Anderson, 85, was Elenbaas' "paper boy," he joked. For 20 years, Anderson picked up the paper at 5 a.m. from Elenbaas' driveway, read it, repackaged it and brought it to his door. In the evenings, Elenbaas would cross the street for a drink with his friends on the porch: red wine for Ron, Chardonnay for Dahlia.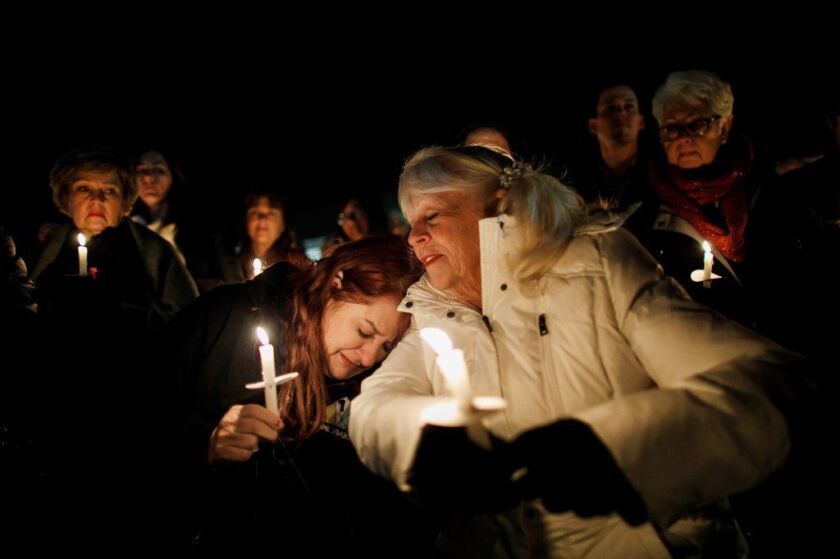 Josh Anguiano showed up to the vigil in his postal uniform. For two years, Anguiano has delivered mail to the Andersons' street. He didn't know them well — he exchanged pleasantries with Roy when handing over the mail — but felt he needed to be there Thursday.
"They're my customers," he said.
Mark Jackson, pastor of the Bridge Church in Corona, called Elliott a "very, very close friend" who attended his church for 20 years. Elliot's faith had been strengthened by a near-fatal accident years ago, when a truck he was fixing fell on him and crushed him, Jackson said.
On Sunday morning, like most every Sunday, Jackson said, Elliott was worshiping in his church.
"And that afternoon, we heard he was worshiping God in heaven."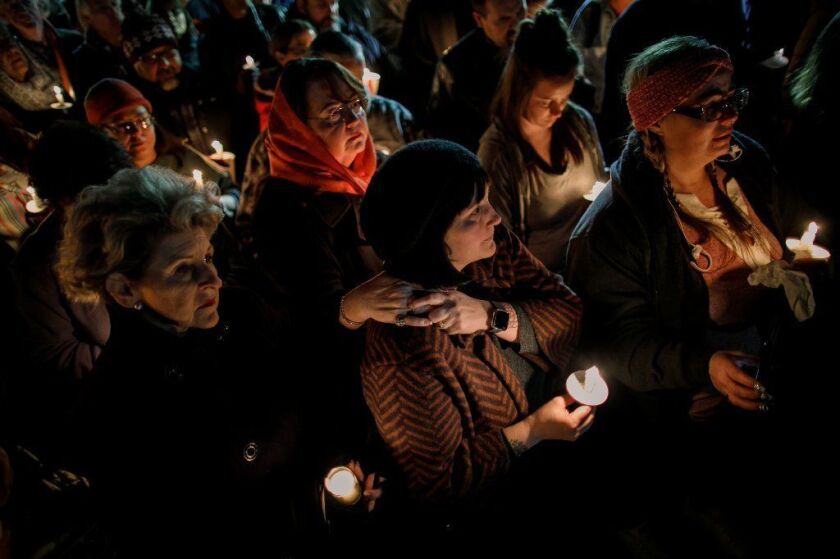 About 1:45 p.m. Sunday, with most of the neighborhood readying for the Super Bowl, the Cessna broke apart about 10 minutes after departing Fullerton Municipal Airport. It fell to the ground in pieces — a propeller bounced off a driveway, an alternator careened into a bathroom, the fuselage sheared through a tree.
The pilot, Antonio Pastini, was also killed.
Neighbors believe the plane's left wing, equipped with a fuel tank, plunged through the roof of the home. The house was engulfed in flames almost immediately, witnesses said.
The victims' family said they were reeling from the crash. "Our family bond is tight and each member lost in this tragedy represents more than just one role within our family," they said in a statement.
The home they called "a beacon for so many family and friends" is charred and fenced off. Its roof is split open. A blackened SUV sits in the driveway.
Investigators have said it could take as long as 18 months to determine what caused the crash.
Pastini, a 75-year-old Nevada resident, is an enigma himself. Born Jordan Isaacson, he changed his name sometime in the 1970s. He told Nevada newspapers he was a former Chicago detective.
Investigators recovered a Chicago police badge and other credentials at the crash site that led them to identify Pastini as a former Chicago police officer. But two days later, the Chicago police said neither an Antonio Pastini nor a Jordan Isaacson ever worked for them. A spokeswoman said the badge had been reported lost in 1978.
---
The stories shaping California
Get up to speed with our Essential California newsletter, sent six days a week.
You may occasionally receive promotional content from the Los Angeles Times.