Chicago police say pilot killed in Yorba Linda plane crash never worked for them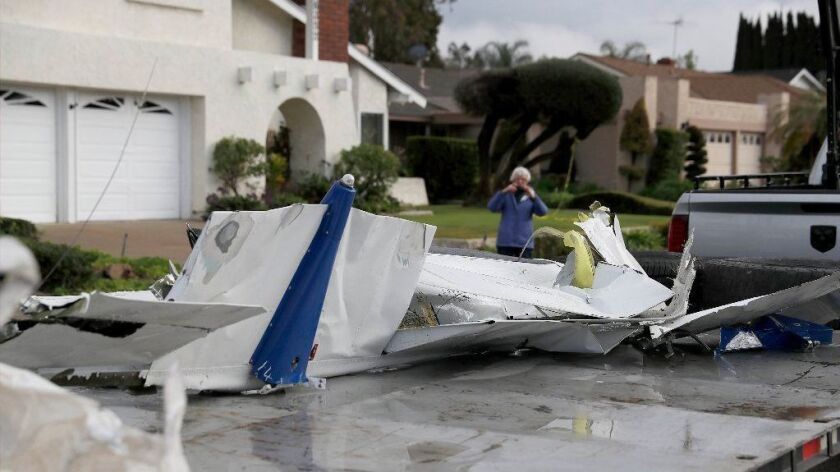 Antonio Pastini, the pilot killed on Sunday when his small plane plunged into a Yorba Linda home, was first identified by California authorities as a retired Chicago police officer. But a spokeswoman for the Chicago police said Pastini, 75, was never employed by the department and was carrying a Chicago police badge missing since 1978.
Carrie Braun, a spokeswoman for the Orange County Sheriff's Department, said the metal police star recovered from Pastini's body "appeared to be legitimate," and initially led authorities to describe Pastini as a retired Chicago police officer.
But Chicago police told the sheriff's department Monday that they had no record of Pastini being employed by the department. Michelle Tannehill, a spokeswoman for the Chicago police, said the badge found on Pastini was reported lost in 1978.
The missing badge adds another question to an investigation already rife with them. The four people killed in the home struck by Pastini's plane remain unidentified, and the cause of the crash is still unknown. Investigators from the National Transportation Safety Board could take as long as 18 months to learn why Pastini's plane broke apart and plunged, flaming, into an Orange County suburb.
About 10 minutes after taking off from Fullerton Municipal Airport on Sunday afternoon, Pastini's twin engine Cessna came apart in the sky and crashed into the 19000 block of Crestknoll Drive, in a residential neighborhood of Yorba Linda, authorities said. Pastini was killed, along with four people inside the home. Wreckage of the plane was strewn across the suburban neighborhood.
Investigators have yet to identify the victims because their bodies were badly burned. Braun, the sheriff's spokeswoman, said they had obtained dental records for some of the victims and hoped to identify them on Tuesday. Two others suffered moderate burns.
Julia Ackley, a Torrance resident and one of Pastini's daughters, told The Times that her father often flew to Southern California to visit her family from Oregon or Nevada, where he was a restaurant and business owner.
Pastini had no record with the Federal Aviation Administration of accidents, incidents or discipline, said Ian Gregor, a spokesman for the FAA.
---