Fire near Yosemite explodes as officials mourn firefighter killed on front lines
A forest fire burning near Yosemite National Park exploded overnight to 4,300 acres, forcing the closure of Highway 140 into the park and prompting evacuations of nearby communities, officials said.
The fire was only 2% contained Sunday, a day after a firefighter was killed battling the blaze. No structures have been lost.
The fire, which erupted late Friday, is burning in a wilderness area southwest of the park and has prompted evacuations in Briceburg, Cedar Lodge and Mariposa Pines north of Bear Clover. An evacuation advisory was also in effect Sunday for the Jerseydale area.
The fire is burning in rugged, steep terrain where drought-stricken trees are providing plenty of fuel, said Cal Fire spokesman Scott McLean, whose agency is assisting the U.S. Forest Service in battling the blaze.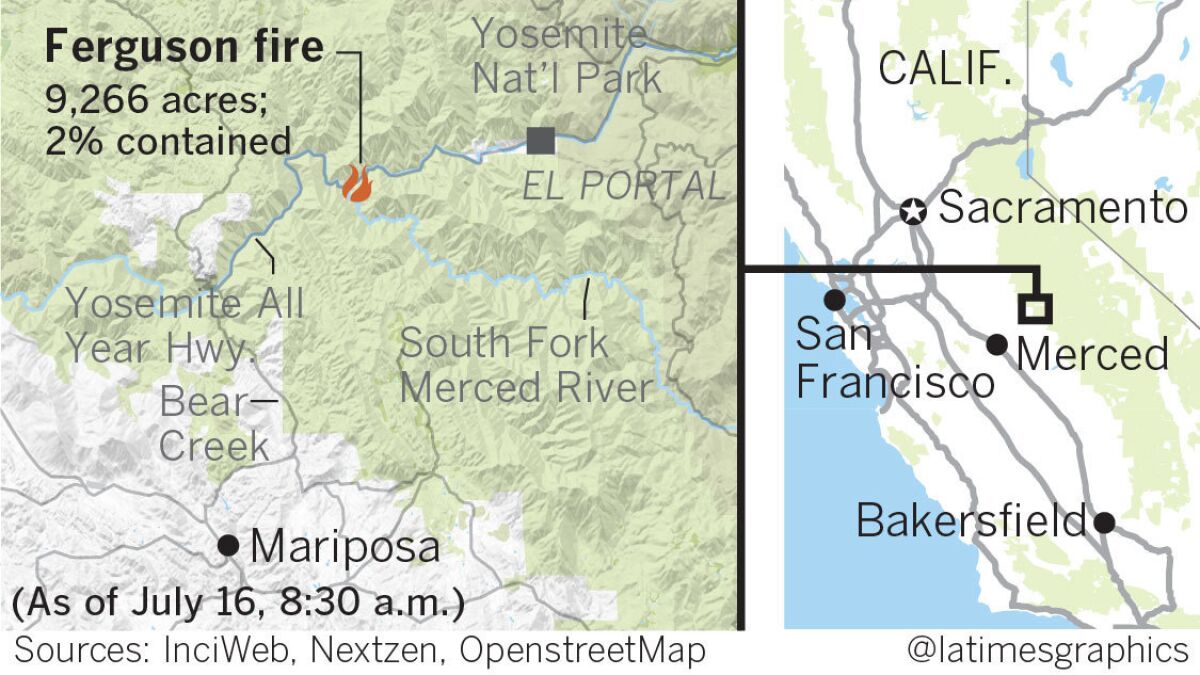 "We have not recouped at all" from the state's lingering drought, McLean said, noting that recent rains were "not even speed bumps" when it comes to halting the fire danger. He said the area's canyons also made for erratic winds.
"It's the worst of the worst," McLean said of fire conditions.
To reduce the fire danger, Pacific Gas & Electric Co. on Sunday switched off power lines serving the area, affecting parts of Yosemite, El Portal and Foresta.
Braden Varney, a bulldozer operator with Cal Fire, died at the scene as crews battled the fire early Saturday, McLean said.
Varney, 36, of Mariposa had served in the California Department of Forestry and Fire Protection's Madera-Mariposa-Merced Unit for a decade. He left behind a wife and two young children, according to the agency.
"He was a community member. That's where he lived, protecting the area where he grew up," McLean said.
His father also worked as a Cal Fire heavy equipment operator, McLean said.
Varney's bulldozer tumbled down a steep canyon while he was cutting away vegetation to protect Jerseydale in case the fire moved in that direction, Cal Fire spokesman Jeremy Rahn said Sunday afternoon. Varney had started at 8:30 p.m. Friday, and at some point radio contact with him was lost, Rahn said. He could not say whether the accident occurred in darkness or daylight, but he said it was not unusual for bulldozer operators to work in darkness.
"It's common practice for the dozers to be working through the night," Rahn said.
Varney was spotted from the air about 8 a.m. Saturday. A crew confirmed his death. But because of the inaccessible terrain, his body is not going to be recovered until Monday at the earliest.
McLean said Varney's death is still under investigation. Varney's job involved operating bulldozers, and he was working on the line with teams trying to contain the fire when he was killed, McLean said. The area where firefighters were working is generally inaccessible, with rough and steep terrain.
Last year, firefighter Cory Iverson died of burns and smoke inhalation while battling the Thomas fire in Ventura County.
McLean said he couldn't recall firefighter deaths coming so close together in California in many years. He said that this year, tens of thousands more acres have burned in the state than last year.
"We're talking very extreme fire behavior," he said. "Everybody just needs to be so careful."
Twitter: @latdoug
---
UPDATES:
8:55 p.m.: This article was updated with a delay to recovering the body of a firefighter.
5:55 p.m.: This article was updated with new acreage and information from fire officials.
12:40 p.m.: This article was updated with new information from fire officials.
12:10 p.m.: This article was updated with new information from Cal Fire.
This article was originally posted at 10:45 a.m.
---
Life is stressful. Our weekly mental wellness newsletter can help.
You may occasionally receive promotional content from the Los Angeles Times.