Woman suspected of opening fire at YouTube had battled against platform
It's the website investigators are looking at as they try to piece together the motive of a woman — identified as Nasim Najafi Aghdam, 39 — who stormed onto YouTube's sprawling San Bruno, Calif., campus with a 9-millimeter handgun and opened fire in
Reporting from San Bruno, Calif. —
The website is a catalog of a woman's passion for animal rights and her anger at YouTube.
She complains of "close-minded" YouTube employees suppressing her page views and stifling her content. She gripes about a lack of revenue.
"Youtube filtered my channels to keep them from getting views!" she wrote on the site, which includes videos promoting veganism and photos of a woman in an array of outfits, including long gowns and a camouflage unitard. She speaks in Persian and Turkish.
"There is no equal growth opportunity on YOUTUBE or any other video sharing site, your channel will grow if they want to!!!!!"
It's the website investigators are looking at as they try to piece together the motive of a woman — identified as Nasim Najafi Aghdam, 39 — who stormed onto YouTube's sprawling San Bruno, Calif., campus with a 9-millimeter handgun and opened fire in a courtyard during lunchtime, wounding three people before turning the gun on herself.
The eruption of gun violence Tuesday in Silicon Valley hit a nation still reeling from recent mass shootings and gripped by a tense gun control debate.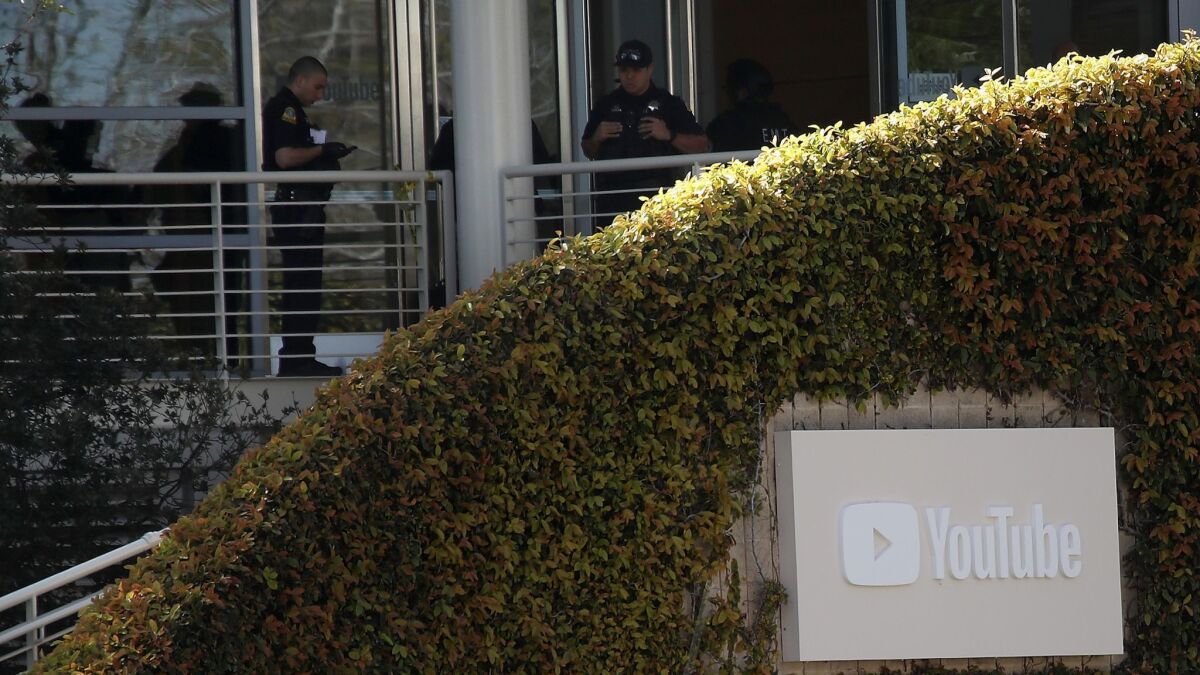 "This is a terrible day in the United States, when once again we have a multiple-casualty situation," said Dr. Andre Campbell, a trauma surgeon at Zuckerberg San Francisco General Hospital, which is treating victims.
The shooting left a 36-year-old man in critical condition, a 32-year-old woman with serious injuries and a 27-year-old woman in fair condition. A fourth person suffered an ankle injury while fleeing.
In a tweet, President Trump thanked law enforcement and first responders, and said: "Our thoughts and prayers are with everybody involved."
Law enforcement sources told The Times they initially believed the shooting was a domestic incident, but San Bruno police said late Tuesday there's "no evidence" the shooter knew the victims or targeted specific people. Investigators are now focusing on the alleged shooter's grudge against YouTube.
The YouTube account tied to the website was shut down "due to multiple or severe violations" of the company's policies against spam, deceptive practices and misleading content. But it's unclear exactly when.
The website investigators are probing, titled "Nasime Sabz," translates in Persian to, "Nasim the green." YouTube videos created by an account of the same name can no longer be viewed, but the site also features videos from other sources criticizing YouTube's policies, as well as clips promoting animal rights and veganism. Instagram and Facebook accounts listed on the website were deactivated Tuesday.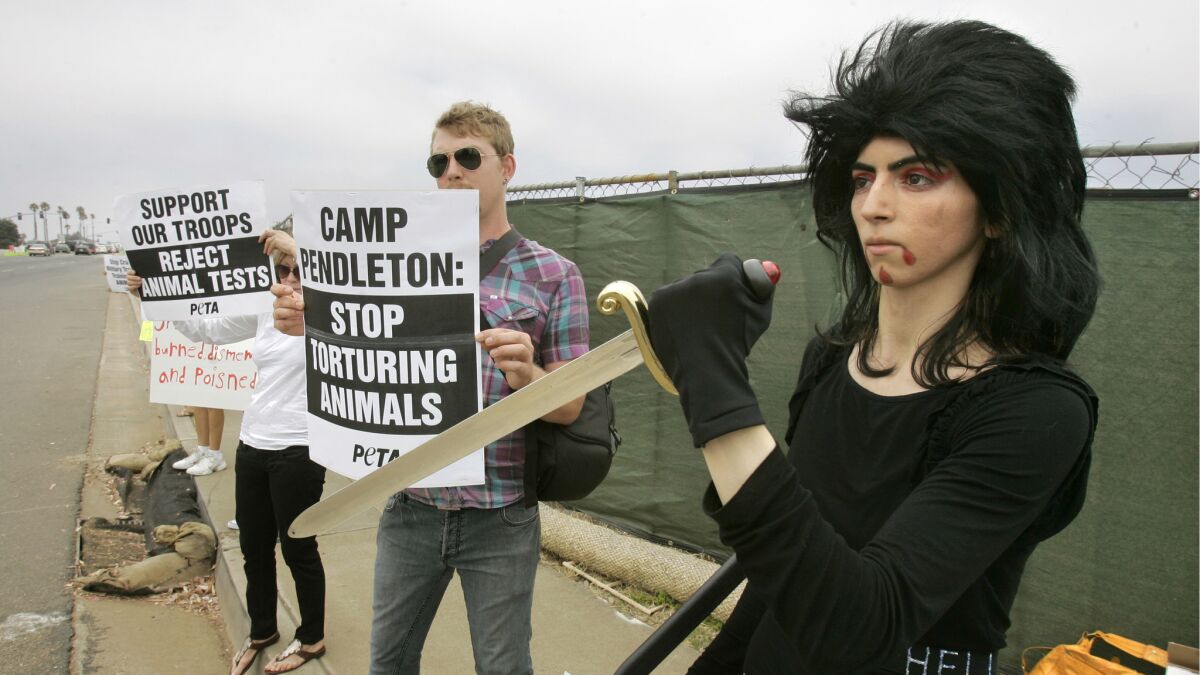 Aghdam was quoted in the Los Angeles Times in 2009, speaking at an animal rights protest outside Camp Pendleton.
"For me animal rights equals human rights," said Aghdam, who at the time worked as a construction company office manager. "Just because they can't talk doesn't mean we should take advantage of them."
About two weeks ago, Aghdam vented to her family that YouTube stopped compensating her for her videos, her father told the Bay Area News Group.
Ismail Aghdam said that the family had called police to report his daughter missing Monday because she hadn't answered her phone for two days. He said he had told police she might be going to YouTube because she "hated" the company.
Police in Mountain View, Calif., say they spotted a woman who went by the name Nasim Aghdam asleep in a car in a city parking lot early Tuesday morning and notified her family.
The first reports of a shooting came in to San Mateo County dispatchers before 1 p.m.
Zach Vorhies, a senior software engineer, was sitting at his desk on YouTube's campus when he heard the fire alarm blaring.
He grabbed his electric skateboard and hurried toward an exit. Outside, he heard yelling. On a patio where tech workers often grab lunch, he saw a man lying motionless on his back, blood staining his shirt. As he stared, a police officer with an assault rifle popped through a nearby gate.
Vorhies skateboarded away.
He was one of hundreds of YouTube employees whose workday was thrown into chaos as panic spread across the technology hub south of San Francisco.
"I thought, 'This is a mass casualty event,'" said Vorhies, 37. "I was terrified."
Some employees in a meeting heard rumbling and thought there had been an earthquake. It seemed serious, not just a standard emergency drill. As they moved toward an exit, they heard that someone had a gun.
"I looked down and saw blood drips on the floor and stairs," Todd Sherman, a product manager for YouTube tweeted. After peeking around for threats, he headed down the stairs and out the front of the building.
Police in tactical vests, helmets and rifles swarmed the campus soon after, coming upon a chaotic scene as workers ran from the area. Television footage showed people filing away with their hands up.
Uber driver Lucacio Simoes was having lunch at the nearby Tanforan shopping center when his phone buzzed with a text message from a friend: There had been a shooting at the YouTube headquarters.
Simoes, 40, hopped in his Ford Explorer to see if he could help.
When he saw people running down the street, Simoes said he turned off the Uber app and started offering rides. At one point, he said, seven people squeezed in his car.
"I just opened the door and asked if they needed help. I was getting people away from YouTube," he said.
Simoes said he gave at least six such rides Tuesday afternoon.
In a letter to employees, Sundar Pichai, chief executive of YouTube's parent company, Google, said the firm is "doing everything we can to support" those injured in the shooting and their families.
Michelle Tam, a hostess at the Hashes & Brews restaurant about a block away from YouTube's headquarters, said three YouTube employees came into the restaurant appearing visibly shaken.
"They were in a daze," she said.
One employee had a partial fragment of a bullet in her shoe, Tam said.
At the nearby Nueve restaurant, about two dozen customers barricaded themselves inside when authorities told them to "stay far away from YouTube," bartender Carlos Gutierrez told a reporter over the phone.
"Is this really happening," Gutierrez wondered aloud as he and others huddled near the bar. "Or is it a false alarm?"
Times staff writers Jazmine Ulloa, Hailey Branson-Potts, Angel Jennings, Ben Oreskes, James Queally and Joseph Serna contributed to this report.
Lien reported from San Bruno, Calif.; Winton, Tchekmedyian and Parvini from Los Angeles.
richard.winton@latimes.com Twitter: @LAcrimes
tracey.lien@latimes.com Twitter: @traceylien
alene.tchekmedyian@latimes.com Twitter: @AleneTchek
sarah.parvini@latimes.com Twitter: @sarahparvini
---
The stories shaping California
Get up to speed with our Essential California newsletter, sent six days a week.
You may occasionally receive promotional content from the Los Angeles Times.