Music teacher at center of semen-tainted flute investigation charged with lewd acts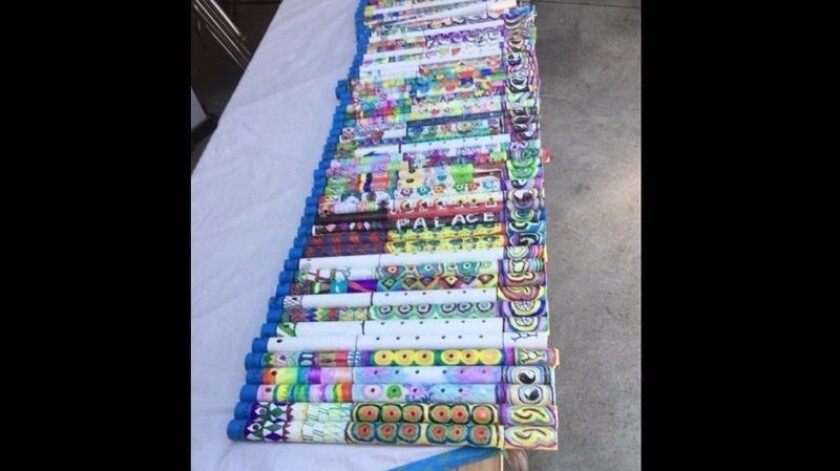 The founder of an international music program that became the subject of a state investigation in 2017 over allegations that flutes it distributed to hundreds of Southern California students were contaminated with semen has been charged with committing lewd acts against five children.
John Edward Zeretzke, 60, of Ventura pleaded not guilty Thursday to six felony counts of lewd or lascivious acts with minors younger than 14. Two of the children are from Orange County and three are from Los Angeles County, according to a grand jury indictment filed in Orange County Superior Court.
Zeretzke also is facing federal child exploitation charges based on allegations that he coerced children into sending him pornographic images of themselves and traveled to the Philippines with the intention of having sexual relations with minors. Authorities have said none of the victims in the federal case, which was filed last year, are from California.
The indictment detailing the state charges alleges that Zeretzke targeted the five minors between Jan. 1, 2017, and April 30, 2017. Authorities said he did not have any physical contact with the children. Details about the specific nature of the allegations were not available.
Zeretzke was arrested Tuesday as a result of a probe conducted by the California attorney general's office, the U.S. Postal Inspection Service and the Los Angeles County Sheriff's Department. He is being held in Orange County Jail in lieu of $600,000 bail.
"Crimes against children are despicable. Schools must represent a safe environment for our students," Atty. Gen. Xavier Becerra said in a statement. "No parent should fear for the safety and security of their child at school. We will work relentlessly to hold people who exploit our children criminally accountable to the fullest extent of the law."
Zeretzke's nonprofit Flutes Across the World — which he founded in 2009 — has worked with thousands of children, including school districts in Orange and Los Angeles counties, to craft colorful, decorated flutes out of PVC pipe.
The children would each make two flutes, keeping one for themselves while the other was sent to children in the Philippines. The local students would write personal notes of encouragement and friendship to the Philippine students half a world away that would be folded inside the instruments.
The seemingly uplifting program came under scrutiny in 2017 when officials issued warnings to parents in the Los Angeles Unified, Saugus Union, Capistrano Unified, Fountain Valley, Culver City, Newport-Mesa and Fullerton school districts that the instruments may have been contaminated.
In those warnings, school officials said they had been contacted by federal and state investigators who were trying to determine if a "music specialist" had provided tainted flutes during presentations given to young students within their districts.
It is not clear whether the state charges against Zeretzke are linked to any contaminated flutes.
Twitter: @Hannahnfry
---
The stories shaping California
Get up to speed with our Essential California newsletter, sent six days a week.
You may occasionally receive promotional content from the Los Angeles Times.