ACLU faults California law enforcement response to Prop. 47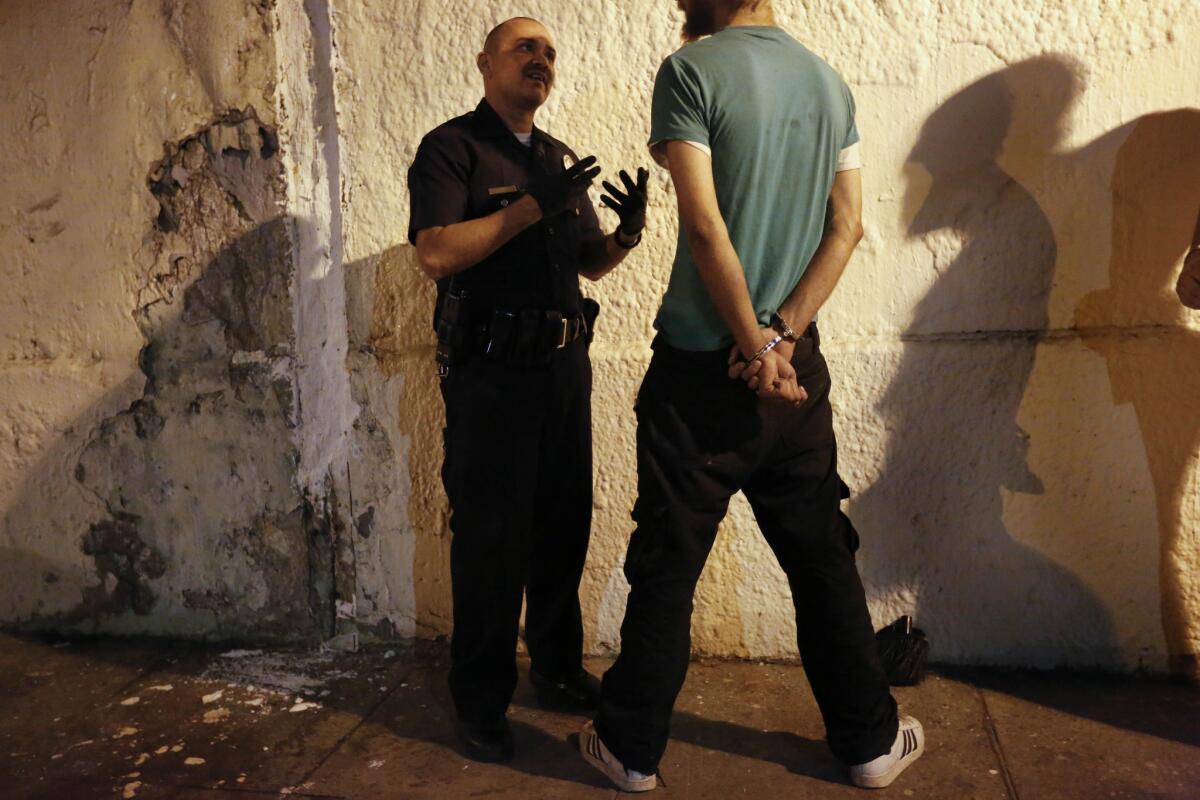 A new report from the ACLU of California faults law enforcement officials for "a disappointing level of resistance" in their response to Proposition 47, the landmark ballot measure that downgraded drug possession and some theft crimes from felonies to misdemeanors a year ago.
"Some are making irresponsible and inaccurate statements linking Prop. 47 and crime," the report says. "Others are falsely claiming that they are no longer able to arrest people for petty crime or that a misdemeanor is not a 'real' penalty."
The report released Tuesday also found wide differences in how law enforcement agencies are adapting to Proposition 47, which sought to reduce the state's prison and jail populations.
The willingness of police and sheriff's departments to adjust to the state's changing criminal justice landscape will ultimately determine whether Proposition 47 will be successful in reducing incarceration rates, the report said.
"Prop. 47 is the law, but it is not the new normal," said Margaret Dooley-Sammuli, director of criminal justice and drug policy at the ACLU of California. "As California enters Prop. 47's second year, local law enforcement, behavioral health departments and county governments need to work together to address societal issues that have long challenged our communities, including mental health, substance use disorders and homelessness."
The ACLU was a major supporter of the ballot measure.
Some law enforcement officials, including Los Angeles County Sheriff Jim McDonnell, have blamed Proposition 47 for rising crime and for allowing repeat offenders to break the law with minor consequences.
A Times review found that property crime has increased in nine of California's 10 largest cities so far this year compared with the same period last year. Violent crime was up in all 10. The ACLU report says it is too early to assess whether this year's crime increases can be linked to the ballot measure.
Some sheriff's departments reported sharp increases in low-level arrests in the first half of 2015, while others reported equally steep reductions. The variations reflect the priorities of agencies and their individual officers, the report says. For example, the Fresno County Sheriff's Department recorded a nearly 80% increase in minor drug and property crime arrests while the Sacramento County Sheriff's Department's arrests for Proposition 47 offenses were down 43%, according to the report.
The report touts efforts by Los Angeles prosecutors to adapt. L.A. County Dist. Atty. Jackie Lacey has convened a task force to expand diversion from jail for the mentally ill. City Atty. Mike Feuer is convening various county agencies to rethink approaches to low-level crime, including the creation of a diversion program that would give offenders the option of drug treatment in lieu of prosecution.
Without the threat of a felony conviction, the number of drug offenders enrolling in court-ordered treatment has dropped by half in Los Angeles County, authorities said.
Marc Debbaudt, president of the Los Angeles County Assn. of Deputy District Attorneys, said it will be difficult to encourage people to enter drug court without the felony threat.
"I don't know how they solve that problem," Debbaudt said.
Interested in the stories shaping California? Sign up for the free Essential California newsletter >>
The number of people in county jails in California fell immediately after Proposition 47 went into effect in November 2014, but it is climbing again as county jails change their detention and early-release practices, the report found.
The ACLU study found that some county jails are making room for low-level offenders, while others have chosen not to detain offenders charged with petty offenses.
In Riverside County, the misdemeanor jail population in March doubled compared with the same month last year. By contrast, San Bernardino County's jail population for misdemeanors dropped by one-quarter during the same period.
For more Proposition 47 news, follow @bposton. He can also be reached at ben.poston@latimes.com.
Sign up for Essential California for news, features and recommendations from the L.A. Times and beyond in your inbox six days a week.
You may occasionally receive promotional content from the Los Angeles Times.