Charter school operators found guilty of most charges in funds-misuse case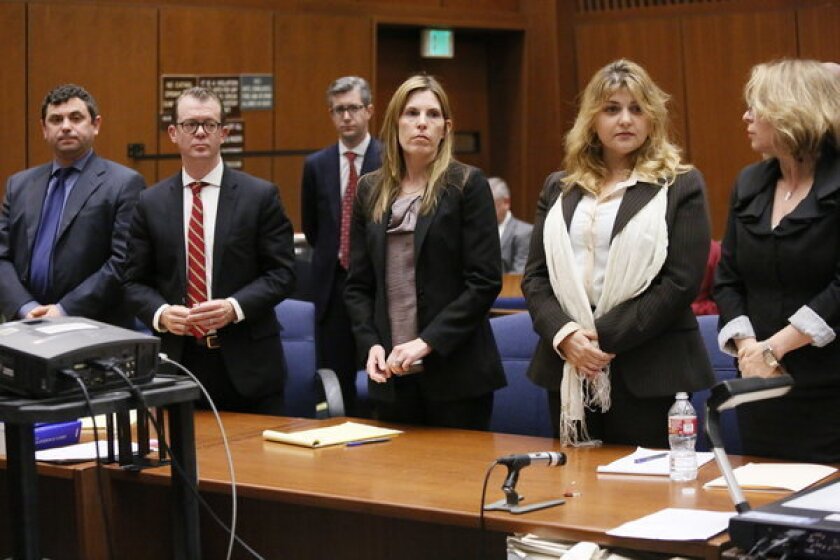 Two local charter school operators were found guilty Friday of most charges after being accused of taking or misappropriating more than $200,000 in public funds.
Yevgeny "Eugene" Selivanov, 40, and Tatyana Berkovich 36, together faced 26 counts related to their management of public education funds in their running of Ivy Academia charter school in the west San Fernando Valley.
The charges included misappropriation of public funds, embezzlement, false accounting, money laundering and filing false tax returns.
The couple was "using the charter school as their private piggy bank," said deputy district attorney Dana Aratani.
The defendants, who are married, used school money to buy thousands of dollars in meals that they classified as business expenses or gestures to offer appreciation for teachers, prosecutors said. Other charges dealt with the reconfiguring of a lease on the school's main campus. Prosecutors contended that the couple raised the rent on their own school as an illegal money-making scheme.
The couple started Ivy Academia in 2004 and managed it until 2010, when their arrest led to their resignation.
A Los Angeles County Superior Court jury convicted Selivanov, who faced more charges and had chief responsibility for the school finances, on nearly all counts. Berkovich was acquitted on some charges and convicted of lesser charges on some counts.
Defense attorneys, joined by charter school advocates, said the defendants were tried under rules that should not have applied to them. Charter schools are independently managed and exempt from some rules that govern traditional schools.
"We are here because of a fundamental lack of understanding of how a charter school operates," said Nina Marino, the lawyer for Berkovich.
Defense attorneys argued that the couple's spending and money management were legal under rules that apply to nonprofit corporations. And that prism should have been used to evaluate the case.
Selivanov faces a maximum sentence of about 19 years and Berkovich about seven and a half years, according to prosecutors.
ALSO:
Rescued hiker speaks out on Facebook: 'We did it'
$1 million reward in Dorner case still in place, LAPD says
Charter school operators found guilty of most charges in funds-misuse case
howard.blume@latimes.com
---
The stories shaping California
Get up to speed with our Essential California newsletter, sent six days a week.
You may occasionally receive promotional content from the Los Angeles Times.