Alleged attackers wrote on Audrie Pott's body, lawyer says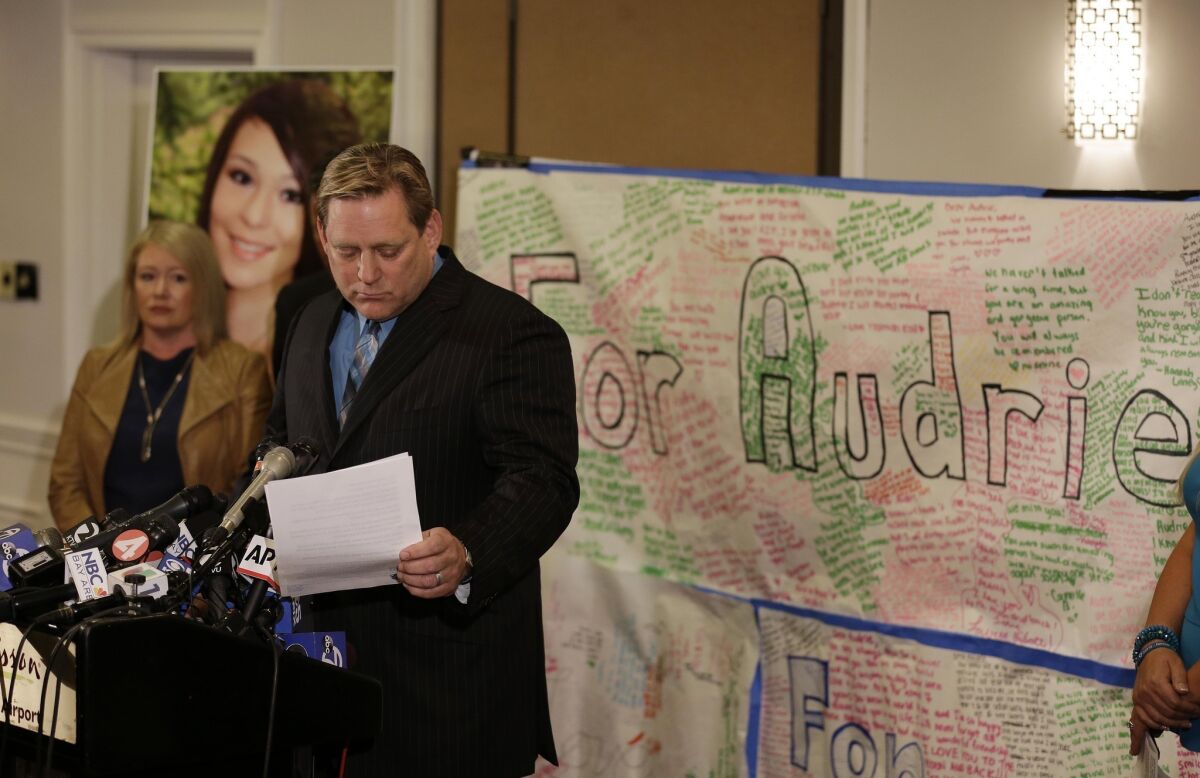 SAN JOSE -- An attorney for the family of a 15-year-old who killed herself after an alleged sexual assault by classmates said Monday that Audrie Pott had "some markings on her body in some sort of permanent marker indicating that someone had violated her when she was sleeping."
The Saratoga High School sophomore had become intoxicated during a Labor Day weekend party at the home of a friend whose parents were away. The students got into a liquor cabinet at the Saratoga home, and at least one of the three young men who allegedly were involved in the assault also brought alcohol to the party, said attorney Robert Allard.
The boys were arrested Thursday — eight months after Pott hanged herself.
At a news conference Monday announcing the family's plans to file a civil wrongful-death lawsuit, Allard said Pott "probably didn't realize how much she was drinking. She made the choice to go to sleep, and she woke up to this unimaginable. ... The name of someone that said, 'Blank was here,' was written in marker on her leg. And there were other markings as well. They drew on her, in addition to doing what they did."
The suspects were all members of the Saratoga High School football team, and had been friends with Pott since junior high school, Allard said. But after Pott passed out at the party, they allegedly assaulted her, took at least one picture and texted it to friends. They were all sober, he said, according to witnesses.
"Sexual assault is an adult crime," said Sheila Pott, Audrie's mother. "These boys distributed the picture to humiliate and bully my daughter. ,,, They were her friends. This breach of trust would be difficult for an adult to handle, let alone a young girl."
During the news conference, Audrie's family members were flanked by easels displaying large photos of her. Behind them were taped-together sheets of butcher paper filled with hearts and messages in pink, green and blue from the dead girl's friends and acquaintences.
"We haven't talked since 5th grade but we use [sic] to be really good friends, I'll never forget your smiling face," read one. "I may not have known you very well, but I know you were an amazing and beautiful person. We will miss you and we will never forget you," said another.
ALSO:
Explosions: Horror visits the Boston Marathon
Man blows himself up at Costa Mesa home, police say
Authorities investigating human skull found in Palmdale
---
The stories shaping California
Get up to speed with our Essential California newsletter, sent six days a week.
You may occasionally receive promotional content from the Los Angeles Times.