Diver who ran out of air off Laguna Beach had separated from class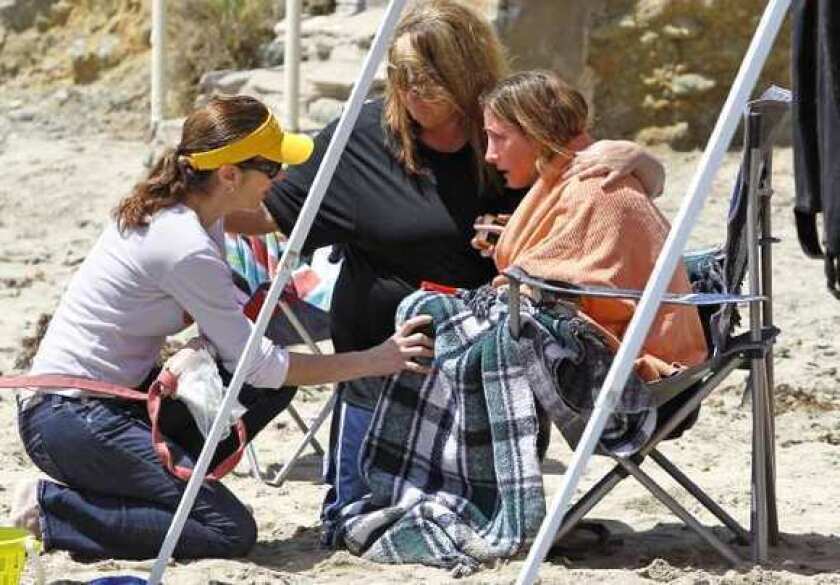 A scuba diver who died after he went missing at Shaw's Cove in Laguna Beach became separated from his classmates during a class dive and apparently ran out of air, Laguna Beach lifeguard officials said Monday.
Mark Gibbs, a 51-year-old Tustin resident, was pronounced dead at 1:28 p.m. Friday at Hoag Hospital in Newport Beach, a few hours after he went missing, according to the Orange County coroner's office.
Gibbs separated from his classmates at a depth of 25 feet and was found with an empty air tank, Laguna Beach Marine Safety Lt. Kai Bond told the Laguna Beach Coastline-Pilot.
Newport Beach lifeguards and rescuers from the Orange County Harbor Patrol, Orange County Sheriff's Department and U.S. Coast Guard searched the area and pulled Gibbs from the water at 12:40 p.m., more than an hour after the first 911 calls came in reporting him missing, a Laguna Beach police news release said.
Gibbs was found unresponsive, according to the coroner. Lifeguards put him in a boat and started CPR, Bond said.
Gibbs was in cardiac arrest en route to the hospital, Marine Safety Chief Kevin Snow said.
Divers in the class used 15- to 20-pound weights to keep themselves from resurfacing during a dive, said Bond, who added that it appears Gibbs began the dive with a full tank of air.
"He was a certified diver, but I don't know how many dives he had done," Bond said. He added that the 25-foot depth at which Gibbs was found "is typical at Shaw's Cove. It is a popular place."
Gibbs was part of a group from Dive & Photo in Irvine. A representative from the dive shop declined to comment.
Laguna Beach lifeguards and fire and police departments responded to the 1000 block of Cliff Drive after 911 callers said they heard people screaming for help in the ocean off Shaw's Cove at 11:21 a.m., according to police.
Classmates conducted a head count and noticed Gibbs was missing.
ALSO:
Compton voters head to polls to elect new mayor
Boston bombings: Muslims fear another 'hysteria'
Michael Jackson-AEG trial: Potential jurors know witnesses, tossed
bryce.alderton@latimes.com
---
The perils of parenting through a pandemic
What's going on with school? What do kids need? Get 8 to 3, a newsletter dedicated to the questions that keep California families up at night.
You may occasionally receive promotional content from the Los Angeles Times.