UC accepts fewer Californians, more students from out-of-state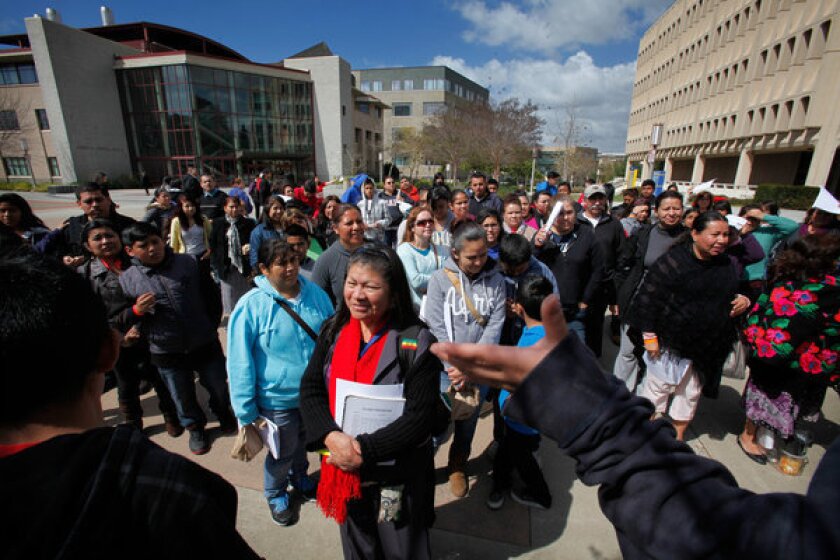 The chances of California high school seniors gaining admission to the University of California worsened this year as more of them applied and the share of those who were accepted dropped by 2.2%, according to data released Thursday. At the same time, the ranks of out-of-state and international students accepted to UC continued to rise.
Overall, a record 99,132 Californians applied to UC for freshman admission in the fall and 60,089 of them, or 60.6%, were accepted by at least one of the system's nine undergraduate campuses. That was 1,354 fewer than last year.
That acceptance rate for Californians was the lowest on record for decades, down from ranges above 70% five years ago. Officials contend that is a result of continuing financial restraints and an effort to prevent overcrowding since more students than anticipated actually enrolled for the current freshman class.
Over the last few years, money-strapped UC has aggressively courted non-Californians for the extra $23,000 in annual tuition they pay, and that trend is continuing, the statistics show. UC offered freshman status to 22,761 out-of-state applicants for fall 2013, up nearly 21% from the year before. Of the 21,929 applicants from other states within the United States, 11,787, or 53.8%, were accepted. So were 10,974, or 58.2%, of the 18,854 international applicants.
UCLA, UC Berkeley and UC San Diego attracted the most applications from outside the state and those students comprise at least one-third of the potential freshmen classes accepted by those campuses.
However, it won't be clear how this will affect the final makeup of UC's freshman class until students send in their enrollment deposits, due by May 1. Out-of-staters tend to follow through on their enrollment at lower rates than Californians.
Officials said they expect that non-Californians still will comprise less than 10% UC's undergraduates in 2013, in line with a ceiling set by the UC regents, although there will be larger clusters at campuses with the strongest global reputations.
"We continue to be inspired by the caliber of students who apply to the University of California," Michael Treviño, UC director of undergraduate admissions, said in a statement released Thursday. "We wish we could enroll more of them. Despite our budget constraints, however, we will honor the California Master Plan and offer a spot at one of our campuses to all students who qualify for guaranteed admission by being in the top 9% of the state or in their local high school."
The increase in out-of-state and foreign students was not as steep as the 43% hike the year before, officials said. They also noted that the number of Californians admitted was larger than that of two years ago.
UCLA, which received 80,494 freshman applications, was the hardest UC campus for applicants to get into this year: Just 20.1% were offered admission. Next was UC Berkeley, which accepted 20.8% of its 67,691 applicants. The San Diego campus offered a seat to 36.8%; Santa Barbara, 38.8%; Davis, 39.4%; Irvine, 41.1%; Santa Cruz, 48.6%; Riverside, 54.7%; Merced 65.6%.
ALSO:
Audrie Pott suicide: Attorney disputes school officials
Woman with knife arrested at home of Eddie Kaye Thomas
Boston Marathon: Family doesn't know if Torrance man will recover
---
The stories shaping California
Get up to speed with our Essential California newsletter, sent six days a week.
You may occasionally receive promotional content from the Los Angeles Times.