Chris Brown's monster graffiti scares children, neighbors say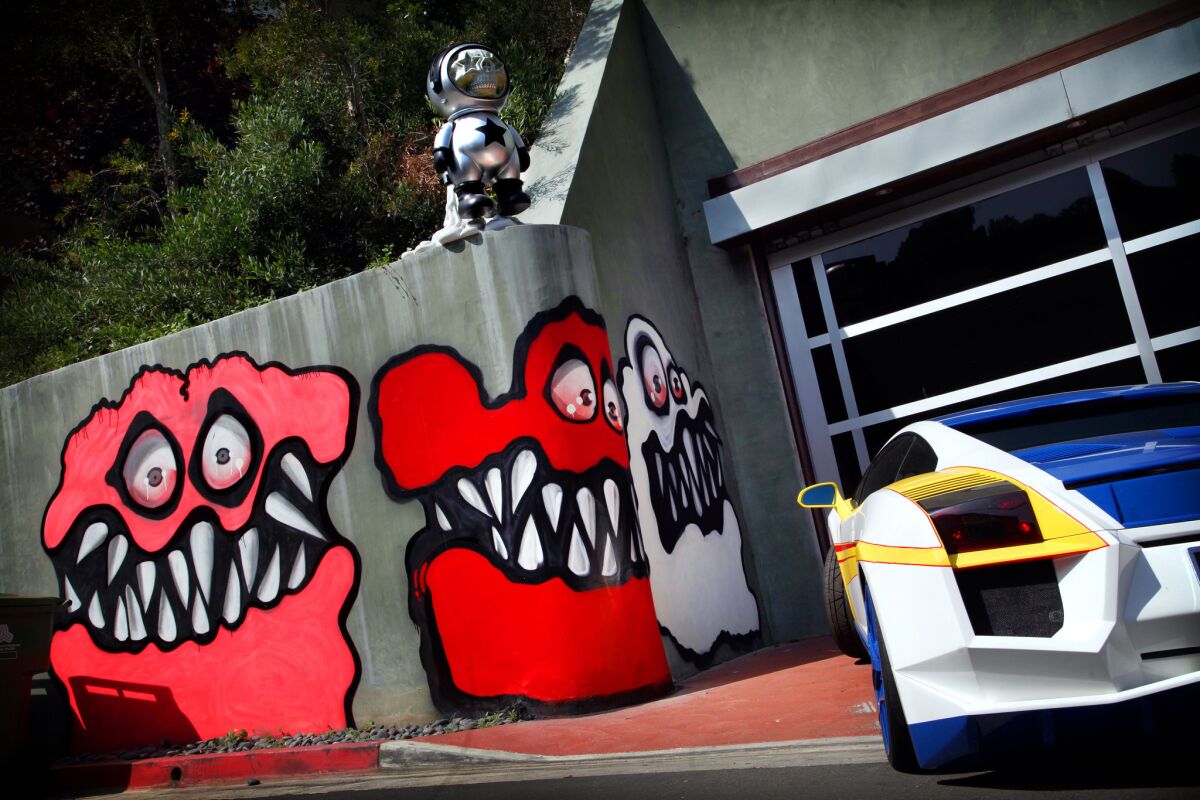 Councilman Tom LaBonge says that like most Angelenos, he appreciates artistic murals. But in the appropriate place. And brightly-colored monster characters tattooed from Chris Brown's curb to the 2nd floor of his Hollywood Hills designer home isn't one of them.
The perpetually-embattled singer's art work garnered him a citation from the city of Los Angeles for alleged "unpermitted and excessive signage" on his home near the Cahuenga Pass. The fanged, cartoonish demons painted by the singer on his Jay Vanos-designed modernist home have cost Brown a fine of $376.32 to pay for the inspector sent to warn him about the artwork. That fee could triple if he doesn't remove the artwork in 30 days.
"They jump right out at you. They aren't just at the curb by the bins. It is all the way up the side of the house," said LaBonge, whose district includes Brown's colorful abode.
"I can see them in a commercial area."
Patti Negri, head of the Hollywood Dell Civic Assn., said, "Chris himself did not warm himself to the neighborhood when he first got here, so this is kind of the straw that broke the camel's back."
"Yes, we are in the middle of Hollywood, but it's this old enclave. There are lots of babies, lots of children and they're literally frightened. It's like devils on the wall – big scary eyes and big scary teeth, and just the whole vibe is not what we're used to."
LaBonge said he believes homeowners in the area are right.
"There were complaints from the neighbors and the neighborhood association, and city code inspectors acted appropriately and required the homeowner be in compliance with city codes," he said.
LaBonge said the city is developing a mural ordinance that will again legalize some murals across the city in certain zones, but not in the middle of hillside residential neighborhoods.
"But that is not for a home of this nature, "he said. "I am a strong voice for the community and in this case, the community has spoken….I certainly hope Mr. Brown complies and takes them down."
If Brown wants to practice his artwork, LaBonge said the singer should turn to his indoor walls. "He can keep the murals in his living room for whoever comes over to his home to look at them," the councilman said.
Brown's art work has thrust him into one of Los Angeles' longest-running civic debates. While Los Angeles has earned a reputation as the street mural capital of the world for nearly a decade, much of this artwork is illegal. City ordinances prohibit murals on the vast majority of private properties.
ALSO:
PHOTOS: A look at celebrity abuse accusations
Reviews: Chris Brown's 'Fortune' is brash and commercial
When digital beef gets real: What Drake, Chris Brown, Meek Mill can learn
Twitter: @lacrimes| Google+
The stories shaping California
Get up to speed with our Essential California newsletter, sent six days a week.
You may occasionally receive promotional content from the Los Angeles Times.