'NCIS' actress Pauley Perrette attacked by homeless man in Hollywood Hills, police say
A homeless man with a criminal history attacked actress Pauley Perrette outside her Hollywood Hills home Thursday evening, holding her arm and punching her repeatedly before he was arrested, police said.
The attack occurred in the 6000 block of Cahuenga Terrace about 5 p.m., not far from where transients are known to camp under the 101 Freeway, said Sgt. Bob Ward of the LAPD's Hollywood division.
The 46-year-old actress, best known as forensic scientist Abby Sciuto on CBS' "NCIS," recapped the assault on Twitter about 1:30 a.m. Friday. Police said the account is accurate. It reads in part:
"I was very hesitant about tweeting this. Tonight was an awful night. I was walking across my street to a new guest house I bought to meet my architect on my street, I was jumped by a VERY psychotic homeless man," she wrote. "He grabbed me so forcefully, pinned my arm, punched me in the nose, forehead repeatedly telling me he was going to kill me. Then he showed me how he was going to kill me."
Perrette then said the man yelled repeatedly that his name was William, told her not to forget it and threatened to kill her. She wrote that she told him he had a beautiful name and that it's her nephew's name too.
See the most-read stories this hour >>
She said the man punched her again, then let her go and told her to "get out of here." She collapsed on the sidewalk nearby, where a passerby ignored her, she said. She wrote that she then called her friend, who came and picked her up.
"I immediately drew a police sketch of the guy who was headed towards Hollywood Blvd with murder in his eyes. My pal James took a pic of my sketch, found the guy, surveilled him, the cops came and followed James to him," Perrette wrote. "They got him."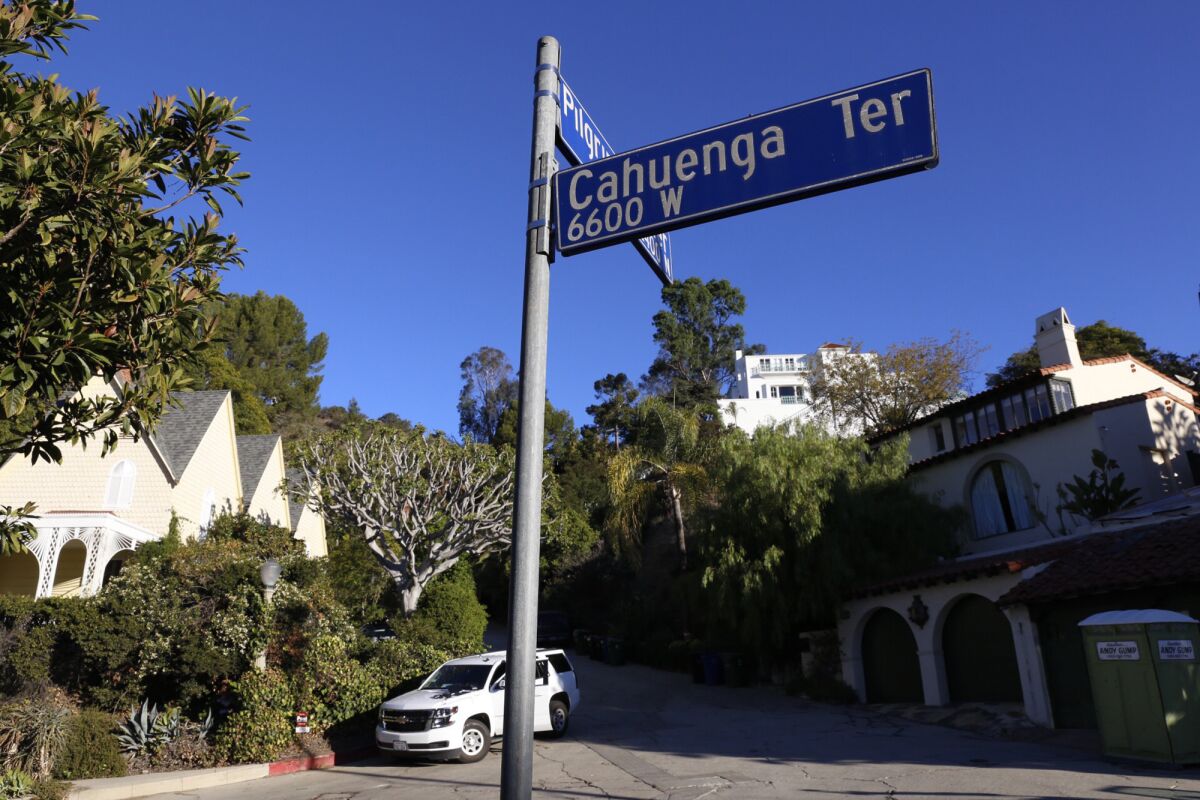 Jail records list the suspect in the case as David Merck, 45. Police said he's a local transient. His birthday was Thursday, records show. He was arrested nearby at Cahuenga Boulevard and Yucca Street.
"I've seen this guy's rap sheet; it's a long rap sheet," Ward said. "He's self-medicating. Probably didn't even know who she is .... He's not going anywhere."
Interested in the stories shaping California? Sign up for the free Essential California newsletter >>
Merck was booked on suspicion of felony battery and is being held on $100,000 bail.
Perrette, a well-known advocate for civil rights and the homeless, finished her message on a personal note.
"I am shaken and traumatized. My house, my beloved Hollywood. My beloved homeless people that I spend my life protecting. My life changed tonight. My ... I don't know. We need full mental health care. We need housing and help for the homeless. We need to support our cops. We need to not walk alone. I need to heal. I almost died tonight."
Police credited Perrette's quick thinking with helping catch the suspect.
"I haven't seen anybody ever really do that," Ward said of Perrette's sketch. "She's a very good witness."
For breaking California news, follow @JosephSerna
ALSO:
Amid racial bias protests, Claremont McKenna dean resigns
El Niño is here, and it'll be 'one storm after another like a conveyor belt'
Man with uncontrollable desire to eat pleads no contest to stealing food
The stories shaping California
Get up to speed with our Essential California newsletter, sent six days a week.
You may occasionally receive promotional content from the Los Angeles Times.