From the Archives: Benny Carter, 95; Legendary Saxophonist Also Was Composer-Arranger, Bandleader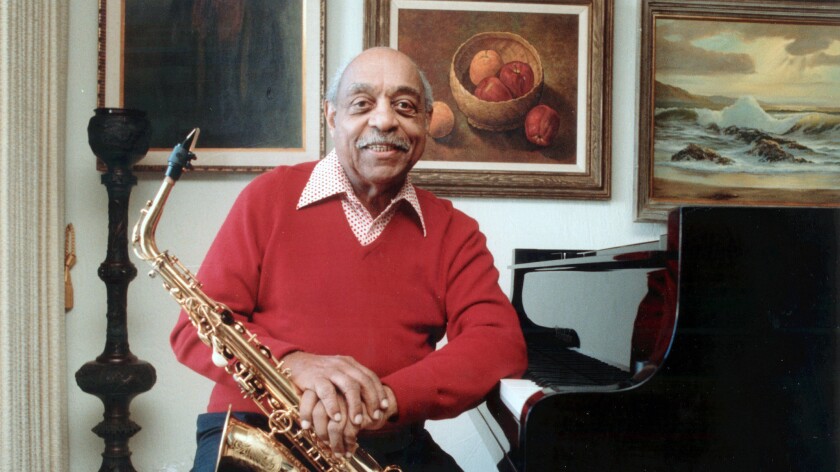 Benny Carter, whose versatility as a first-rate saxophonist, composer-arranger and bandleader made him a leading figure in jazz for more than eight decades, has died. He was 95.
Carter died Saturday morning in his sleep at Cedars-Sinai Medical Center in Los Angeles following a brief illness. Carter was hospitalized in late June with bronchitis and other ailments, said publicist Virginia Wicks.
Although he never attained the broad public recognition of contemporaries such as Louis Armstrong, Duke Ellington and Benny Goodman, he was among the most influential players and leaders in the history of the music. Indeed, among jazz professionals and knowledgeable fans, nobody had a better reputation.
"I stand in awe of the proficiency his vast experience has given him," Ellington said years ago in a tribute to Carter. "He has tremendous scope, instrumentally, musically."
"He was a great man and a great human being," said Quincy Jones, the multifaceted entertainment industry figure, who was also a leading jazz composer and bandleader. "He gave lots of young guys help and encouragement, including myself."
"He left the room [Saturday] with the same dignity he lived with," Jones told The Times on Sunday.
Critics voiced similar words of praise.
"He ranks among the leading individualists in jazz, not only as an alto saxophonist, but as an arranger of exceptional skill," jazz critic Nat Hentoff said Sunday. "Nobody could arrange for a reed section like Carter.
"He had the clearest alto saxophone sound that I can ever recall," Hentoff said. "It was crystalline and thrilling. He was always reaching for something new and never fell back on familiar licks."
While Carter's musical talent peaked in jazz, he did not limit himself to that form. He was highly successful as a composer, orchestrator and arranger of all types of music for motion pictures and television.
Although first and foremost a musician, and a man not given to crusading, Carter was one of the first blacks to succeed in the musical side of the film industry.
His view was that race should have nothing to do with a person's acceptance. Once, according to an anecdote related by a biographer, a woman asked Carter: "Is your piano player white or black?" Carter replied: "I don't know – I never asked him."
In 1945, Carter fought and won a legal battle against the then-common restrictive covenants that prohibited blacks from owning homes in some areas of Los Angeles. He also played a strong role in the early 1950s in uniting the separate black and white American Federation of Musicians' locals in Los Angeles. And while the consolidation of the two unions didn't fully open all the doors for blacks to do studio work, it did eliminate the exclusionary excuse that "you don't belong to the union."
Sophisticated Player
Although considered by fellow musicians as one of the most sophisticated and knowledgeable of players, Carter had little formal musical education and was largely self-taught. He could hardly have had a better teacher.
He arranged for virtually every major big band of the 1930s and '40s, including at various times Ellington, Goodman, Fletcher Henderson, McKinney's Cotton Pickers, Charlie Barnet, Glenn Miller, Artie Shaw and Count Basie. Ironically, his own big bands – considered among the most swinging, solidly musical outfits of their time – never achieved the success of some of the lesser orchestras for which he arranged.
Carter had a modest, understated view of his bands' relative lack of fame. "No band I ever had achieved a sound the general public could immediately identify," he once said. "Goodman had one, and so did Glenn Miller."
Nevertheless, Carter's arrangements helped establish "the big-band sound," especially in his use of reed instruments.
In later years, after the big bands went into decline, Carter did special arrangements for such vocalists as Ella Fitzgerald, Billie Holiday, Sarah Vaughan, Billy Eckstine, Ray Charles, Mel Torme and Lou Rawls.
A number of his compositions, such as "When Lights Are Low," "Blues in My Heart" and "Malibu," became jazz standards.
A novelty tune that he co-wrote, "Cow Cow Boogie," became a huge hit for singer Ella Mae Morse and bandleader Freddie Slack in 1942, and the number's success is credited by pop historians with helping establish the then-infant Capitol Records as a major power in the recording industry.
Carter wrote the bossa nova hit "Only Trust Your Heart," made famous by saxophonist Stan Getz and singer Astrud Gilberto. Many attributed this hit to the great Brazilian songwriter Antonio Carlos Jobim, which Carter took as a compliment.
Carter's primary instrument was the alto sax, but he also was an outstanding trumpeter and performed skillfully on clarinet, trombone and piano. When necessary he could fill in as a vocalist.
"He was as good as he wanted to be on anything he attempted," trumpeter Clark Terry told The Times on Sunday.
"He was the king, we all respected him that much," Terry said. "Musicians called him from time to time just to recharge their batteries. He was a beautiful person."
Carter was born Bennett Lester Carter, in the Bronx, N.Y. A cousin, Cuban Bennett, was a skilled trumpet player, and became one of young Carter's heroes. Carter bought a cornet from a pawnshop, hoping to emulate his cousin, but soon traded the difficult brass instrument for a C-melody saxophone.
Although his mother encouraged him in his playing, she did not want him to become a professional musician. "After all," he said decades later, "jazz was a dirty word to many black people, who saw it played in an unwholesome atmosphere.... She would have been most pleased if I could have combined music with a respectable career, say, as a clergyman."
Carter was a teenager when his family moved to Harlem and he began learning the jazzman's trade from great players such as Bubber Miley of the Ellington band.
His first professional job probably was at Harlem Connor's Inn in 1923, where on the recommendation of Miley, Carter earned $1.25 a night as a substitute for another C-melody sax man.
Carter played all over Harlem and Manhattan and worked with virtually all the leading jazzmen of the time.
It was Willie the Lion Smith who persuaded Carter to give up the C-melody sax and take up the alto sax, an instrument on which he became one of the masters in jazz.
Carter played with Earl Hines, Chick Webb, Horace Henderson and Fletcher Henderson, among other jazz legends. By the mid-'20s he was a well-established and much-sought-after sideman, playing in famous clubs like Small's Paradise.
Impeccable Reputation
His reputation already was impeccable. Johnny Hodges, himself a jazz giant and an alto sax player not known for his modesty, once told a colleague: "When you got time, you go to Small's Paradise and hear the greatest alto saxophone player in the world." He was talking about Carter.
Carter began arranging in the late '20s, a few years after he began recording. He became an arranger of some note, working with Fletcher Henderson's orchestra, and many jazz historians say his work revitalized the band.
"Carter was now the arranger everyone followed," music scholar Gunther Schuller said of Carter's time with Henderson. By 1933, he formed his first big band and won considerable critical acclaim, but was not financially successful.
Carter's band included such players as Teddy Wilson on piano, Chu Berry on tenor and J.C. Higginbotham on trombone.
Carter disbanded in 1934 to join an orchestra as featured soloist in Paris. He became a huge success in Europe and virtually a cult figure in Denmark. With the help of a young critic named Leonard Feather, who years later became the jazz critic for The Times, Carter was hired as a $300-a-week arranger for the BBC dance band in London, where he also led a British band on several recording sessions. In 1937 he organized the world's first international and interracial jazz orchestra for a summer residency in the Netherlands. Carter returned to the U.S. in 1938 to resume his career as a recording artist, arranger and composer.
He formed a new band that played a long residency at the Savoy Ballroom in Harlem and toured the country. While on the West Coast with that band in 1943, he was asked to do arrangements for "Stormy Weather," an early all-black musical.
He gave up the orchestra in 1946 to concentrate on film and television work. Over the years Carter played on more than 100 movie soundtracks and orchestrated and arranged music for scores of films, among them "The Gene Krupa Story," "The Five Pennies," "Thousands Cheer," "A Man Called Adam," "Buck and the Preacher," parts of "The Guns of Navarone" and the jazz sequences for "Flower Drum Song."
He also composed background music for dozens of television shows. Carter took his last big band on the road in 1946, but continued to play as a featured soloist in jazz concerts and on recordings into the late 1990s.
Ed Berger, associate director of the Institute of Jazz Studies at Rutgers University and co-author of the definitive biography of the musician, "Benny Carter: A Life in American Music," told The Times on Sunday that Carter's career was phenomenal in terms of longevity.
"He is the only artist to have made an acoustic recording through an old-fashioned horn before electrical records and then lived to see his own Web site," Berger said.
And in his 80s, when many musicians see a decline in their work, Carter was extremely active and vital.
"He recorded 15 albums in all types of settings, duo to combined jazz band and chamber orchestra," said Berger, who also produced many of Carter's recordings and was his road manager. "He wrote and performed six extended works. His most recent was commissioned by the Library of Congress in 1996. Called 'Peaceful Warrior,' the work was dedicated to Rev. Martin Luther King Jr."
That same year he completed another major commission called "Echoes of San Juan Hill," about the area of New York City where he was raised and where Lincoln Center now stands. Carter was 89 when he introduced this work and was the featured soloist with the Lincoln Center Jazz Orchestra under Wynton Marsalis.
Throughout his life, the soft-spoken Carter was an elegant man with eclectic tastes and a definite style.
Berger recalled Sunday that Carter was a voracious reader who was passionate about language and had a brilliant understanding of English usage. He also collected art and became an excellent cook. Beginning in the 1970s, he conducted seminars and workshops at Harvard, Princeton and a number of other colleges around the country.
Carter received a variety of awards. In 1987, he was given a lifetime achievement award from the National Academy of Recording Arts and Sciences, which in many careers marks the culmination of an artist's efforts. However, Carter was nominated for seven more Grammy Awards in the 1990s, and won two.
In 1996, he received the Kennedy Center Honors for an extraordinary lifetime of contributions to American culture through the performing arts.
Jazz critic Don Heckman, who reviewed what were Carter's last public appearances as a player at Catalina Bar & Grill in March 1998, when Carter was 90, wrote later that he was "amazed at the quality of his playing."
"There was, first of all, his sheer ability to execute the mechanical aspects of playing the alto saxophone, which require a complex combination of lip, teeth and mouth control, synchronized with precise finger movements, driven by a constant flow of breath.... Carter still delivered the same cooly expressive tone and subtle sense of swing that have always been distinctive elements of his playing."
After that final appearance at Catalina, when friends asked when he would play again, he told them: "I'm retired!"
Carter is survived by his wife of 24 years, Hilma; a daughter from an earlier marriage, Joyce Mills; one grandchild and one great-grandchild.
Funeral services will be private, although public memorial services may be planned.
In lieu of flowers, the family has asked that any memorial donations be sent to the Morroe Berger-Benny Carter Jazz Research Fund at the Institute of Jazz Studies, Dana Library, Rutgers University, Newark, N.J. 07102.
From the Archives: Ella Fitzgerald, Jazz's First Lady of Song, Dies
From the Archives: Gregory Peck Was 'Last Aristocrat' of Hollywood Golden Era
From the Archives: 'The Genius' Put His Stamp on Music, From Soul to Country
From the Archives: Consummate Entertainer Sammy Davis Jr. Dies at 64
From the Archives: Jazz Great Duke Ellington Dies in New York Hospital at 75
---
Must-read stories from the L.A. Times
Get all the day's most vital news with our Today's Headlines newsletter, sent every weekday morning.
You may occasionally receive promotional content from the Los Angeles Times.