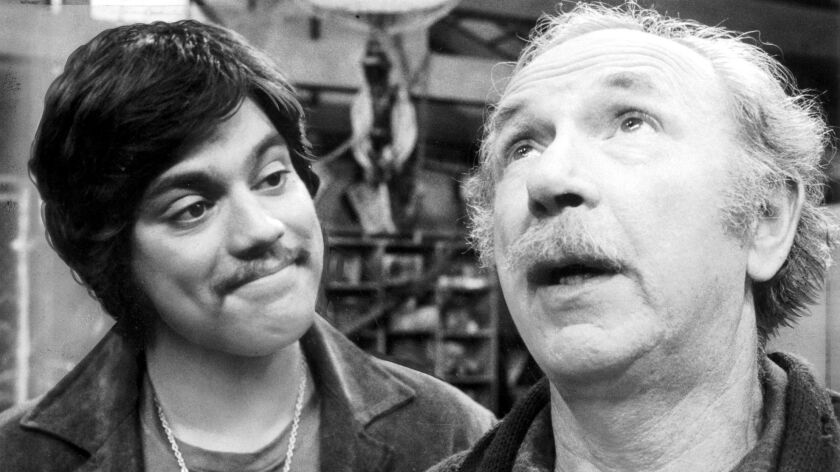 Jack Albertson, a one-time teenage pool hustler who learned to tap dance and eventually became an award-winning performer on Broadway, in films and on television, died of cancer Wednesday morning in his Hollywood Hills home.
The 74-year-old character actor's career lasted a half century, beginning during the Depression when a New York agent saw him going through tap steps with other would-be dancers in front of the Palace Theatre.
After two decades of burlesque, vaudeville and musical comedy, Albertson suddenly won fame—and a Tony Award—for his portrayal of an aging father in Broadway's "The Subject was Roses."
In 1968 he played the same role in the screen version of the Frank Gilroy play and won an Oscar as best supporting actor.
With Melvyn Douglas and Paul Scofield, Albertson was one of a handful of select performers to win top awards in all three fields. He was given a television Emmy in 1975 for an appearance on a "Cher" variety show.
He won another Emmy in 1976 for his role as the salty garage owner in "Chico and the Man," the series in which he co-starred with the late Freddie Prinze and which popularized him with millions.
"You kid yourself if you think talent is enough," he said in a 1975 interview. "This business is filled with talent. I was just one of those people who went along for years, doing whatever it is that I do. You have skill, ability, acceptability. Then suddenly—zap!—you have charisma."
Albertson was born in Malden, Mass., where, as he once told a magazine writer, "We were really poor. My father took a powder and my mother had to work in a shoe factory to support my sister and me."
High School Dropout
Albertson dropped out of high after the first year and worked in factories for a time. He also was a rack boy in pool parlors around Lynn, Mass., where he became a hustler.
He learned some tap steps from other pool players—apparently to relieve the tedium of standing around the table—and by the time he was 18, he was appearing in local amateur shows.
In the early 1930s, he went to New York seeking work as a dancer, finally getting a job with a vaudeville act when he was seen doing routines in front of the Palace.
Soon Albertson was doing a soft-shoe routine and working as a straight man for another struggling young performer—Phil Silvers.
They worked as an act in Minsky's Burlesque for $8 a day less agent's commission.
Albertson became a straight man for other famous comics: Bert Lahr, Milton Berle, Jack Benny, Jimmy Durante, Red Skelton and Eddie Cantor.
In 1937, he went to Hollywood, but could only find work as a chorus boy. He returned to New York, where he sought to develop himself as a comedian. He appeared in some early TV shows and finally won a role in a Broadway production of "The Red Mill" when Eddie Foy Jr. was forced by illness to cancel.
'Top Banana' Appearance
He got other good stage parts, including one with his old burlesque partner Silvers in "Top Banana."
And he appeared in several movies, including "You Can't Run Away From It," "The Unguarded Moment" and "Don't Go Near the Water."
He also made "How to Murder Your Wife," which starred Jack Lemmon.
Playwright Gilroy saw Albertson in a revival of the revue "Burlesque" at UCLA in 1962 and decided he was the man to play John Cleary in "The Subject Was Roses."
The play finally opened on Broadway in May, 1964, and got off to such a poor start that at one point the stage manager asked Albertson for $20 to help buy props.
But audiences finally discovered it and Albertson was a success.
He made a triumphal return to Broadway in 1972 to co-star with Sam Levene in Neil Simon's "The Sunshine Boys." At about the same time, he appeared in the successful disaster film, "The Poseidon Adventure."
Some of his other films include "The Flim Flam Man," "Willie Wonka & the Chocolate Factory" and "Days of Wine and Roses." His last film role was as a mortician in "Dead and Buried."
Television Performances
His television performances included series roles in "The Thin Man" and "Ensign O'Toole" as well as guest appearances on "The Jack Benny Show," "The Red Skelton Show," "Playhouse 90," "The Dick Van Dyke Show" and "I Love Lucy."
He will be seen in two television show yet to be released: "My Body, My Child," an ABC movie with Vanessa Redgrave, and "Grandpa, Will You Run With Me?", a children's show for NBC with Quinn Cummings.
Last May, Albertson received the American Theater Arts' Lifetime Achievement Award for his achievements, versatility and commitment to entertainment.
A family spokesman, Tom Master, said the veteran actor's cancer was diagnosed about three years ago, but had been in remission until the last several weeks when "it kind of took hold."
With Albertson when he died was his wife, Wallace, president of the Los Angeles Community College board of trustees and long prominent in California Democratic Party affairs. They had been married 29 years.
Albertson also leaves a daughter, singer-dancer Maura Dhu, wife of singer R. B. Greaves.
No funeral services are planned, Masters said, but a memorial service is schedule Dec. 3 with location and time to be announced. The body will be cremated.
Patricia Neal dies at 84; Oscar-winning actress found triumphs in a life of tragedies
From the Archives: Benjamin Spock, Baby Doctor for the Millions Dies
From the Archives: Jack Lemmon, Everyman Star, Dies
From the Archives: Mayor Who Reshaped L.A. Dies
From the Archives: Red Skelton, TV and Film's Quintessential Clown, Dies
---