Arnold Kopelson, Oscar-winning producer of 'Platoon' and 'The Fugitive,' dies at 83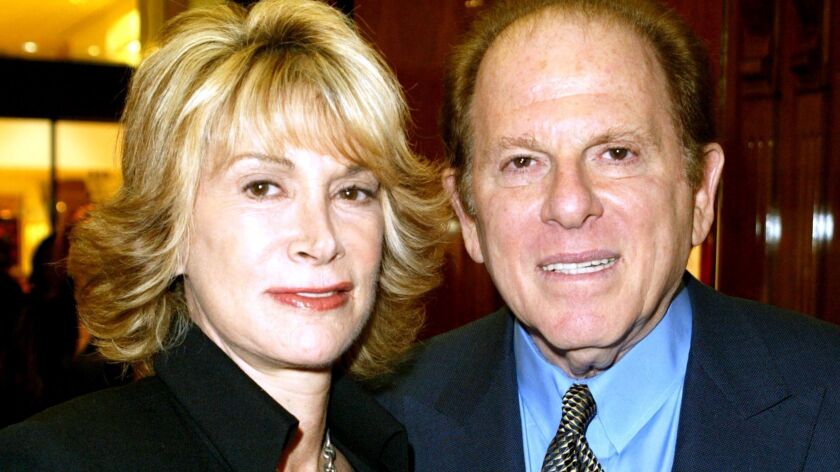 Arnold Kopelson, the Oscar-winning producer of "Platoon" and "The Fugitive" and former longtime CBS board member, has died. He was 83.
Kopelson, who recently made headlines for secretly recording aging CBS mogul Sumner Redstone, died at 6 a.m. on Monday in his Beverly Hills home, his wife and longtime producing partner, Anne Kopelson, told The Times.
The producer died of natural causes after battling a slew of age-related health issues, she said.
"Our lives were intertwined," his wife told The Times. "We were lifelong partners in love and business. We finished each other's sentences. We were a unit. One person. We had a successful career because we understood each other."
While she handled the financial side of Kopelson Entertainment, he handled the creative side, regarding himself as a hands-on producer rather than as a "packaging agent" putting together deals.
Before becoming the maker of big-budget action movies such as "Se7en," "The Devil's Advocate" and "U.S. Marshals," Kopelson worked in entertainment and banking law, where he specialized in motion-picture financing. He and his wife formed a foreign-distribution company called Inter-Ocean Film Sales in 1972 that would later become Kopelson Entertainment.
During their 42 years together, the Kopelsons traveled the world meeting distributors and studying foreign markets when the independent film industry was still in its nascent stages.
"Without him it's not Kopelson Entertainment," she said, confirming that she would probably not carry on with their decades-old company after his death.
Their breakout film, 1982's raunchy coming-of-age film "Porky's," turned Kopelson's $20,000 investment into a whopping $2 million.
The key to their success, however, was that they learned early on that thrillers and action films translated to foreign markets better than comedies, providing audiences with "true popcorn entertainment," she said.
Then came Oliver Stone's 1986 Vietnam War drama "Platoon," which earned four Academy Awards. Kopelson was a young producer when he got hold of the script, which had been floating around Hollywood for 10 years.
"He read five pages of it and he said, 'I'm gonna make this movie,'" Anne Kopelson said. "He was a man of incredible passion. If he believed, he believed. And he would go to the ends of the earth to make that happen."
The film's watershed success made Arnold Kopelson endeavor to produce films that blended social statements with entertainment.
"Financial reward is no longer enough. I caught Oliver's passion and want, at least, some of my films to say something," Kopelson told The Times in 1993.
And he saw a mix of that in the following years while he released a series of films to varied box-office results. His next projects — "Triumph of the Spirit," "Fire Birds" and "Warlock" — either bombed or performed mildly. But he began to mount a comeback with the 1991 Steven Seagal drama "Out for Justice," his first in a series of films for Warner Bros.
Penny Marshall costarred as a Milwaukee brewery worker in the 1970s sitcom "Laverne & Shirley" before becoming a director of hit movies such as "Big" and "A League of Their Own." With "Big," she made history as the first woman to direct a film that grossed more than $100 million. She was 75.
()
During George H.W. Bush's single term as president, the Berlin Wall fell and the Soviet Union collapsed. In 1991, Bush formed a U.S.-led coalition that drove the Iraqi army out of Kuwait, the U.S. military's most successful offensive since World War II. But dissent within the GOP and economic woes hobbled his bid for reelection in 1992, and he lost to Bill Clinton.
(Marcy Nighswander / AP)
Stephen Hillenburg created the animated Nickelodeon series "SpongeBob SquarePants." The show won Emmys in the U.S. and Britain, was translated into more than 60 languages and sparked huge merchandising opportunities worldwide. He was 57.
(Dimitrios Kambouris / Getty Images for Paramount)
Italian director Bernardo Bertolucci infused politics and psychological depth into such era-defining films as "Last Tango in Paris" and "The Last Emperor." The Oscar winner influenced a crop of emerging filmmakers, including Francis Ford Coppola and Martin Scorsese. He was 77.
(Ricardo DeAratanha / Los Angeles Times)
Oscar-winning screenwriter William Goldman penned the scripts for "Butch Cassidy and the Sundance Kid" and "All the President's Men." His 1983 book, "Adventures in the Screen Trade," asserted that there were no easy answers in show business. He was 87.
(Genaro Molina / Los Angeles Times)
Country star Roy Clark headlined the cornpone TV show "Hee Haw" for nearly a quarter century. The guitar virtuoso was known for such hits as "Yesterday When I Was Young" and "Honeymoon Feeling." He was 85.
(Mark Humphrey / AP)
Writer Stan Lee helped create Spider-Man and other superheroes, transforming Marvel Comics into a powerhouse brand. The blockbuster films based on his characters racked up billions at the box office. He was 95.
(David Livingston / Getty Images)
Computer programmer Paul Allen, right, founded Microsoft with Bill Gates when he was 22. He walked away eight years later with what would become one of the largest fortunes in the history of American capitalism. He was 65.
(Jim Hallas / Eastside Journal / Associated Press)
Hall of Fame slugger Willie McCovey was a career .270 hitter with 521 home runs and 1,555 RBIs in 22 major league seasons, 19 of them with the San Francisco Giants. He also played for the Athletics and Padres. He was 80.
(AP)
Burt Reynolds reigned as Hollywood's wisecracking, good-ol'-boy box-office champ in the late 1970s and early '80s in movies such as "Smokey and the Bandit" and "The Cannonball Run." He made pop culture history as Cosmopolitan magazine's first nude male centerfold. He was 82.
(Silver Screen Collection / Getty Images)
Neil Simon's comic touch in "The Odd Couple," "Barefoot in the Park" and many other hits on stage and screen made him the most commercially successful playwright of the 20th century — and perhaps of all time. From "Come Blow Your Horn" in 1961 to "45 Seconds From Broadway" in 2001, 30 of Simon's plays opened on Broadway, including five musicals for which he wrote the book. He was 91.
(Dan Grossi / Associated Press)
Arizona Sen. John McCain survived 5½ years as a prisoner of war in Vietnam to become one of the highest-profile, most confounding and pugnacious personalities in American politics. As a twice-defeated presidential candidate, he used his celebrity to heighten his influence in Congress and emerge as one of the GOP's most prominent leaders. He was 81.
(Mark Boster / Los Angeles Times)
Former U.N. Secretary-General Kofi Annan was one of the world's most celebrated diplomats, despite presiding over some of the worst failures and scandals at the world body. He served two terms, from Jan. 1, 1997, to Dec. 31, 2006, and was awarded the Nobel Peace Prize jointly with the U.N. in 2001. He was 80.
(Shawn Baldwin / Associated Press)
Known as the Queen of Soul, Aretha Franklin was nominated for 44 Grammy Awards, and won 18. Her hits include "Respect," "(You Make Me Feel Like) A Natural Woman," "I Say A Little Prayer" and "Chain of Fools." She was 76.
(Anonymous / Associated Press)
British author V.S. Naipaul, who was born in Trinidad, won the 2001 Nobel Prize in literature for his "incorruptible scrutiny" of postcolonial society. His books explored colonialism and decolonization, exile and the struggles of the everyman in the developing world. He was 85.
(Chris Ison / Associated Press)
Jonathan Gold richly chronicled the city's vast culinary landscape as the Pulitzer Prize-winning Los Angeles Times restaurant critic. One of the most widely admired voices in food criticism, Gold wrote about restaurants for four decades and became indelibly linked with the city in which he was born and raised. He was 57.
(City of Gold)
John Mack rose to become one of L.A.'s most influential black figures during his long tenure running the city chapter of the Urban League and later spent eight years on the Police Commission. He helped lead the city past the infamous Rodney King beating and 1992 riots and later helped oversee reform of the Los Angeles Police Department. He was 81.
(Francine Orr / Los Angeles Times)
After spending more than two decades in New York kitchens, Anthony Bourdain rose to fame with his 1999 New Yorker essay, "Don't Eat Before Reading This," which became the basis for his bestselling book, "Kitchen Confidential: Adventures in the Culinary Underbelly." His willingness to speak his mind and ability to connect with the people made him a likable TV personality on the Food Network, the Travel Channel and CNN. He was 61.
(Andy Kropa / Associated Press)
Kate Spade left her job at Mademoiselle magazine in 1992 and started working on mock-up designs of boxy but stylish totes. The fashion world embraced her brand, which turned into a multimillion-dollar, multi-category lifestyle brand that included footwear, apparel, stationery, fragrance, small leather goods and home goods sold in stores around the globe. In 1996, Spade received the Perry Ellis Award for new fashion talent and two years later, was named accessory designer of the year. She was 55.
(Natalie Caudill / Dallas Morning News)
Philip Roth was one of America's preeminent 20th century novelists. He tackled self-perception, sexual freedom, his own Jewish identity and the conflict between modern and traditional morals through his novels. His work persistently blurred the lines between fiction and memoir, and often left readers both smitten and outraged, particularly in his portrayal of Jewish American life. Roth's work over seven decades resulted in more than 30 novels and short-story collections. He was 85.
(Nancy Crampton)
Margot Kidder was best known for her seminal performance as Lois Lane opposite Christopher Reeve in the "Superman" franchise. The actress also became a mental health activist and received the Courage in Mental Health Award from the California Women's Mental Health Policy Council in 2001. She was 69.
(Associated Press)
George Deukmejian served two terms as California governor and built his career on fighting crime, hardening the state's criminal-justice stance and shoring up its leaky finances. He spent almost 28 years in Sacramento, enjoying a reputation as someone of unquestioned integrity but whose manner was so severe that he earned the nickname "Iron Duke." He was 89.
(Joe Kennedy/ Los Angeles Times)
Verne Troyer delighted legions of fans with his comically wicked portrayals of Mini-Me, a foil to comedian Mike Myers in the "Austin Powers" spy movie sendups. Other credits include "Men in Black," "Bubble Boy" and the goblin Griphook in "Harry Potter and the Sorcerer's Stone." Troyer, who was 32 inches tall, had achondroplasia dwarfism. He was 49.
(Melinda Sue Gordon / New Line Cinema)
Tim Bergling, the Swedish DJ and producer who performed as Avicii, helped kick-start the electronic dance music explosion of the 2010s. Bergling was one of EDM's first crossover pop successes in the U.S. He was 28.
(Amy Sussman / Invision / Associated Press)
Barbara Bush is the second woman in U.S. history to have been the wife of one president, George H.W. Bush, and the mother of another, George W. Bush. Though she wielded a behind-the-scenes influence, she was known for her wit, self-deprecation and work on literacy and volunteerism. She was 92.
(Associated Press)
Stephen Hawking's contributions to theoretical physics are frequently compared to those of Albert Einstein. As the Lucasian professor of mathematics at Cambridge University, he changed the way the universe is viewed through his seminal theories about the nature of black holes and the origin of the universe. Hawking carried out complex mathematical calculations in his head and communicated through a speech-generating device because of a degenerative neuromuscular disease that gradually paralyzed him over the decades. He was 76.
(Joe Giddens / TNS)
Miloš Forman came of age as a filmmaker in postwar Czechoslovakia, and his memory of totalitarianism would forever be his muse. In every one of his films, including "One Flew Over the Cuckoo's Nest," "Ragtime," "Amadeus," "The People vs. Larry Flynt" and "Man on the Moon," Forman celebrated real-life outsiders and eccentrics who challenged the establishment with heroic self-expression. He was 86.
(Clark, Robert / For the Times)
Mitzi Shore was regarded as the godmother of comedy in Los Angeles. Her Comedy Store was one of the most important showcases for stand-up in the country. She influenced the careers of comedians such as David Letterman, Jay Leno, Robin Williams, Bob Saget and dozens of other readily identifiable names. She was 87.
(The Comedy Store)
The former wife of Nelson Mandela, Winnie Madikizela-Mandela was also a prominent anti-apartheid activist and politician. She campaigned relentlessly for her husband's release during his 27-year imprisonment, raised two daughters alone, faced harassment by South African security forces and served more than a year in prison. In later life, she was a member of South Africa's parliament, but scandals cut her influence in the ruling African National Congress. She was 81.
(Walter Dhladhla / AFP/Getty Images)
Steven Bochco was the driving force behind some of TV's most popular series for more than 30 years, with a specialty for serialized dramas with large ensemble casts and edgy plot points. The television writer-producer who brought "Hill Street Blues," "L.A. Law" and "NYPD Blue" to the small screen was nominated for 30 Emmys and won 10. He was 74. Full obituary
(Chris Pizzello / Associated Press)
Appointed to the U.S. 9th Circuit Court of Appeals in 1980 by President Jimmy Carter, Stephen Reinhardt was dubbed the "liberal lion" of the federal circuit courts. His rulings in favor of criminal defendants, minorities and immigrants were often overturned by the more conservative U.S. Supreme Court. He was 87. Full obituary
(Jamie Rector / For The Times)
Linda Brown's desire to attend an all-white school prompted the 1954 Supreme Court decision that bore her father's name and helped overturn racial segregation in the United States. She was 76.
(Associated Press)
Charles Lazarus founded Toys R Us and transformed it into an iconic piece of Americana. The World War II veteran's business model became one of the first retail category killers: big stores that are so devoted to one thing, and have such an impressive selection, that they drive smaller competitors out of business. He was 94.
(Cheryl Chenet / Corbis via Getty Images)
Hubert de Givenchy dressed Audrey Hepburn for seven of her movies and once shipped a black dress overnight to Jacqueline Kennedy when she requested it for the funeral of her husband. One of the first French fashion designers to create an international empire under his signature, Givenchy had a statuesque physique, perfect grooming and Old World manners. He was 91.
(Kiki Huesca / EPA / Shutterstock)
Billy Graham, the most dominant American pastor of the second half of the 20th century, lifted evangelism into the religious mainstream and through the power of his voice and personality united the often fractious worldwide evangelical community. He counseled nearly every American president from Harry Truman to Barack Obama. He was 99.
(Associated Press)
Wally Moon became part of the Dodgers lineup shortly after the team moved west from Brooklyn. The wiry outfielder with the old-school crew cut helped take the Dodgers to the World Series three times and became a crowd favorite for his towering "Moon shots." He was 87.
(Los Angeles Dodgers)
As the executive in charge of NBC's daytime programming in the early 1970s, Lin Bolen was the highest ranking woman in television and an agent of change. Bolen was so driven, so confident and so energetic that many co-workers were convinced that Faye Dunaway's ratings-obsessed character in the film "Network" was based on her. She was 76.
(Judd Gunderson / Los Angeles Times)
Warren Miller was a ski bum who became a prolific maker of skiing films. He released a 90-minute movie every year for more than five decades and built a media business that included commercials and promotional films. He was 93.
(Associated Pres)
President Nixon appointed Romama Acosta Bañuelos, center, as U.S. treasurer in 1971, the first Latina to hold that position. A founder of the first bank for Mexican Americans in California, she helped open doors that Latinos in the U.S. often found closed to them. She was 92.
(Associated Press )
Mathilde Krim rose to prominence as an AIDS researcher and global crusader in the early fight against the deadly disease. Both fascinated and horrified by the mysterious virus that was taking a heavy toll on gay communities across America, Krim sought to both understand the disease and raise funds for better and quicker research. She was 91.
(Gino Domenico / For The Times)
In a 52-year career, Keith Jackson covered an array of sports for radio and TV, but he was best known as ABC's voice of college football — and for the homespun phrases he used in reporting it. Linemen were not guards and tackles, they were "the big uglies." And, of course, there was "Whoa, Nellie!," which became known as his signature phrase. He was 89.
(Mel Melcon / Los Angeles Times)
A Los Angeles art world fixture, Ed Moses was one of the city's most productive and experimental artists of the last half-century. Moses formed the "Cool School" of artists — which included Ed Ruscha, Robert Irwin, Larry Bell, Edward Kienholz, John Altoon, Ken Price and Billy Al Bengston — at L.A.'s influential Ferus Gallery in the 1950s and '60s. He was 91.
(Mel Melcon / Los Angeles Times)
Often called the "Father of South African jazz," Hugh Masekela was also an anti-apartheid activist who succeeded in fusing politics with his music, making his songs and performances compelling and timeless. The trumpeter, flugelhornist, singer and composer was affectionately known locally as "Bra Hugh." He was 78.
(Pius Utomi Ekpei / AFP/Getty Images)
He built on that success with 1993's "Falling Down," the Michael Douglas-starring story of a beleaguered defense industry worker, which earned a handsome profit when it made $100 million at the global box office and inspired a "White Male Paranoia" cover of Newsweek.
That same year, Kopelson remade the 1960s serial "The Fugitive" into a blockbuster starring Harrison Ford and Tommy Lee Jones. The film, about an innocent man wrongly accused of murdering his wife, racked up six Oscar nominations, including a nod for best picture and a supporting-actor win for Jones. (Kopelson later took the film back to television in 2000 with Tim Daly in the starring role of the CBS series.)
In The Times, director Andrew Davis described Kopelson as "a wheeler-dealer with a good grasp of the business, unlike many in Hollywood" and "he prefers that his pictures have class and some soul."
"People say I'm lucky," Kopelson said in that same Times article in 1993. "And, in many ways, I am. But, to quote that old Jewish expression: 'The harder I work, the luckier I am.'"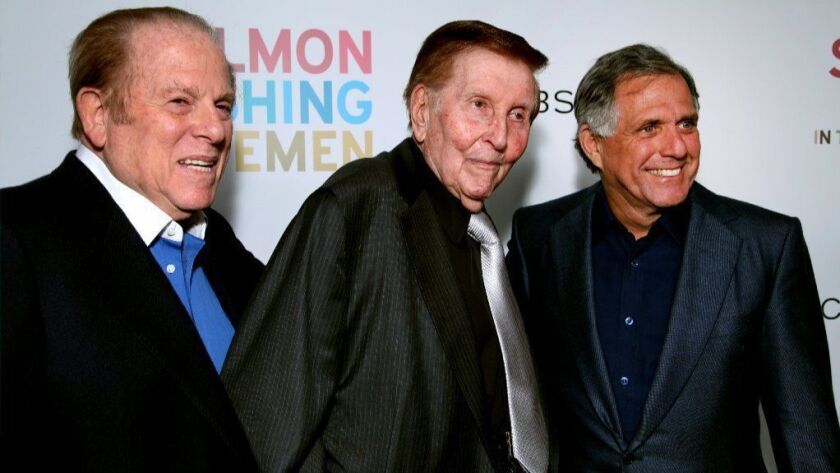 The producer, who briefly aspired to be a concert pianist, was born Feb. 14, 1935, and grew up poor in wartime Brooklyn, where he waited on tables to put himself through college and law school at New York University and New York Law School, respectively.
Before moving on to Hollywood, he worked as counsel in entertainment lending transactions to several institutions and became an expert in motion-picture financing.
"Arnold was a man of exceptional talent whose legacy will long survive him. He also, of course, was a highly dedicated CBS board member for more than 10 years. Our hearts go out to Anne and his family," CBS said in a statement to The Times.
Kopelson was a longtime friend of Sumner Redstone, the controlling shareholder of CBS and Viacom Inc., which owns MTV, Comedy Central, Nickelodeon and the Paramount Pictures movie studio. He and his wife were regulars at Redstone's Beverly Park mansion for Redstone's weekly movie screenings before the media mogul's health deteriorated.
The veteran producer also was a staunch ally of former CBS Chairman and Chief Executive Les Moonves, and he was instrumental in CBS' recent court case to try to pry the company loose from the Redstone family. That effort, however, collapsed last month as part of a sweeping settlement that included the ouster of several longtime board members, including Kopelson.
In late January, Kopelson used his iPhone to make a surreptitious recording of Redstone, who is 95 and can barely speak. The recording, which hasn't been made public, revealed that Redstone was a shell of his former self and could not answer basic questions, such as who controlled CBS, according to people who have seen the recording.
Kopelson said in a court filing that he made the recording to "memorialize Mr. Redstone's physical state." The contents of the recording alarmed a Delaware judge who was presiding over CBS' short-lived lawsuit targeting the Redstone family.
His wife said that the stress of the case weighed on him during his last few months.
"It was not a pleasant time," she said.
Kopelson is survived by his wife and children (two sons and a daughter) whom Anne Kopelson adopted after Arnold's first wife died of breast cancer.
Funeral services have been arranged at Mt. Sinai Memorial Park in Los Angeles for Wednesday at 12:30 p.m.
---
Must-read stories from the L.A. Times
Get all the day's most vital news with our Today's Headlines newsletter, sent every weekday morning.
You may occasionally receive promotional content from the Los Angeles Times.