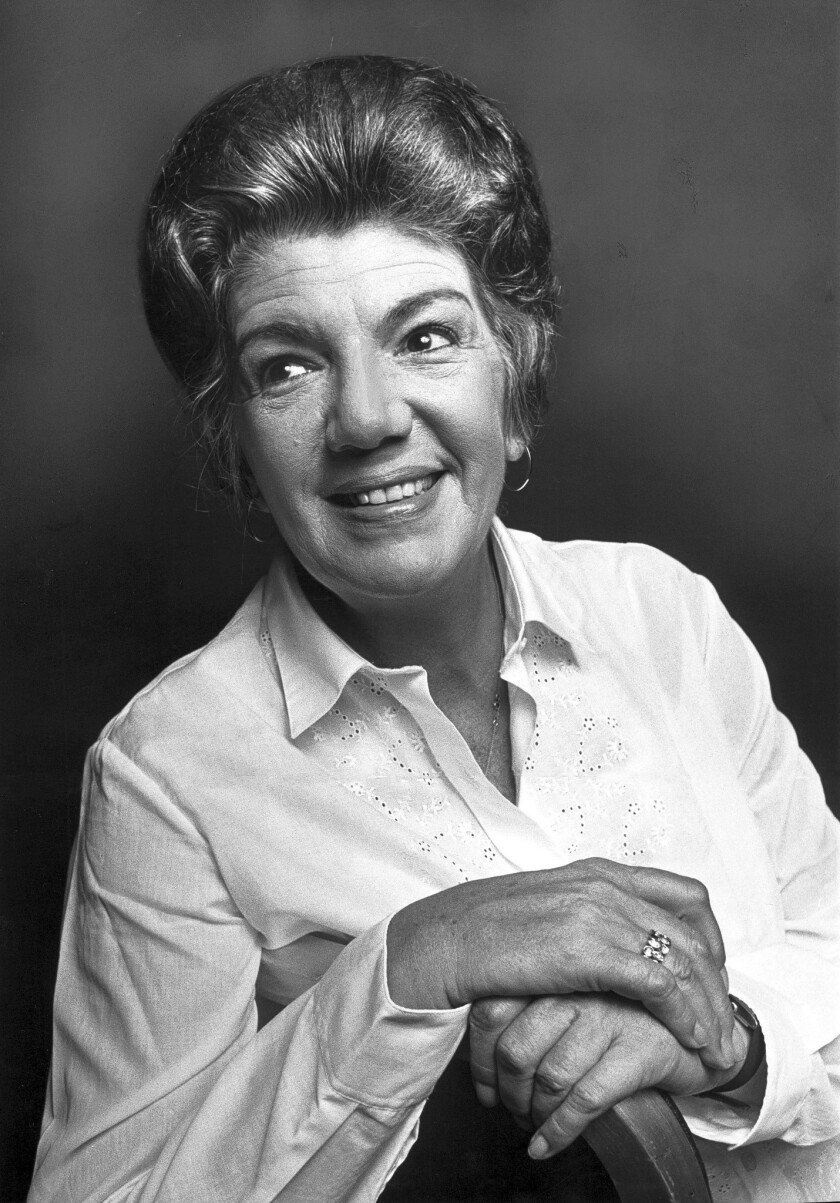 Actress Carmen Zapata, who responded to the dearth of challenging roles for Latinos by launching a bilingual theater company in Los Angeles four decades ago, died Sunday at her Van Nuys home. She was 86.
The veteran of TV, stage and film, whose extensive credits include appearances on prime-time hits like "Trapper John, M.D" and "Dr. Quinn, Medicine Woman," had heart problems, said Lina Montalvo, managing director of the Bilingual Foundation of the Arts.
In 1973, Zapata co-founded the foundation with director Margarita Galban to bring the Hispanic experience to the stage through productions of Spanish-language classics, including works by Federico Garcia Lorca, and contemporary plays by Latin American writers.
She produced more than 80 plays for the nonprofit organization, which runs a 99-seat theater in a small former jailhouse in Lincoln Heights and has trained scores of actors, directors, set designers and other theater professionals. It also has exposed thousands of students to live productions through a partnership with schools across Los Angeles County.
"She inspired so many people," Montalvo said Tuesday. "They come back to us and say, 'I came to the theater for the first time here and now I teach Hispanic theater.' One girl was about to join a gang, but after she saw one of our plays at school … she became a dancer. Carmen had a tremendous impact."
Zapata was not always proud of her heritage. Born to a Mexican father and Argentine mother, she grew up poor in New York City, where she was born on July 15, 1927.
Knowing no English when she started school, she felt so different from her classmates that she invented a more American identity for herself and insisted that her real name was Marian Saunders.
Taking dance and music lessons as a child helped her feel less isolated. "When I entertained," she told The Times in 1979, "I found I could make people laugh, applaud, need and love me."
When she left high school at 18, she landed a job on Broadway in the chorus of the hit musical "Oklahoma." For the next two decades, she worked steadily in regional and touring productions of shows like "Guys and Dolls," "Carnival" and "Bye Bye Birdie."
She also developed a nightclub act, doing stand-up comedy as Marge Cameron. She went back to being Carmen Zapata after realizing that the stage name was not helping her career.
After a short marriage ended in divorce, she moved to Los Angeles in the late 1960s and began to get work in Hollywood. But she discovered that her ethnicity limited her to playing maids and other marginal characters. When she tried to break out of the typecasting, producers told her, "You're a wonderful actress, Carmen, we really enjoyed your reading, but we're going another way. We're going American," she recounted in a 1979 Times interview.
"My mouth drops and I say, 'But I am an American,'" she recalled. "Then I get, 'But you don't look like the lady next door.'"
In 1970 she met Galban, who invited her to join a Spanish-language play she was producing. Zapata hesitated at first because she had never acted in Spanish, but she agreed after Galban assured her that, because the part required her to act drunk, no one would notice if her Spanish wasn't perfect.
The experience was so rewarding that she joined Galban and set designer Estela Scarlata to launch a theater program in downtown Los Angeles. In 1973, it became the Bilingual Foundation of the Arts.
Zapata financed the program out of her own pocket at first, but as its reputation grew it was sustained by grants and donations. After initially mounting productions in Spanish only, the organization found that many Latino audience members had difficulty following along, so it added English-language performances to broaden its audience.
Concerned about the lack of quality translations, Zapata translated, with Michael Dewell, the Lorca plays "Blood Wedding," "The House of Bernarda Alba" and "Yerma," which were published by Bantam Books in 1987.
She appeared in two dozen films, including the Whoopi Goldberg comedy "Sister Act" (1992) and its sequel, "Sister Act 2" (1993). One of her last films was "Death in Granada" (1996), in which she played Lorca's mother. Lorca was portrayed by Andy Garcia, who received some of his early acting experience at the Bilingual Foundation of the Arts.
Zapata appeared most widely in television, with credits on nearly 90 series, including a recurring role in the NBC soap opera "Santa Barbara." She starred in the short-lived ABC sitcom "Viva Valdez" as the matriarch of a close-knit Mexican-American family.
She often said she was most proud of her work in the PBS children's show "Villa Alegre," in which she portrayed Mayor Doña Luz.
She is survived by nephews and nieces.
---