Dorian 'Doc' Paskowitz dies at 93; took family on surfing odyssey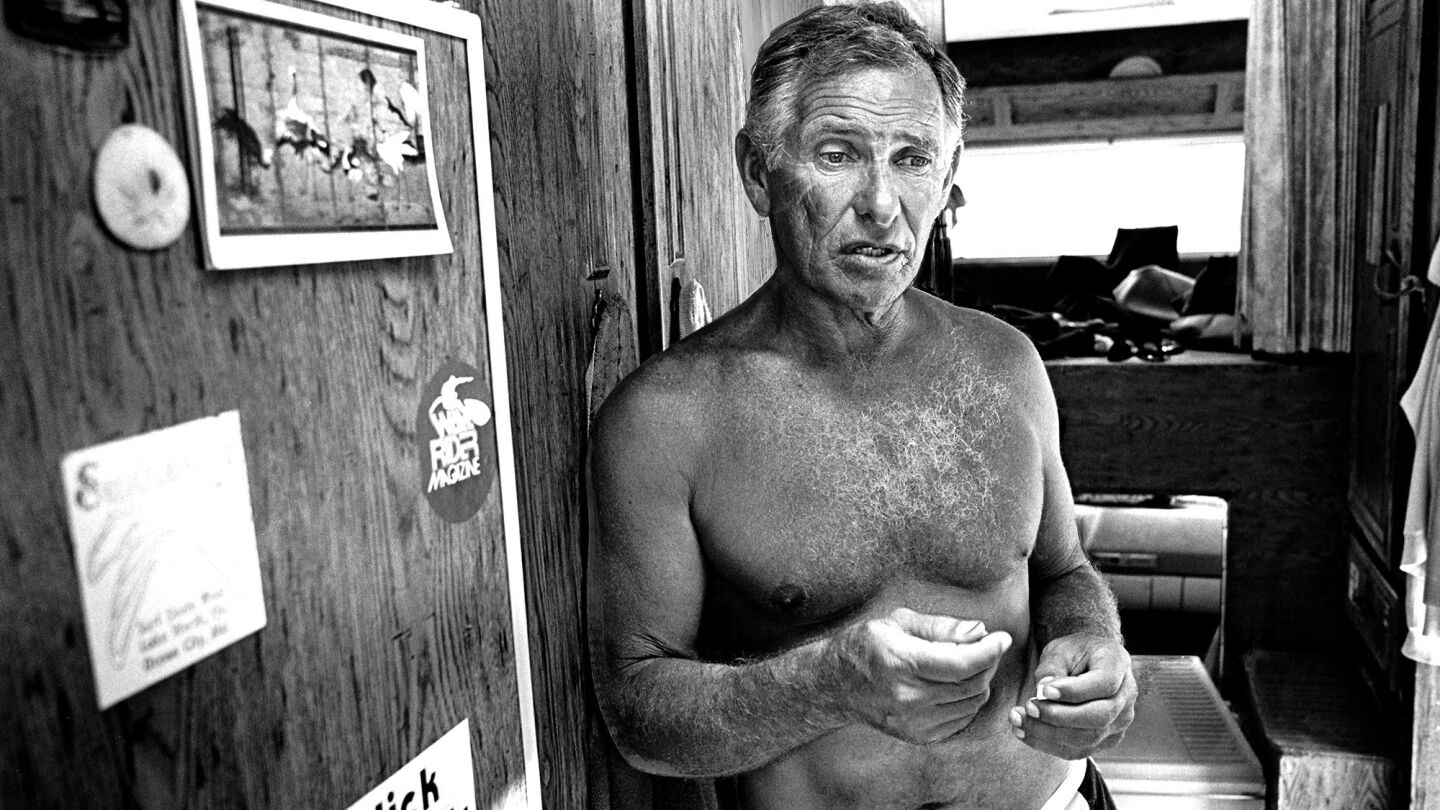 Dorian "Doc" Paskowitz in 1980.
(Don Kelsen / Los Angeles Times)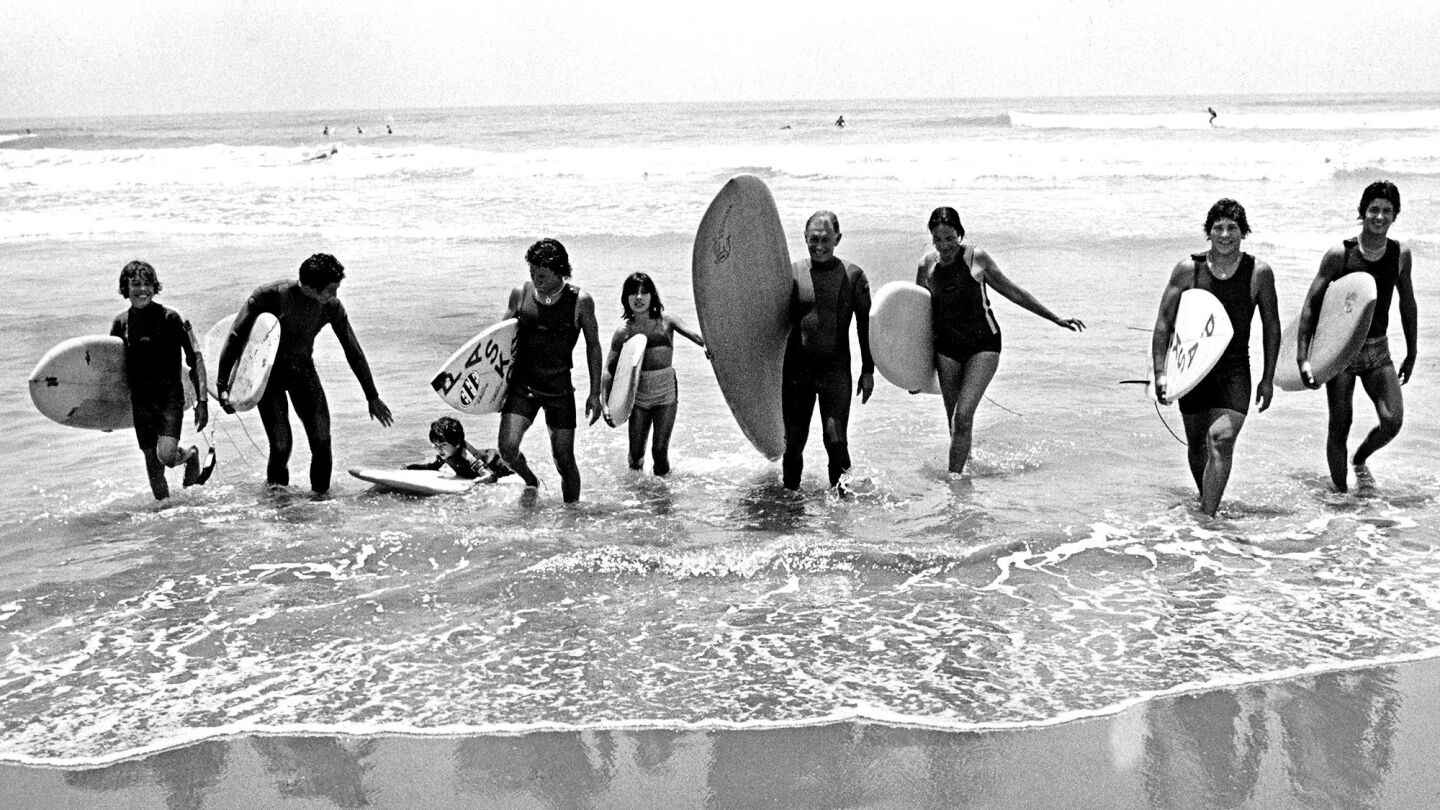 Dorian "Doc" Paskowitz and nine of the 11 members of his family get together for an afternoon of surfing at San Onofre in 1980.
(Don Kelsen / Los Angeles Times)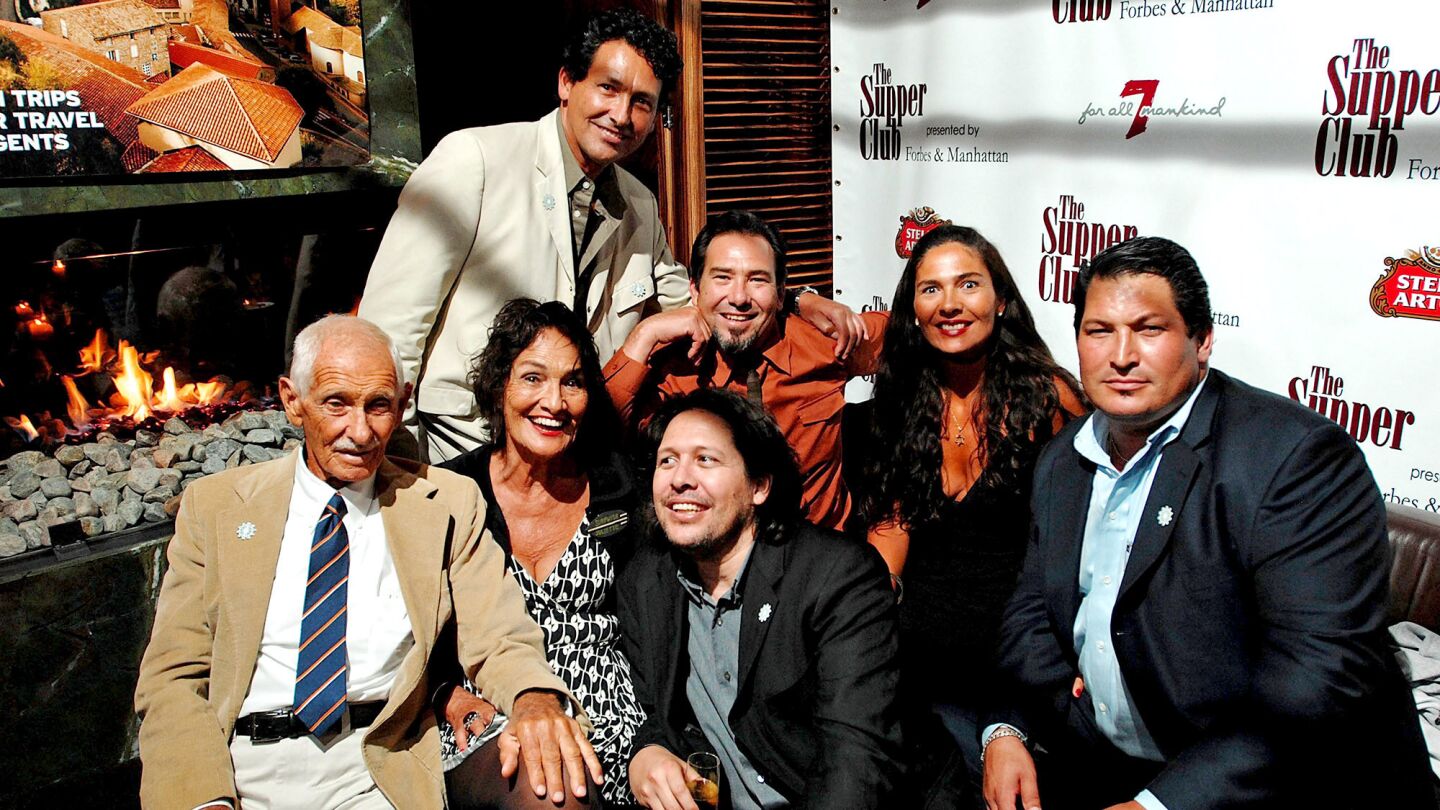 Documentary subjects, the Paskowitz family, from left, Doc Dorian, Juliette, David, Salvador, Abraham, Navah, and Moses attend the after party for "Surfwise", a film about their lives.
(Darryl James / Getty Images)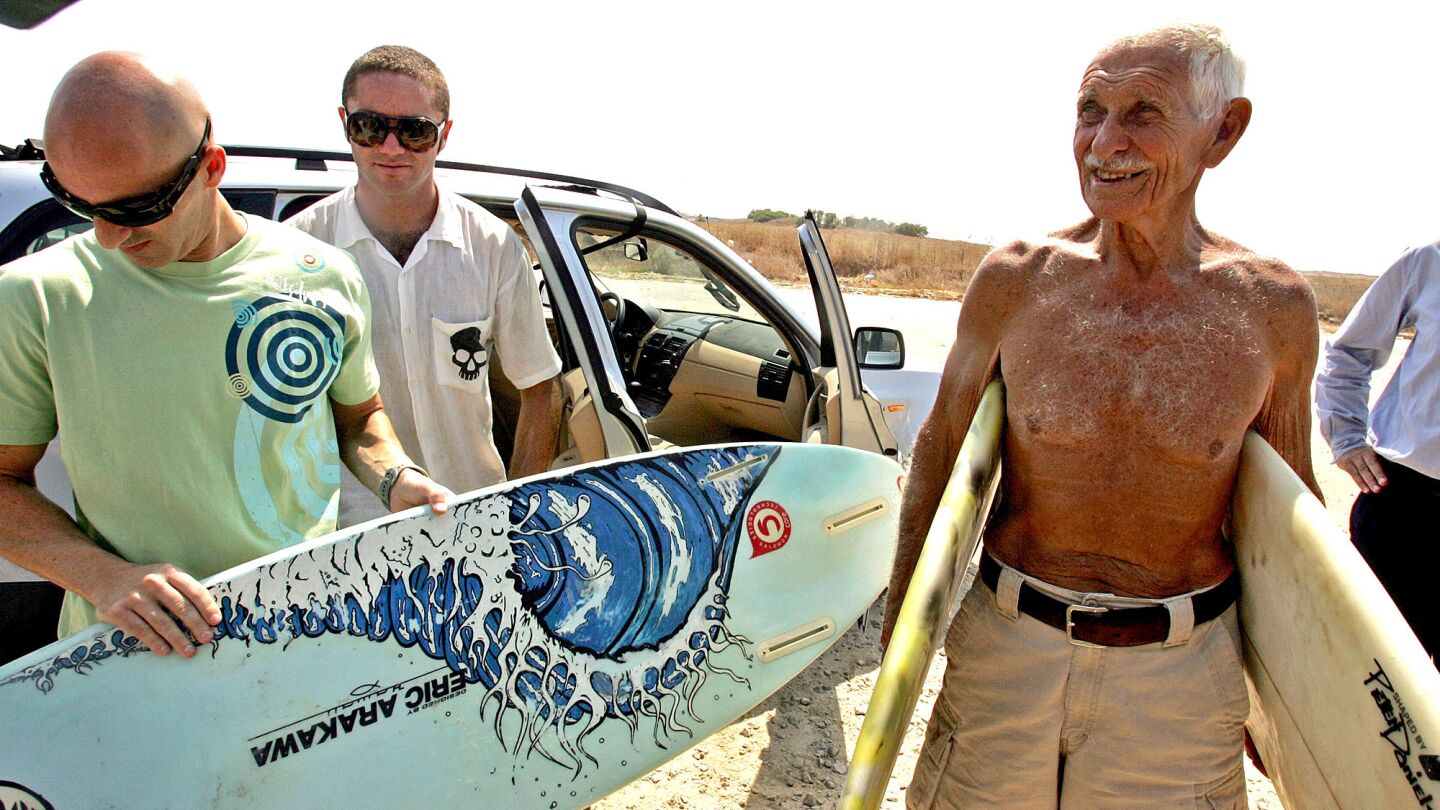 Dorian "Doc" Paskowitz, right, holds a surfboard as he arrives on the Israeli side of the Erez crossing with the Palestinian Gaza Strip 21 August 2007.
(Jack Guez / AFP/Getty Images)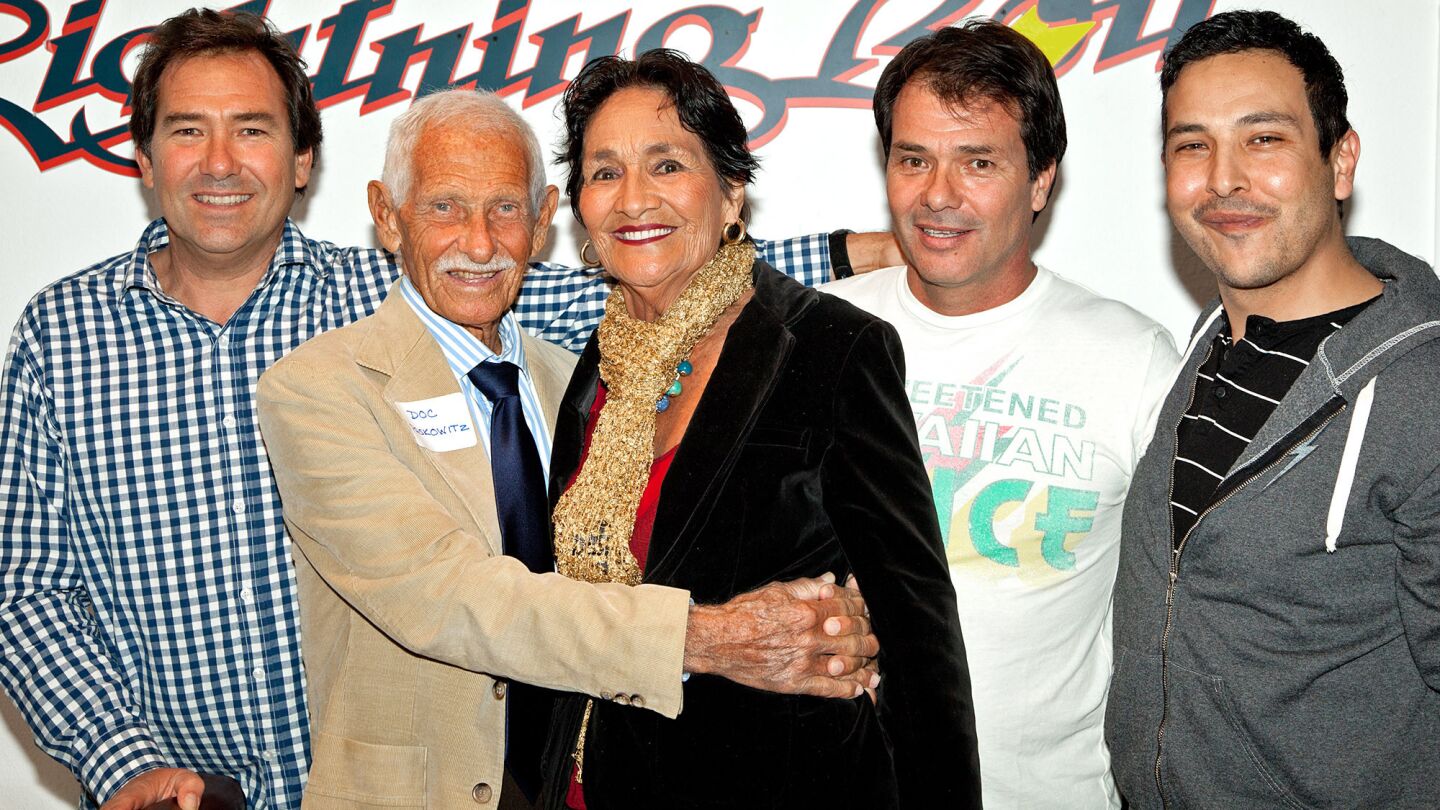 From left, Abraham Paskowitz, Dorian "Doc" Paskowitz, Juliette Paskowitz, Jonathan Paskowitz and Joshua Paskowitz at the Lightning Bolt USA Flagship Store in 2010 in Venice.
(Anna Webber / Getty Images)
More than one California surfer has dreamed about following the waves in an old camper, picking up occasional odd jobs by day and generally blissing out at night.
But only one did it year after year with his wife and nine children crammed into a 24-foot camper that ultimately gave each child something like three cubic feet in which to grow up. Only one started what became a famous surfing school on the sands of San Onofre and preached the benefits of surfing so unrelentingly that Tommy Hilfiger applied the family's name to a line of beachwear; when it came to surfing, the designer explained in 1999, "there's no one more cool and credible than the Paskowitzes."
Dorian "Doc" Paskowitz, a physician who abandoned the prospect of a lucrative practice for surfing because he said he never felt right about taking money from people in pain, died Monday at a hospice in Newport Beach. He was 93.
His death was confirmed by his son Israel, who said Doc Paskowitz injured his hip in a fall last month, checked himself out of a hospital after surgery, and opted to forgo intensive medical care.
"He didn't want to prolong his life in any other way than jogging, surfing and just being who he was," said Israel Paskowitz, a former world champion longboard surfer.
"There are always kids living in campers on the beach, writing sonnets about waves and boards, and the ocean as their church," he said. "But in five years, they'll be working for big commercial real estate companies. My dad did it forever."
Portrayed in early newspaper features as surfing's answer to the singing Von Trapp family, the Paskowitzs' eight boys and one girl were for the most part home-schooled in the camper by Doc and his wife, Juliette. During one of his few stints in an actual school, Israel recalled his father jogging by while he and his friends were in the playground.
"I was mortified," he said. "I knew I had to run over and see him and I knew that he'd give me a kiss — on the mouth, in front of my friends, through the chain-link fence. I'm proud to say I kissed him back."
As iconoclastic as he was, Paskowitz had surprisingly old-school tastes. He enjoyed big band tunes by the Dorsey brothers. He taught his sons to stand up when they shook someone's hand. A devout Jew, he belonged to no synagogue but prayed daily and celebrated Friday night Shabbat wherever the family happened to camp. He is credited with pioneering surfing in Israel, where he lived in the mid-1950s; in 2007, he delivered boards to Palestinian surfers, including at least one who had publicly expressed sympathy with the Hamas militant group.
"To be able to go to your enemies and give them something that makes them happy is a most fulfilling adventure," he told the Los Angeles Times.
Paskowitz and his family were portrayed in Doug Pray's 2008 documentary "Surfwise," a film that cast Doc as eccentric and egocentric. Although the Paskowitz family would be described by the New York Times as "the First Family of surfing," Doc was recalled by some of his children as an authoritarian who kept them from getting the schooling they would need to face the world.
"I'm not some kind of avant-garde, radical intellectual," he says in the film. "I just wanted my kids around me, surfing with me — and education be damned!"
Maintaining discipline in such cramped quarters sometimes meant forcing balky children to paddle their boards some difficult distance or run to some distant spot on the beach. Jonathan Paskowitz, who co-produced the film, told NPR's Terry Gross that his father woke him in the middle of a freezing night on Rhode Island's Block Island and had him pursue a difficult outdoor "quest" that took hours. The son's infraction: gorging at school on Kellogg's Frosted Flakes — a taboo in a strictly sugar-free household.
Paskowitz was ardent about natural foods. After seeing a gorilla in the San Diego Zoo eat an apple but throw away the peel, he insisted his family do the same: It was nature's way, he said.
"I'm not going to be upstaged by any gorilla, or any chimpanzee, or any newt, or any gecko, or any squirrel," he told an interviewer.
A natural promoter, Paskowitz was comfortable in the limelight.
"We surfers like to think of ourselves as colorful and worldly, but the truth is that most of us are not," said surfing historian Matt Warshaw.
"But he really was. He had done so much and experienced so much outside of surfing that he was multidimensional in a sport full of single-dimensional people. The sport was far more colorful for him being in it."
Born in Galveston, Texas, on March 3, 1921, Doc Paskowitz learned to surf at 10 and moved with his family to San Diego when he was 12. He attended San Diego State before transferring to the University of Hawaii, and then to Stanford.
He received his bachelor's in biology from Stanford in 1942 and his medical degree in 1946.
He served in the Navy aboard the Ajax, a ship assigned to duty at postwar atomic bomb tests in the Pacific.
After his military service, Paskowitz returned to Hawaii and embarked on his medical career.
"The years between 1950 and 1956 saw one professional success after another for me, but in actual fact these were the worst years of my life," he once said. "I deserted surfing and in its place I substituted ambition. It didn't work. My spirit shrank until there was nothing left. You see, when I kept surfing, surfing kept me."
He had already been married twice. In 1957, he met an opera singer who was working as a telephone operator on Santa Catalina Island. After they married in 1959, Doc and Juliette began their odyssey in a succession of beat-up vehicles, sometimes just a surf break ahead of the repo man.
For spending money, Paskowitz filled in at hospital emergency rooms. He provided medical services on Indian reservations and at migrant labor camps. Sometimes he treated people at the beach, dispensed nutritional advice, or gave surfing lessons, all the while telling stories about Duke Kahanamoku and other surfing giants he said he knew.
"When someone ran across a doctor who lived at the beach in a camper with all those kids, it was kind of stunning," said Steve Pezman, founder and co-publisher of Surfer's Journal in San Clemente. "But he was so witty and charming, they would fall under his spell, even if he would tell them he was scamming them. They would offer to help out, just because they were digging his deal."
In addition to his wife, Juliette, Paskowitz's survivors include daughter Navah; sons David, Jonathan, Abraham, Israel, Moses, Adam, Salvador and Joshua; 24 grandchildren and one great-grandchild. Daughters Sarah, Sally and Deborah survive from a previous marriage.
In 1972, Paskowitz founded a surfing school in Tel Aviv, which he moved to San Onofre three years later. Focusing in the early 1980s on children with emotional problems, he renamed the enterprise the Paskowitz Surfing Psychiatric Clinic before changing it in 1985 to the Paskowitz Surfing Camp.
In 1998, he published a 500-page volume called "Surfing and Health."
"He really, truly felt that a surfer was a better human being," his son Israel said.
Twitter: @schawkins
Times staff writer David Colker contributed to this report.
---
Must-read stories from the L.A. Times
Get the day's top news with our Today's Headlines newsletter, sent every weekday morning.
You may occasionally receive promotional content from the Los Angeles Times.