Jerry Weintraub dies at 77; producer made 'Karate Kid,' 'Ocean's Eleven' films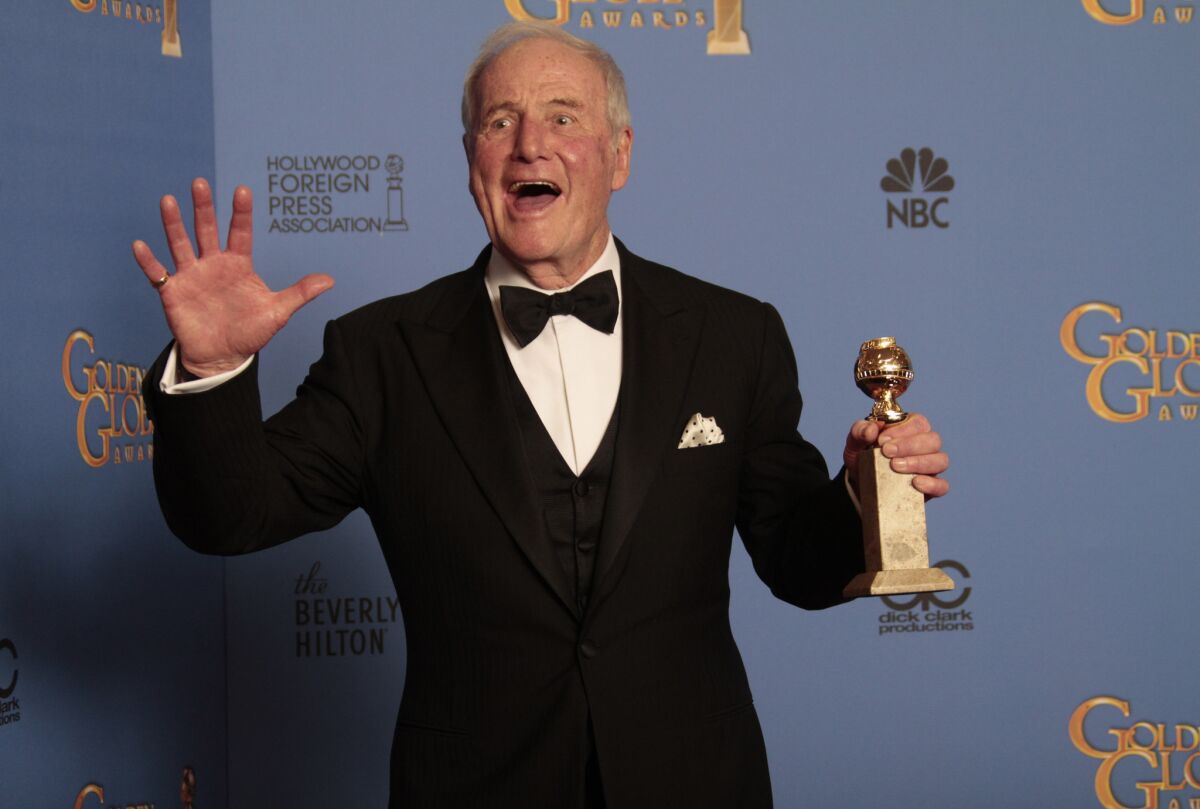 One of the last of Hollywood's great old-school impresarios, Jerry Weintraub once said he had "the most important phone book in the world."
"I can get anything done, anywhere, at any time," the legendary producer told The Times in 2012 in what amounted to a kind of personal motto.
Weintraub was well-known for that kind of braggadocio, but it was hard to argue with him. In a career that spanned half a century, he proved a force in the worlds of music, film and television.
The veteran producer died Monday in Santa Barbara of cardiac arrest, said family spokeswoman Michelle Bega. He was 77.
Weintraub had an eye for talent, discovering a little-known singer-songwriter named John Denver, for example, and launching him to international stardom.
Touching nearly every corner of the entertainment world, Weintraub prided himself on his ability to mount ambitious efforts, whether that meant producing a blockbuster movie or overseeing a national concert tour.
Credited with helping to revitalize both Elvis' and Frank Sinatra's careers, he also had a knack for making big stars even bigger.
"If I had been around with Van Gogh or Melville," he once wrote, "they would not have had to wait so long for fame."
Weintraub first made his name in the 1960s as a music manager and concert promoter, working with such high-profile acts as Elvis Presley, Bob Dylan and Led Zeppelin. After transitioning to the movie business in the 1970s, he produced "Nashville" as well as such hits as "Oh God!," "The Karate Kid" and the immensely popular caper-comedy series that began with "Ocean's Eleven."
His credits as a TV producer included the Emmy-winning 2013 Liberace biopic "Behind the Candelabra" and, most recently, the HBO comedy series "The Brink."
But one of Weintraub's most compelling productions was undoubtedly his own life story. Having risen from a working-class childhood in New York to the pinnacle of show business, he chronicled his colorful, Runyonesque escapades in his 2010 memoir, "When I Stop Talking, You'll Know I'm Dead: Useful Stories From a Persuasive Man." The next year, he was the subject of a documentary titled "His Way."
In a statement after Weintraub's passing, actor George Clooney — who starred in "Ocean's Eleven" and its two sequelsand became a close friend of Weintraub — noted the producer's reputation as a world-class raconteur.
"In the coming days there will be tributes, about our friend Jerry Weintraub," Clooney wrote. "We'll laugh at his great stories, and applaud his accomplishments. And in the years to come the stories and accomplishments will get better with age, just as Jerry would have wanted it."
Born Sept. 26, 1937, in Brooklyn, Weintraub was raised in the Bronx, where his father was a jeweler. His mother instilled a love of movies from an early age, and after a stint in the Air Force, he eventually found his way to Hollywood. He worked in the mail room at the talent agency William Morris before becoming an agent at MCA, where he was mentored by the formidable power broker Lew Wasserman.
But Weintraub had bigger aims and before long launched his own management company. One of his earliest clients was the actress and singer Jane Morgan, whom he married in 1965. Weintraub eventually had three children with her, along with one from a previous marriage to Janice Greenberg.
Weintraub's first major foray into the music business came when, at 28 and after a year of cold calls, he persuaded Elvis Presley's manager, Col. Tom Parker, to let him produce and present Presley's next national tour. Instead of relying on local concert promoters, Weintraub took over booking and promotion, a strategy that proved efficient and lucrative. "In three weeks,I was a millionaire," Weintraub told Vanity Fair in 2008.
Over the next decades, his firm, Concerts West, went up against many of the titans of the concert business and produced tours by Dylan and Frank Sinatra. With his talent management company, Management III, Weintraub managed acts including the Pointer Sisters, Dolly Parton and Neil Diamond.
He also helped usher in the era of arena-sized concerts.
"There were no rules — we were inventing everything as we went," Weintraub told The Times in 2011. "Every night was something no one had ever done. I think about taking Led Zeppelin into Madison Square Garden [in 1973] and John Bonham stealing my suit, coming out, putting my jacket on, ripping the sleeves off and playing drums and Robert Plant screaming. It was all new."
In 1973, Weintraub met director Robert Altman, who suggested Weintraub try his hand at producing movies.He went on to produce Altman's "Nashville," a sprawling, country-music-infused drama that would become one of the era's defining films.
Over the next 40 years, Weintraub produced a number of successful movies, along with his share of flops, and, for a brief time in the 1980s, served as chairman of United Artists. He is one of the only independent producers to have his own star on the Hollywood Walk of Fame.
In a 2012 interview with The Times, Weintraub attributed his success in the film business to a combination of good taste and the ability to cultivate and leverage relationships."I'm creative enough to have great material and friendly enough with enough actors, directors and writers — which is what this is all about — to get things made," he said.
Outside of his work in entertainment, Weintraub was a major contributor to various arts organizations, including the Los Angeles County Museum of Art, the Museum of Contemporary Art and the Music Center. He was also politically active. A self-described centrist, he was a longtime friend of George H.W. Bush and produced a documentary about him for HBO.
"He had a passion for life, and throughout the ups and downs of his prolific career it was clear just how much he loved show business," Bush said of Weintraub in a statement Monday. "I used to tease him about a being 'black belt name-dropper,' but he really did seem to know everyone in show biz – and we join his many friends in remembering and celebrating his singular life."
Most recently he produced the comedy series "The Brink," currently in its first season on HBO. His last film as a producer, a big-budget, live-action production of "Tarzan," is set for release in 2016.
"It's very hard to leave the stage," Weintraub told The Times in 2010, explaining his tireless work ethic. "You want to go out on the top. But then you want to reach new tops."
Besides his wife, Jane Morgan Weintraub, from whom he was separated but never divorced, he is survived by their three children, Julie, Jamie and Jody; a son, Michael, from a previous marriage; a brother, Melvyn; five grandchildren; and his longtime companion Susan Ekins.
Times staff writers Lauren Raab, August Brown and Steven Zeitchik contributed to this report.
Must-read stories from the L.A. Times
Get the day's top news with our Today's Headlines newsletter, sent every weekday morning.
You may occasionally receive promotional content from the Los Angeles Times.