Joe Frank, who pushed the boundaries of radio storytelling, dies at 79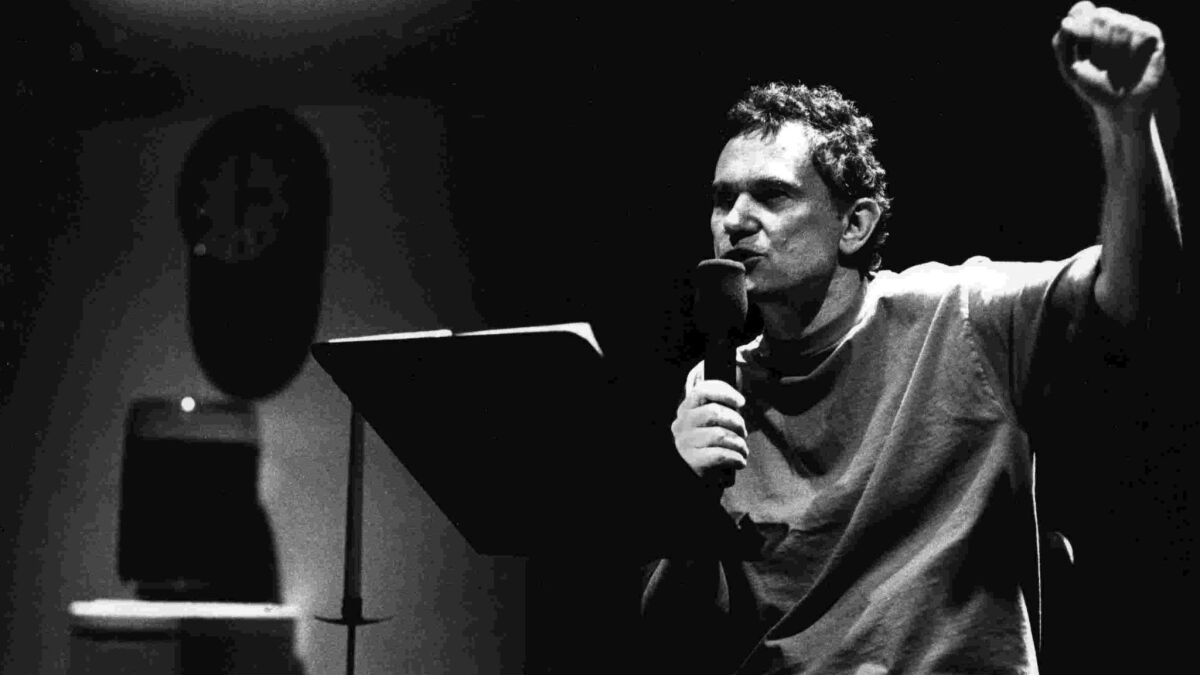 To regular Joe Frank listeners, it made perfect sense when the "radio noir" storyteller launched into a monologue about Hitler, Stalin, Pol Pot and Mao sitting at a dinner table discussing floral arrangements and pant cuffs.
In his smooth-as-bourbon voice, he veered into a discourse on Hitler's imagined favorite book — "Goodnight Moon" — and Stalin's affection for long-stemmed roses displayed with baby's breath. And at a nearby child's table, Charles Manson, Jeffrey Dahmer and Gary Gilmore sit wearing party hats, watching.
"Why am I here?" Frank suddenly asked listeners. "What did I do?"
Edgy, dark and freely blurring fact and fiction, Frank's shows on KCRW captivated a generation of listeners who found themselves unable to turn the dial when he methodically told stories of compulsion and ruin.
"It was like a fist coming out of the radio," actor-writer-radio host Harry Shearer once said.
He won a Peabody Award, inspired radio provocateur Ira Glass, won the admiration of Francis Ford Coppola, who tried to bring Frank's stories to film, and was regarded as the finest radio storyteller in L.A.
Affected by health problems throughout his life, Frank died Jan. 15 in Beverly Hills after a series of setbacks following surgery for colon cancer in October. He was 79.
Frank wrote, edited and produced more than 240 shows at the Santa Monica station under a variety of program titles — "Work in Progress," "In the Dark," "Somewhere Out There" and "The Other Side." He also wrote a collection of short stories, did television work and had a stage routine during which he admonished the audience to "lower your expectations."
But radio seemed his native medium, and he felt compelled to stretch it as far as he could.
"I loved going into this otherworldly kind of place," he told The Times in 2011.
Born Joseph Langermann on Aug. 19, 1938, in Strasbourg, France, Frank arrived in New York City as a child when his parents fled the Nazis. His childhood was peppered with health problems and family turmoil. His father died when he was 5, and he said his mother suffered through depressions so deep that he worried she wouldn't return when she took long walks in the woods.
While a student at Hofstra University, he developed testicular cancer and underwent painful cobalt radiation treatment. Later in life he suffered from bladder cancer and kidney failure. He battled colon cancer through the last years of his life.
Frank's first taste of radio was as a volunteer at a Pacifica radio station in New York, which opened an avenue to National Public Radio, where his offbeat radio drama caught the attention of Ruth Seymour, the station manager at KCRW.
So in 1986 he packed up his Volkswagen Jetta, drove across the country, moved into a small house in Venice and went to work at the Santa Monica station.
At KCRW, his programs — he did two a week, at the start — were exhaustive excursions. He used a group of improvisational actors to supply other voices, mixed his own music, fleshed out stories with imagined conversations and crunched and edited his material until there wasn't a wasted word. Sometimes he paid listeners to meet with him socially and tell him their own stories, looking for something to glean.
The result was something that seemed pulled from a person's drowsy half-sleep, a David Lynch-like collision of surreal images, random thoughts and people at their most absurd.
There was the woman who rented out her kids to childless couples who wanted to experience being parents without any lasting commitment. The guitar player who eats himself into obesity when the strip club where he performs burns to the ground. Or the shiftless pool man whose slide into despair seems to parallel the fires and mudslides that are chewing up the hills around him.
Frank once hauled a bathtub into the studio, filled it and then noisily ate potato chips on the air while calling sex-chat phone lines. In another, he called former girlfriends late at night and asked them to join him while he sang "I Remember You." All but one did. And he asked a mime — another character he invented — for a sample of his best work, and then treated listeners to 30 second of radio silence.
"My only intention is to create shows that move people and make them feel less lonely," Frank said. "There was a time in my life where the loneliness I felt was so intense that it was like an unbearable weight on my chest. I remember kneeling before the phone, praying that it would ring."
Frank and the KCRW station manager eventually had an unspecified falling out and parted ways, though the station continued to regard him as a trailblazer and replayed some of his shows. He found other platforms to reach his audience, such as a website where listeners could access all of his programs. In 2012, he reconnected with KCRW to produce half-hour shows for the station's "UnFictional" series.
Frank is survived by his wife, Michal Story.
---
Must-read stories from the L.A. Times
Get the day's top news with our Today's Headlines newsletter, sent every weekday morning.
You may occasionally receive promotional content from the Los Angeles Times.