Joe Jackson, patriarch of musical family of pop stars, dies at 89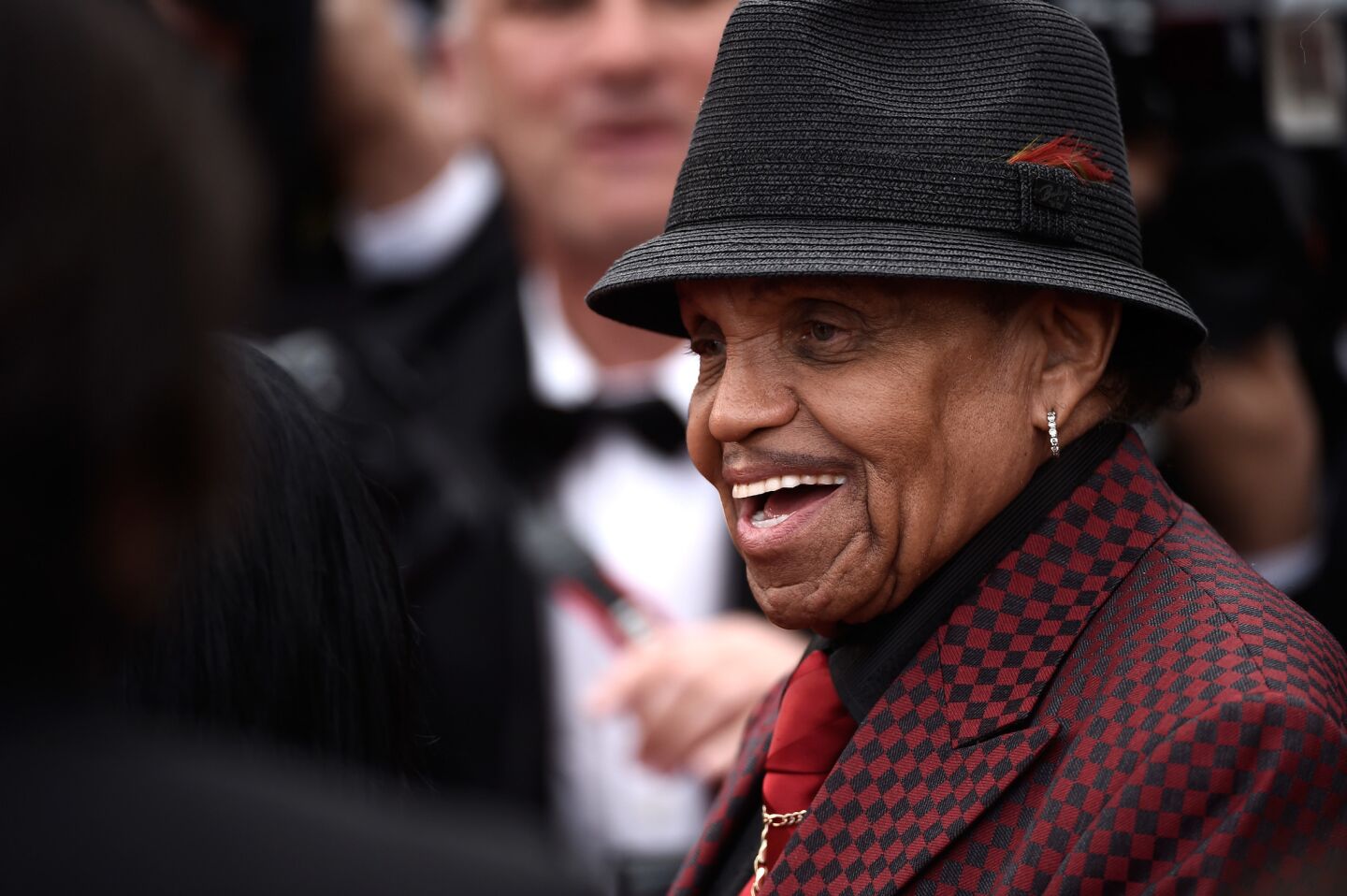 Joe Jackson attends the premiere of "Sicario" at the 2015 Cannes Film Festival in France.
(Ian Gavan / Getty Images)
The Jackson men in 1970: Dad Joe Jackson, seated, with youngest son Randy and, clockwise from bottom left, Jackie, Tito, Marlon, Jermaine and Michael Jackson, who performed as the Jackson 5.
(Michael Ochs Archives / Getty Images)
Civil rights leader Jesse Jackson, left, talks with Joe Jackson in the driveway of the Jackson family's Encino home in 2009 following the death of Michael Jackson.
(Lawrence K. Ho / Los Angeles Times)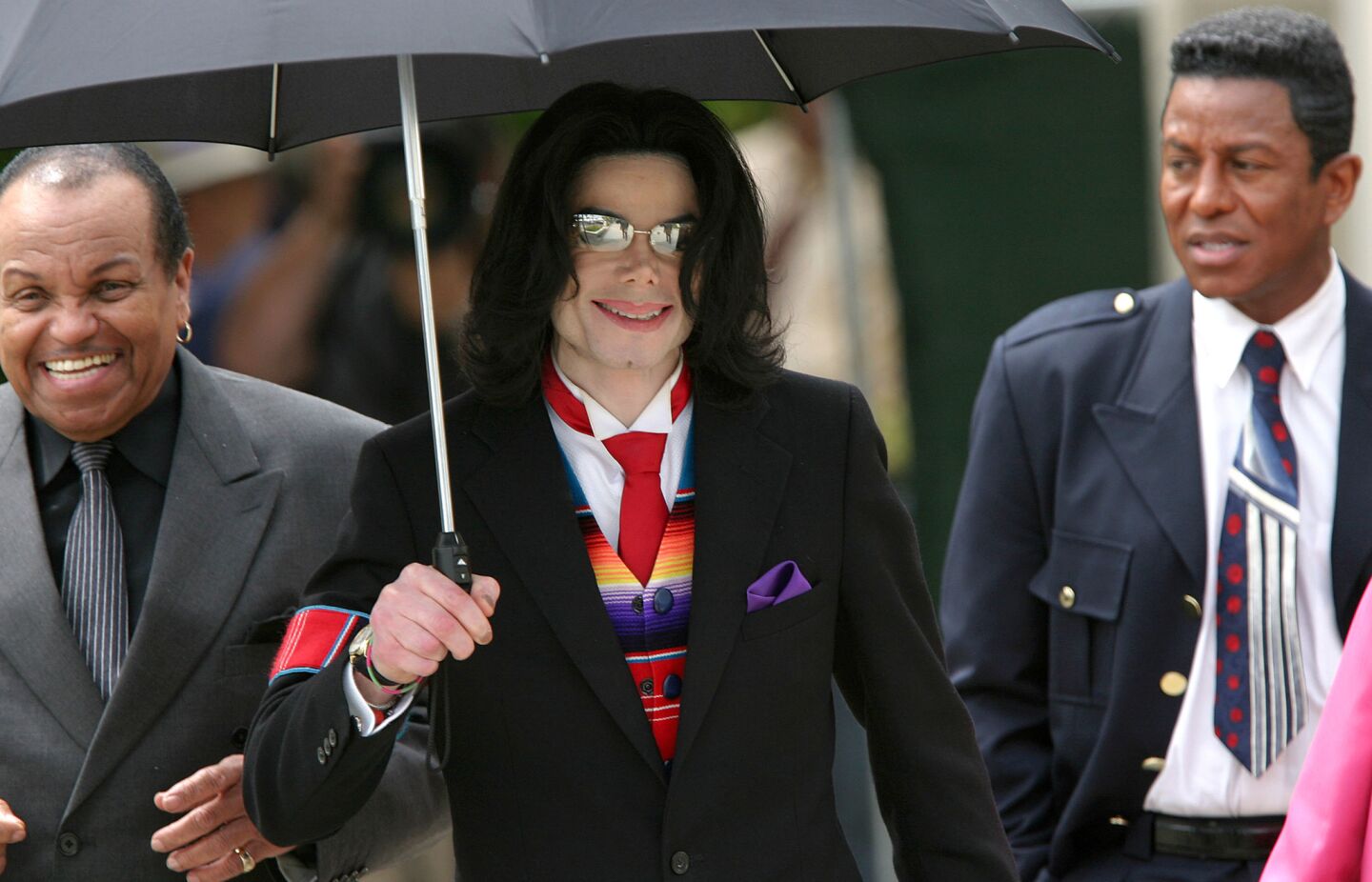 Michael Jackson leaves court with his father Joe, left, and brother Jermaine during his child molestation trial in Santa Maria on May 5, 2005.
(Connie Aramaki / Getty Images)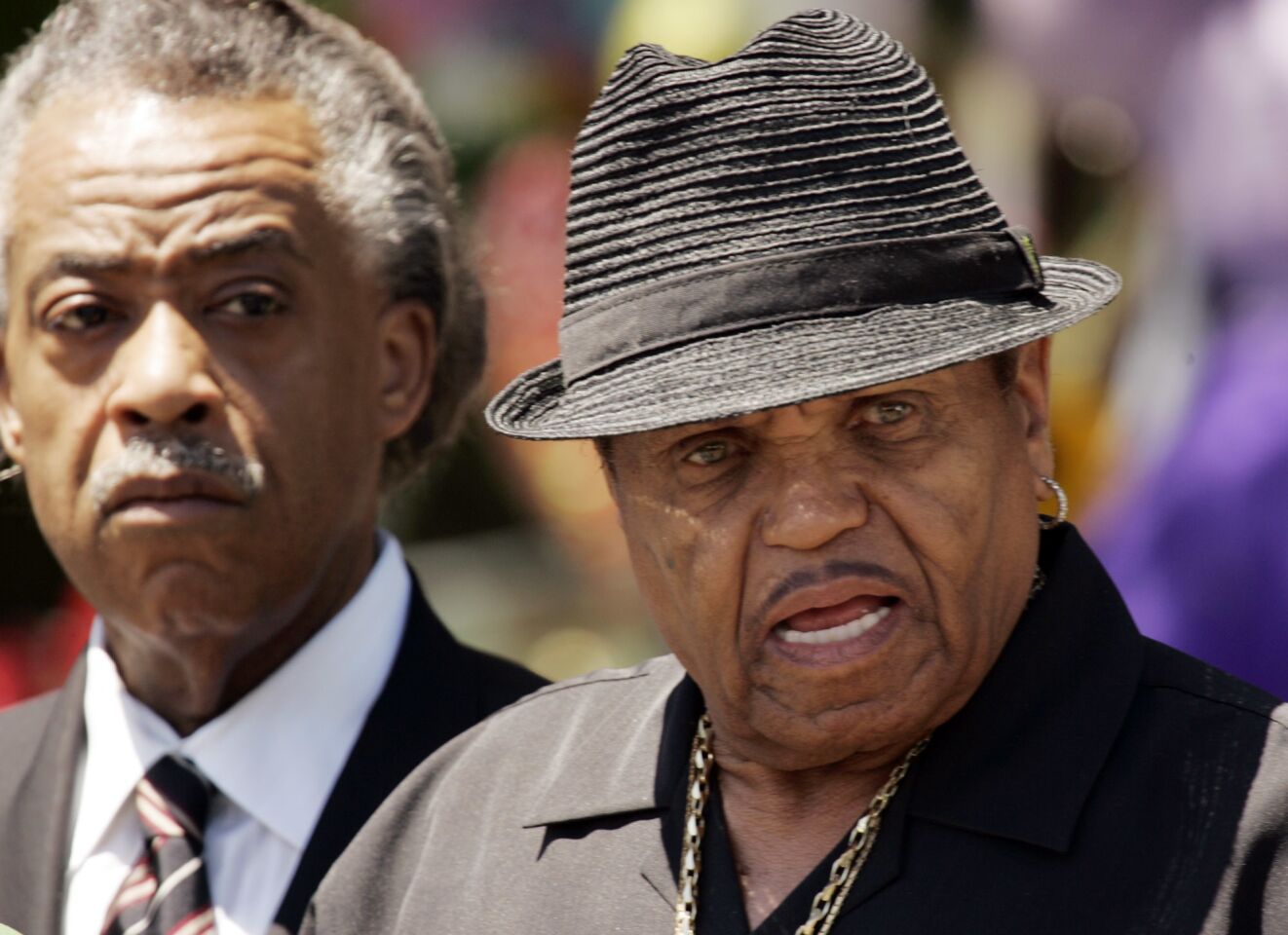 Joe Jackson, with the Rev. Al Sharpton at his side, addresses the media outside his home after the death of his son, pop superstar Michael Jackson, on June 29, 2009.
(Al Seib / Los Angeles Times)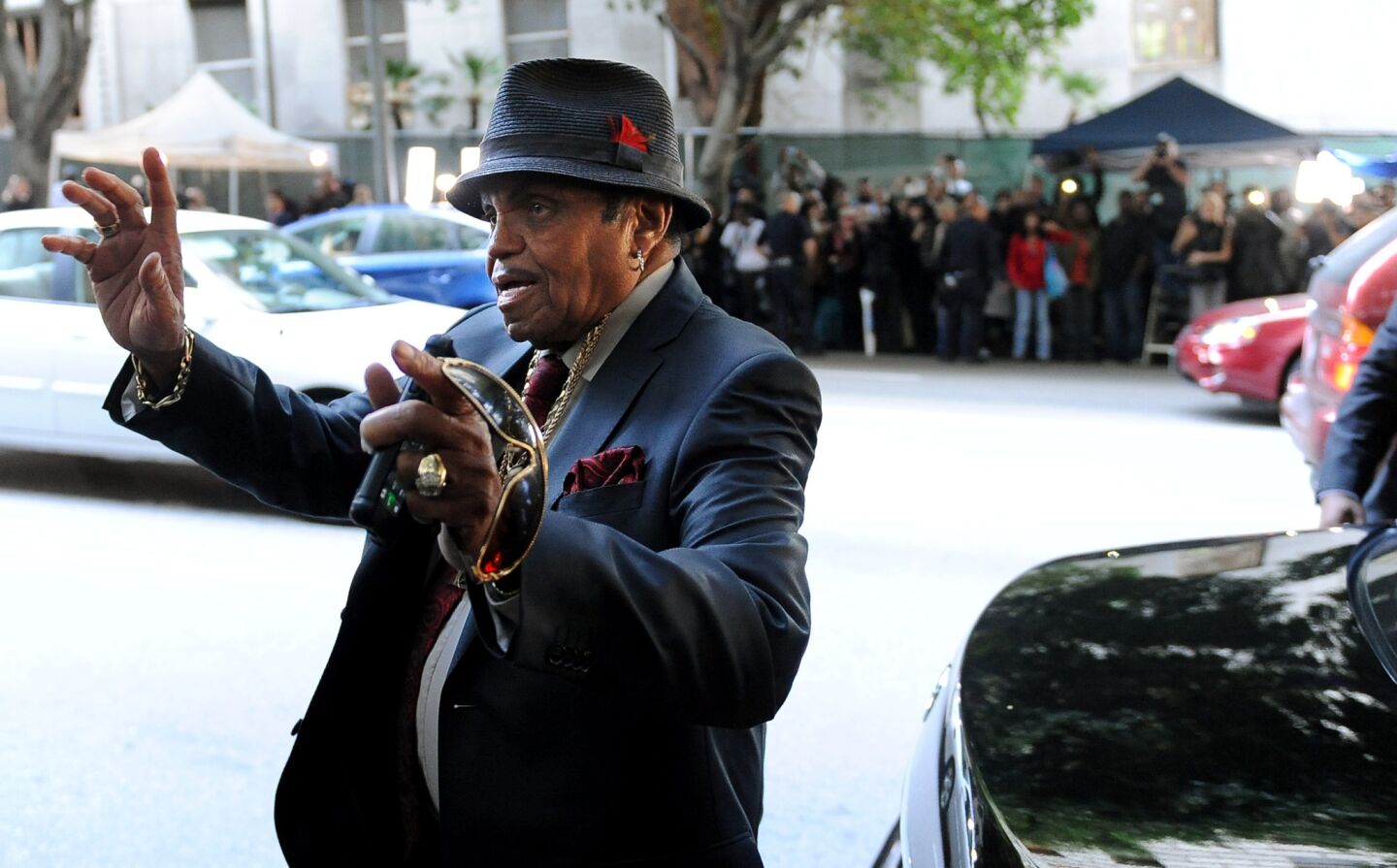 Joe Jackson acknowledges crowds gathered outside downtown Los Angeles courthouse on Nov. 7, 2011, after Dr. Conrad Murray was found guilty of involuntary manslaughter in Michael Jackson's death.
(Wally Skalij / Los Angeles Times)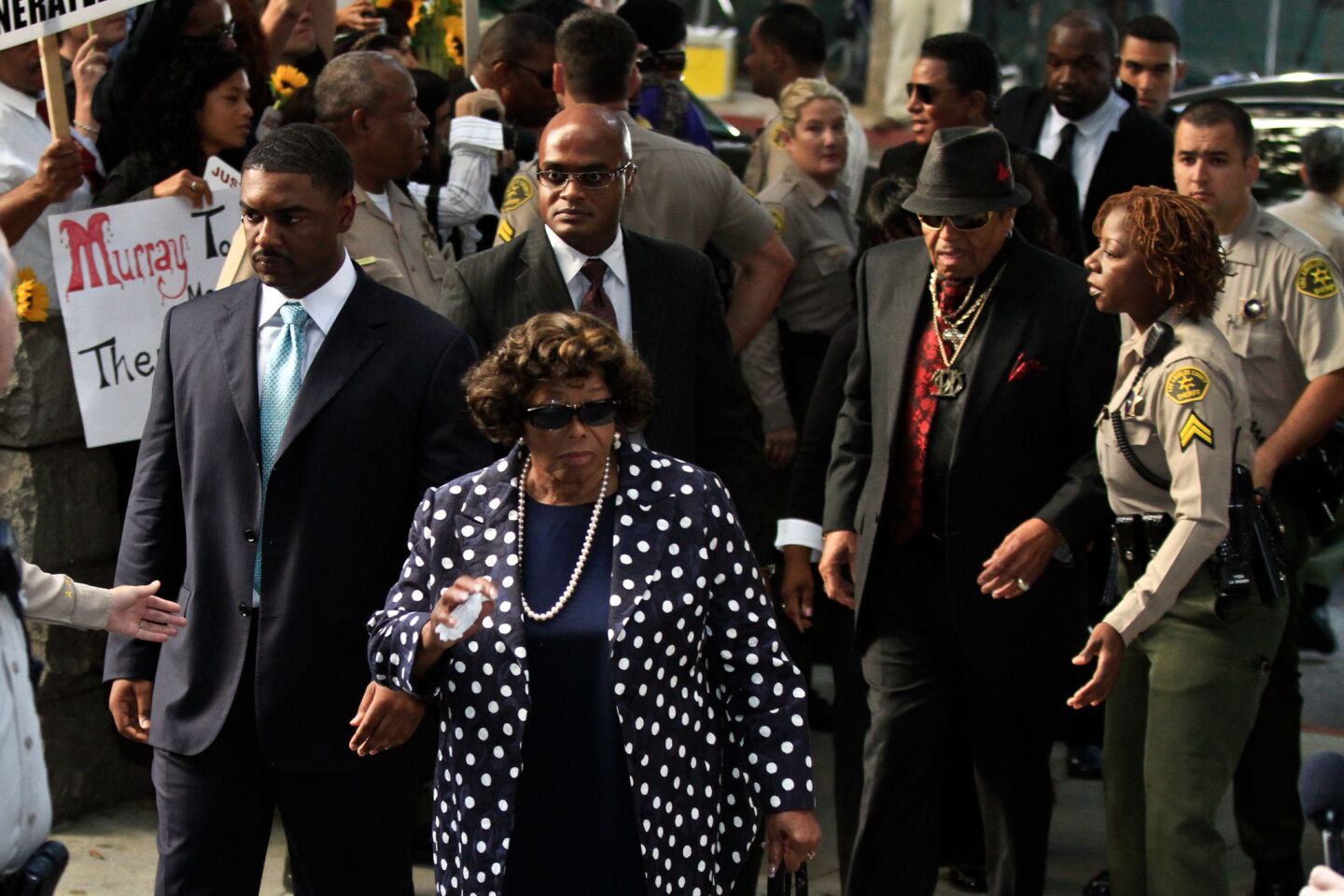 Katherine Jackson, front, and her husband Joe, in hat, parents of Michael Jackson, arrive at court on Sept. 27, 2011, during the trial of Dr. Conrad Murray in Michael Jackson's death.
(Irfan Khan / Los Angeles Times)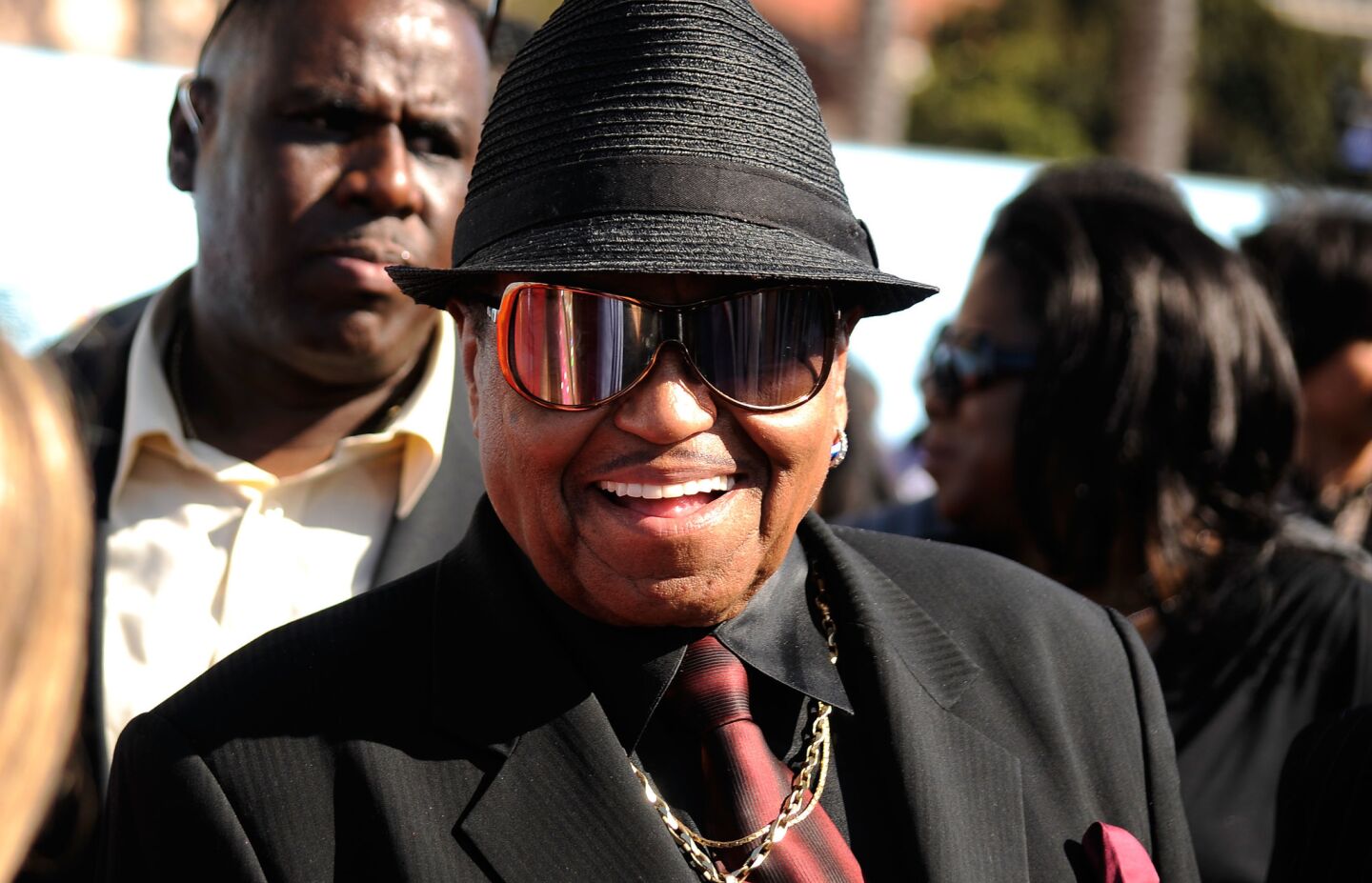 Joe Jackson arrives at the 2009 BET Awards at the Shrine Auditorium in Los Angeles, held on June 28, three days after the death of his son Michael Jackson.
(Frazer Harrison / Getty Images)
Joe Jackson in Madrid in 2011 promoting the opening of "Forever King of Pop," a stage show about Michael Jackson.
(Carlos Alvarez / Getty Images)
Joe Jackson greeets fans of his son Michael at Neverland Ranch in June 2005 after Michael was found not guilty of child molestation charges.
(Mel Melcon / Los Angeles Times)
Joe Jackson, the controversial patriarch of one of the most famous singing family acts of all time who used a firm hand to steer the careers of his superstar children, has died. He was 89.
Jackson plotted the career moves of the Jackson 5 starting in the 1960s, but was slowly relegated to the sidelines when his son Michael rocketed to global stardom as a solo artist during the next decade.
Jackson died at 2:55 a.m. Wednesday at Nathan Adelson Hospice in Las Vegas, Clark County coroner John Fudenberg told the Associated Press. (Most outlets have reported that Jackson was 89, but the autobiography of his wife, Katherine, says he was born Aug. 26, 1929.)
Representatives for several family members did not immediately respond to the Los Angeles Times' requests for comment.
Jackson's grandson, musician Taj Jackson, tweeted about the news on Wednesday, noting that he was "disgusted by some of the comments" published about his grandfather.
"Joe was loved by our ENTIRE family and our hearts are in pain. Let us grieve without the nastiness. #ripthehawk," he wrote.
A onetime amateur boxer, Jackson was working as a steelworker in Gary, Ind., when he began coaching his children to be singers, plotting a record deal even before it grew clear that Michael, then a frisky 4-year-old, wasn't just another voice in the crowd.
Years later, Joe Jackson recalled what it was like when little Michael Jackson chimed in with his brothers. "The harmonies fit together," he said. The Jackson 5 clicked, and a child star was born.
Much later, it would seem obvious that Michael Jackson was destined for stardom, and the whole clan was improbably rich in talent.
But back then, it was Joe Jackson's will against the world — a struggling black man from the Jim Crow South, living on the tough side of a tough town, trying to make sure his kids did better than he had.
If he was grim — if he sometimes whipped them — maybe it was a reflection of how hard that struggle really was, Michael Jackson said later.
The pop star's relationship with his father was "troubled and often antagonistic," according to David Ritz, who co-authored "Before You Judge Me: The Triumph and Tragedy of Michael Jackson's Last Days" with Tavis Smiley.
But in 2001, Michael Jackson was in a forgiving frame of mind: "Who could have imagined what it was like to grow up a poor black man in the South, robbed of dignity, bereft of hope … working long hours in the steel mills?" the younger Jackson said of his father. "Is it any wonder why he pushed his sons so hard to succeed as performers?"
Joseph Walter Jackson was born in the tiny town of Fountain Hill in southeast Arkansas on July 26, 1929, to Samuel and Chrystal Lee Jackson. His father was a teacher in a one-room schoolhouse; she was one of his students. After the parents separated, Jackson went with his father to Oakland and later joined his mother in Indiana. An early marriage was annulled. He married Katherine Scruse in 1949.
In her autobiography, she described a harsh difference in their backgrounds: "I was raised by two strict, yet loving parents," Katherine wrote. "Joe ... was raised by two strict parents, period."
He was always dapper in his derby hats — gray-eyed, charming, with a dazzling smile. She was a singer who brought her children, though not her husband, to the Jehovah's Witness faith.
Jackson had been a Golden Glove amateur boxer, but soon settled into work as a crane operator for Inland Steel. He formed a band with his brother Luther, but got no record deal. More children came. Jackson did an extra shift in a company store. Katherine worked at Sears.
There would eventually be three girls and six boys: Maureen ("Rebbie"), Sigmund ("Jackie"), Toriano ("Tito"), Jermaine, La Toya, Marlon, Michael — born in 1958 — Steven ("Randy") and Janet. A tenth child died in infancy.
Living in an all-black section of Gary, the couple's chief worry was gangs and crime. Young men were in mortal danger. The Jacksons had a house full of them.
Many details of the family's life at that time suggested that Joe and Katherine Jackson were afraid even to let the boys outdoors. Joe was beaten up by toughs, his jaw broken. Tito was robbed of lunch money and had a gun pulled on him.
Such were the times, said Lt. Thomas Pawlak of the Gary Police Department, a Gary native. He said gang violence in Gary didn't start with the '80s crack cocaine trade: Heroin gangs in the '60s were so brazen that they staged shootouts in the streets. Upright families lived like hostages. The Jacksons were desperate to get out. They pinned hope of escape on their children.
"The Jacksons" band began with Tito on guitar with Jermaine and Jackie and two friends, later replaced by Marlon and Michael. The kids rehearsed on the patio against a chain-link fence.
Joe Jackson approached the project with a desperate zeal. He carted them to shows, piling equipment atop his Volkswagen minivan. He went into debt to buy amplifiers and microphones. "Nothing was left to chance," Michael later wrote.
The rehearsal schedule was grueling. In his 1988 autobiography, "Moonwalk," Michael described staring in wonder at the sight of other children playing in a park.
"I couldn't imagine such freedom," he recalled.
Joe Jackson's rough, self-made style would come to seem amateur as the family's fame grew.
But those early successes mattered. Joe sent a recording to Motown Records in 1966 and was refused. He kept trying. He steered a strategic course through local talent shows. They went from Gary's annual show to amateur night at Chicago's Regal Theater, then to Harlem's famed Apollo. A New York promoter came next. At last, Joe Jackson was able to work his road connections to get the coveted Motown audition in Detroit.
Motown founder Berry Gordy recalled seeing 9-year-old Michael try out in 1968. The boy singer crooned Smokey Robinson's "Who's Loving You" like "a man who had been living with the blues and heartbreak his whole life," Gordy recalled. "I couldn't believe it." It was a prelude to future breakout performances.
The Jackson 5's first three singles sold millions of copies, and their national television debut in 1969 was a sensation. As time went on, other family members, notably Janet, had musical success. But Michael Jackson's fame would prove stratospheric.
To be sure, the Jackson 5 had launched him. But when Michael Jackson moonwalked across the stage to "Billie Jean" in 1983 — eliciting screams of amazement from a prime-time studio audience — everything before was relegated to a footnote. The blazing originality of his seventh child eclipsed all of Joe Jackson's previous triumphs. The child star had morphed into a genius performer; Michael would eventually win 13 Grammy awards.
The cost of success was the young Jacksons' childhood. Like other ambitious show business parents, Joe Jackson's controlling ways drew censure as his children grew more famous.
Michael Jackson told of cowering from his father under tables. During those childhood rehearsals, "if you messed up, you got hit, sometimes with a belt, sometimes with a switch," he wrote.
Michael told talk show host Oprah Winfrey in 1993 that his father's conduct had "just made me very, very, very sad." He turned to the camera, as if whispering to his father: "I'm sorry! Please don't be mad at me!"
Joe and Katherine Jackson maintained their discipline was in line with norms for the time. But Katherine also said Joe hit his children "too hard, too long." Joe Jackson's response only fueled more controversy. "I hit him with a switch and a belt. I never beat him. You beat someone with a stick," he said.
The band left Motown for CBS Records, and by 1978, the sons had relegated their father to co-manager. They dropped him in early 1983, according to Katherine's book. Jackson's performing daughters followed suit.
As time went on, the family's varied fortunes fueled endless tabloid speculation. Discord, Michael Jackson's face-altering surgeries and florid tastes, the parents' estrangement (Katherine said Joe had been unfaithful beginning in 1974, though the two remained married) meant that the father was often vilified in the press.
Michael sometimes didn't speak to him, said author Ritz. Even so, "his dad was a presence to the end," Ritz said. "It was a bond that was never completely broken."
Joe Jackson's influence on his son was not just the love of R&B he imparted. It was also evident in the heights of Michael's artistic perfectionism. Joe Jackson "was the chief motivator in Michael's life, for good or bad," Ritz said.
Katherine said she reconciled with Joe for stretches. Joe Jackson sometimes resurfaced as a family tour or show manager. He tried various business ventures and eventually filed for bankruptcy in 1999.
He reclaimed the patriarch role to defend Michael when the pop star was accused of molesting a child in a civil suit in 1993, and again 12 years later, when Michael was tried on criminal child-molestation charges and acquitted. Joe Jackson appeared hurt and indignant when British tabloids began calling Michael "Wacko Jacko." He scolded a BBC reporter for it.
And after Michael Jackson's sudden death from the drug propofol in 2009, Joe Jackson was a presence at the trial of Dr. Conrad Murray, who was convicted of involuntary manslaughter in the case.
But Michael Jackson left his holdings to his children, who were assigned to his mother's care. His father was cut out of the proceeds and made a claim against the estate in 2010.
Joe Jackson told the court then that he was living on his Social Security check and paying about $1,500-per-month rent in Las Vegas, separate from Katherine, whose home was listed as Encino.
Though his request was denied, it was clear the father felt owed part of his son's success. After all, before the platinum records, before the celebrity trial — it was Joe Jackson against the odds.
His iron will shone in a note to his brother as early as 1966: "These boys are going to take me out of the steel mill," he declared.
Joe Jackson is survived by his wife, Katherine, and their children: Janet, Jermaine, La Toya, Rebbie, Randy, Jackie, Marlon and Tito Jackson, as well as several grandchildren. He is also survived by daughter Joh'Vonnie Jackson, his child with longtime girlfriend Cheryl Terrell.
Times staff writer Nardine Saad contributed to this report.
Leovy is a former Times staff writer.
---
UPDATES:
1:25 p.m.: This article was updated with additional details about Joe Jackson's death and his survivors.
This article was originally published at 10 a.m.
---
Must-read stories from the L.A. Times
Get the day's top news with our Today's Headlines newsletter, sent every weekday morning.
You may occasionally receive promotional content from the Los Angeles Times.