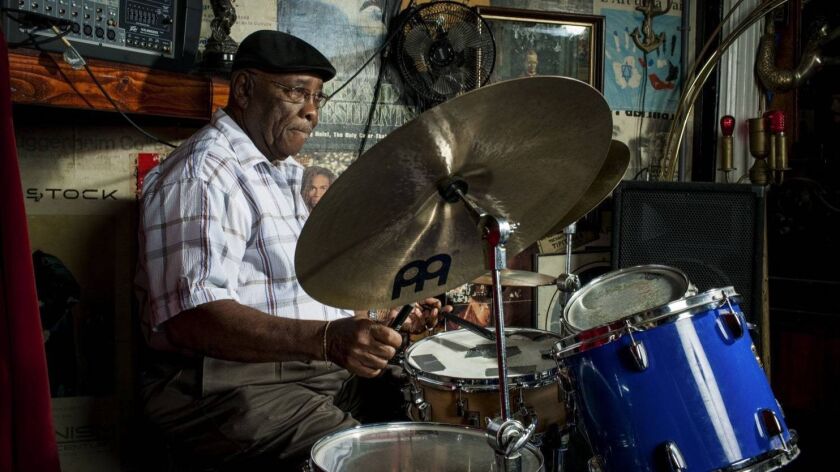 Washington Post
John "Jab'o" Starks, a drummer whose crisp, disciplined grooves propelled some of James Brown's biggest hits and helped define the offbeat rhythmic style of early funk and hip-hop, died May 1 at his home in Mobile, Ala. He was 79.
His manager, Kathie Williams, said he had myelodysplastic syndrome, a bone marrow disorder, and was recently diagnosed with acute leukemia.
A mostly self-taught musician, Starks modeled himself after the blues and R&B drummers he watched as a child in Mobile, where he avoided age restrictions at a local club by sitting on a milk crate with his eye glued to a hole in the wall.
He played with the electrifying rhythm-and-blues singer Bobby "Blue" Bland before joining Brown, "the Godfather of Soul," in 1965. While Brown howled and marched his mic stand across the stage, Starks played it cool, laying down steady beats on songs such as "Super Bad (Part 1 & Part 2)" and "The Payback," which both reached No. 1 on Billboard's R&B chart.
"If I can sit down behind the drums and get you to tap your feet or shake your butt," Starks told Alabama's Mobile Bay Magazine, "I've got you."
Few songs induced more tapping or shaking than "Get Up (I Feel Like Being a) Sex Machine," built around a swinging high-hat groove by Starks. In that 1970 track, and in nearly every other on which he played, the groove was uninterrupted, with hardly any of the flourishes or acrobatic solos that define much of contemporary rock drumming.
"I'm not trying to outplay anybody else," Starks once said. "The only thing I want to do is keep that heartbeat going, as they call it. … The bass player or the guitar player or the horn player could do whatever he wants to do because he knows that that solid foundation is back there behind him."
Starks was one of several drummers for Brown, who reportedly hired multiple instrumentalists — doubling the standard number of guitars, bass players and drummers — after a dispute with his backing band nearly forced him to go onstage without musicians.
For much of his decade-long association with Brown, Starks played alongside, or in rotation with, Clyde Stubblefield, a more funk-inclined performer.
"Their styles were totally different," Frank "Kash" Waddy, a drummer who played with both men, said in the 2001 book "The King of All, Sir Duke." "Jab'o's forte was to play very clean, very straight ahead. Clyde was like fire, he just burned!"
The two men became close friends (they later performed together as the FunkMasters), and in 2016 were ranked together at No. 6 on a Rolling Stone list of greatest drummers.
John Henry Starks was born in tiny Jackson, Ala., on Oct. 26, 1938. When he was an infant, Williams said, "his brother looked at him and said, 'That's Jab'o'" — a nickname that stuck for life.
He was raised in the Mobile area, where his mother had a food service job with the public school system and his father worked at a sawmill.
In seventh grade, Starks later recalled, a drummer marching in the city Mardi Gras parade inspired him to take up a pair of sticks.
"I was listening to the band march past, and you could tell when that drummer stopped playing and when he started playing, he had that much command over the band," he said. "I must have walked two miles with that band, watching and listening to him. And I made up my mind and said, 'I'd sure like to be able to play just like that.'"
Starks is survived by his wife of 58 years, Naomi Taplin, two children and two grandchildren.
---