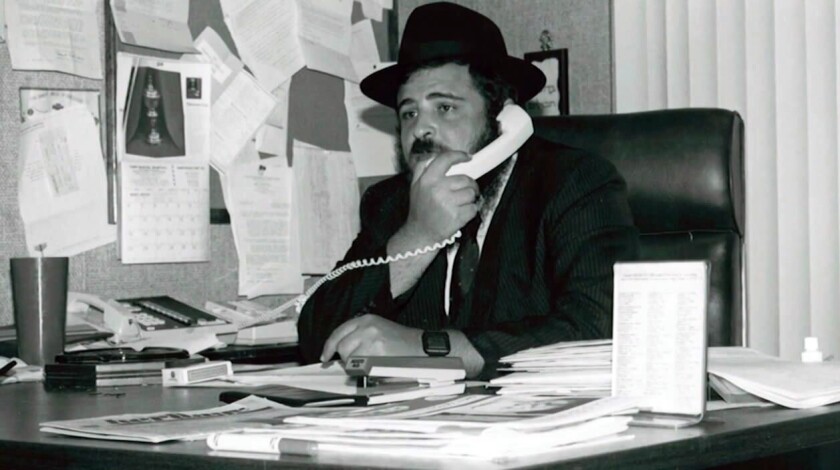 Rabbi Yehoshua Binyamin "Josh" Gordon, who led the 40-year growth of the Chabad movement in the San Fernando Valley and in recent years gained a worldwide audience with live-streamed Torah lessons, has died. He was 66.
As a young rabbinical scholar and son of a Newark rabbi, Gordon and his wife, Deborah, ventured west in 1973 to establish the Chabad in the San Fernando Valley.
From a base in Encino, Gordon oversaw the development of 26 Chabad centers, as well as Hebrew schools, adult education institutes and summer camps.
Gordon long resisted putting his lessons on video out of humility, according to Rabbi Zalman Shmotkin, executive director of the website Chabad.org.
When he finally agreed to have his weekly classes recorded on his 60th birthday, he unveiled an unvarnished style that made the Chabad-Lubavitch teachings accessible to viewers all over the globe.
His style masked the "extraordinary scholarship" of his lessons, Shmotkin said.
Gordon demurred: "There are many scholars more learned than myself, but I've been given the gift of clarity — the ability to make things simple and understandable," he told Chabad.org in a 2014 interview. "One of my greatest joys comes from hearing from people who tell me that they learn with me regularly, and that they now understand better than they did before."
Before his death, Gordon had recorded lessons covering the Bible, the Tanya (Chabad's fundamental philosophical text) and Maimonides' 14-volume corpus of Jewish law. Last year his videos received nearly 2 million views.
Rabbi Mordechai Einbinder, associate director of Chabad of the Valley, said Gordon would be spoken about for generations "as a legend, a person who's truly implemented the desire of the Lubavitcher Rebbe whose mandate is to propagate and disseminate Yiddishkeit [Judaism] with love and with kindness and with sensitivity."
The Chabad-Lubavitch movement was centered for more than 100 years in the town of Lubavitch in Czarist Russia. It spread across the United States and the world under Rabbi Menachem M. Schneerson, the movement's seventh rebbe, or global leader.
Its philosophy of "understanding and recognition of the Creator, the role and purpose of creation, and the importance and unique mission of each creature" provided scholars with "answers that eluded them, and simple farmers with a love that had been denied them," according to the Chabad website.
Gordon was born in 1949 into a rabbinical family in the thriving Jewish community of Newark, N.J. His father, Rabbi Sholom B. Gordon, was rabbi of Congregation Ahavath Zion, one of the city's largest synagogues. His mother, Miriam, led the city's Chabad women's organization.
After studying at Chabad yeshivas in France and in Montreal, Gordon married Deborah Pozepoff and the couple moved to Detroit in 1972 to join the growing network of Chabad rabbis in the city.
"I guess you can say it's in my DNA," he said in the 2014 interview. "My father, of blessed memory, taught in his synagogue in New Jersey every day for nearly 60 years, and it's something he taught his children to do as well."
Two of his brothers and one of his sons also became rabbis.
"Shouldering a great deal of responsibility for the successful joint Valley operations, including an at times crushing fundraising load, Rabbi Gordon also counseled couples and individuals and made himself available to fellow shluchim around the world who sought his advice, all the while raising a wonderful family with his wife," Shmotkin wrote in a tribute on the Chabad website.
"Rabbi Gordon lived the knowledge that rabbinic, organizational and budgetary responsibilities notwithstanding, the very first responsibility of a shliach — an emissary of the Lubavitcher Rebbe — was to impart the Torah's wisdom to others," Shmotkin wrote.
Gordon died Feb. 8 after a year-long illness. A video tribute and expressions of grief from 132 countries have been posted on the Chabad website.
He is survived by his wife, Deborah; children Rabbi Yossi Gordon, Yochanan Gordon, Faygie Herzog, Eli Gordon, Dena Rabin and Chaya Mushka Drizin; 21 grandchildren; and siblings Yocheved Baitelman, Chani Friedman, Rabbi Yosef Y. Gordon, Bluma Rivkin, Rabbi Mendel Gordon and Frumie Posner.
---