As first lady, Nancy Reagan sought to protect the president's legacy
American actor and future president Ronald Reagan (1911 - 2004) sits with his wife, actress Nancy Reagan, as the par talk with fellow actor and future US Senator George Murphy (1902 - 1992) at the premiere of 'High Society,' July 1956. (Photo by Pictorial Parade/Getty Images)
(Pictorial Parade / Getty Images)
Nancy and Ronald Reagan, with running mate George H.W. Bush and his wife, Barbara, are cheered by delegates at the Republican National Convention in July 1980. "Reagan knew where he wanted to go, but she had a better sense of what he needed to do to get there," biographer Lou Cannon said of Nancy Reagan.
(Joe Kennedy / Los Angeles Times)
The Reagans attend a 1980 reception in their honor in Los Angeles with Los Angeles Times Publisher Otis Chandler and his mother, Dorothy.
(Lennox McClendon / Associated Press)
The Reagans prepare to return to Washington from Point Mugu Naval Air Station after a Memorial Day vacation in California in 1981.
(Joe Kennedy / Los Angeles Times)
The Reagans with music legend Ray Charles at a musical salute in Washington in March 1983.
(Ira Schwartz / Associated Press)
Nancy Reagan holds Chinese leader Deng Xiaoping's hand during a 1984 visit to Beijing. The first lady took an active role in advising President Reagan on policy matters.
(Scott Stewart / Associated Press)
The president and first lady visit the terra cotta soldiers archeological site during their 1984 China trip.
(Bob Daugherty / Associated Press)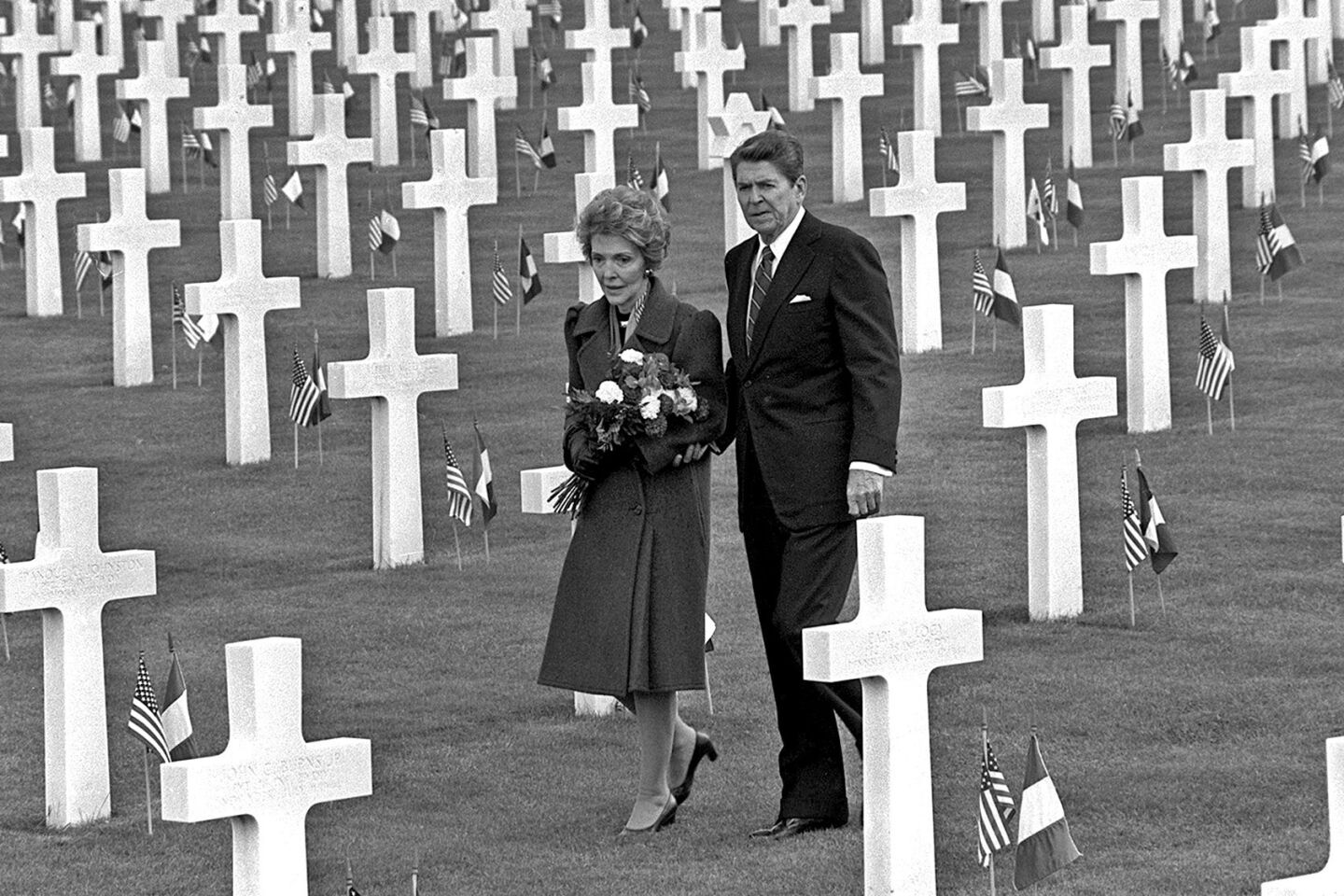 The Reagans walk through Normandy American Cemetery above Omaha Beach in northern France on June 6, 1984, the 40th anniversary of the D-day invasion.
(Bob Daugherty / Associated Press)
President Reagan and First Lady Nancy Reagan at a New Orleans luncheon in August 1988.
(Mike Sargent / AFP/Getty Images)
The former president and first lady arrive for the premiere of Andrew Lloyd Webber's "Sunset Boulevard" in Los Angeles in December 1993.
(Chris Martinez / Associated Press)
Nancy Reagan with stepdaughter Maureen at the 2000 Republican National Convention in Philadelphia, a year before Maureen's death from skin cancer.
(Hillery Garrison Smith / Associated Press)
The former first lady lays her cheek on Ronald Reagan's casket after his death in 2004. His Alzheimer's diagnosis led her to become an advocate for stem cell research and hastened a reconciliation between her and her children.
(Bryan Chan / Los Angeles Times)
Nancy Reagan with President George W. Bush in 2005 at an Air Force One exhibit at the Ronald Reagan Presidential Library in Simi Valley.
(Brian van der Brug / Los Angeles Times)
Gov. Arnold Schwarzenegger and his wife, Maria Shriver, with Nancy Reagan at a ceremony commemorating the 40th anniversary of Ronald Reagan's first gubernatorial win.
(Anne Cusack / Los Angeles Times)
The First Lady's in front of the Red Dress display. First Lady Laura Bush and former First Lady Nancy Reagan participated in the Heart Truth Roundtable at the Reagan Library in Simi Valley on Wednesday, February 28, 2007. Later they visited students at Balboa Magnet School in Northridge who are part of a National Park Service program.
(Stephen Osman / Los Angeles Times)
Nancy Reagan poses with the 2008 Republican presidential candidates after their May 2007 debate at the Reagan Presidential Library in Simi Valley.
(Robert A. Reeder / Associated Press)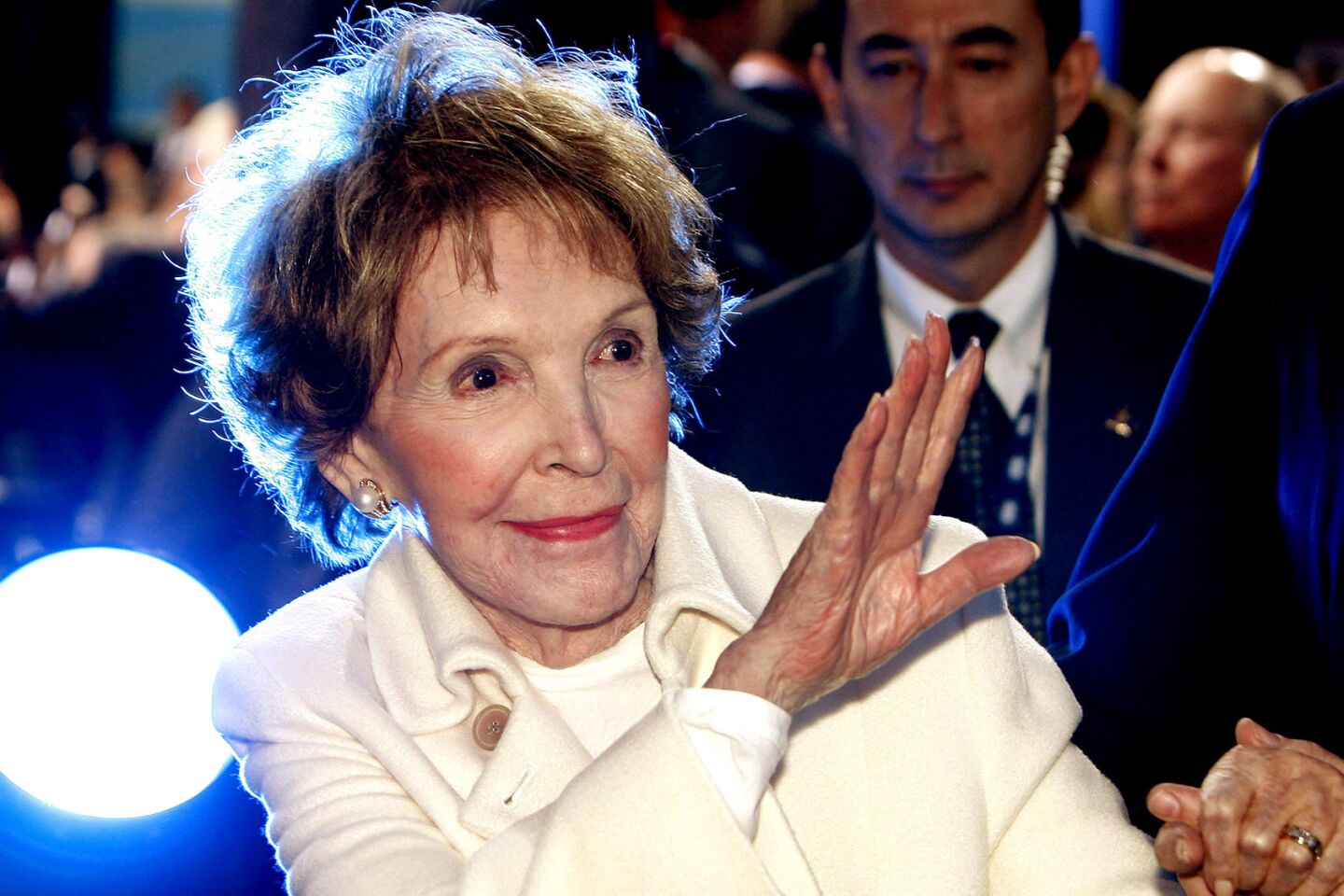 Nancy Reagan after a GOP presidential debate at the Reagan Presidential Library.
(Paul Buck / EPA)
Vice President Dick Cheney escorts the former first lady at a white-tie dinner for Britain's Queen Elizabeth II at the White House in May 2007.
(Pool / Getty Images)
In May 2007, Nancy Reagan holds a copy of the newly released "Reagan Diaries," which chronicles her husband's two terms in the White House.
(Stephen Osman / Los Angeles Times)
Nancy Reagan is joined by California Gov. Arnold Schwarzenegger and Assemblyman Martin Garrick (R-Carlsbad), left, at a signing ceremony for two bills honoring her late husband at the Reagan library in Simi Valley.
(Al Seib / Los Angeles Times)
Nancy Reagan is helped by Marine Lt. Gen. George J. Flynn as she arrives for a wreath-laying ceremony at her husband's memorial at the Reagan Presidential Library in Simi Valley.
(Wally Skalij / Los Angeles Times)
in sacramento —
Ronald and Nancy Reagan were arguably the best president-first lady team in history. Certainly they were in our lifetimes.
As a team, they functioned in unison. Their talents complemented each other. They were interdependent. And, of course, they were deeply in love.
That doe-eyed stare of adoration at her husband while standing beside him in public was for real.
"She wanted to be next to him all the time," recalls political strategist Ken Khachigian, who wrote many of Reagan's major presidential speeches. "And he couldn't stand to be away from her."
Stu Spencer, who managed most of Reagan's gubernatorial and presidential campaigns, says: "She always called him 'Ronnie.' He always called her 'Mommy.'"
They thoroughly enjoyed each other.
I covered Reagan up close for 20 years, including as The Times' White House correspondent. One event was especially amazing for my late wife.
In 1984, we were invited to a state dinner for the Mexican president. My wife, Nereida, was wide-eyed and thrilled — but also sleepy as midnight neared. She had to teach school the next morning.
It was very bad form, however, to leave a White House dinner before the first couple retired upstairs. But Ronnie and Mommy — then ages 73 and 62 — kept gliding and trotting all over the dance floor for hours after dessert, smiling and hugging. My wife marveled at that for years.
"They were a great team," Spencer says. "He had the belief system. She told him how to implement it. She was the personnel director."
"There was only one criteria for her. Was this person going to work for Ronnie's agenda or for a personal agenda."
The first lady had only one agenda — her husband's legacy.
She became known as "the bad cop."
But Khachigian considers that a bad rap. "She wanted him to be the best president ever," he says. "I don't fault her for that. She had one constituent and that was him. She had good political sense."
Khachigian learned that when the first lady spoke, she usually was relaying the president's view, not just hers.
"He was often reluctant to scold anybody, to tell his staff he wanted something done differently," Khachigian says. "He had that kindhearted way about him. He was tough in his beliefs and tough on [Soviet leader Mikhail] Gorbachev. But he couldn't be tough on his staff.
"She could. She knew what he wanted, either through pillow talk or over dinner. And she'd pass it along."
One example: After a disastrous first debate with Democrat Walter Mondale during the 1984 reelection campaign — when Reagan seemed old, overwhelmed and slow — Khachigian was summoned to the presidential cabin on Air Force One as it returned to Washington from Louisville, Ky.
The first couple was sitting together. "'Shouldn't his [next] speech be tougher?'" Khachigian remembers her asking. "'And he wants the next debate to be tougher.' She was ticked off because he was ticked off."
The rest is history. "We started kicking the crap out of Mondale," Khachigian says. "That was the most fun he had in his entire campaign."
FULL COVERAGE: Former First Lady Nancy Reagan dies at 94>>
The first lady also complained that the staff had over-prepared her husband for the debate. No more. He went into the next debate relaxed and essentially finished off his challenger for good.
Reagan famously couldn't bring himself to fire anyone. Nancy considered it her duty to arrange a resignation.
One example was Interior Secretary James G. Watt, a public lands despoiler whom environmentalists hated. His fatal move, however, was banning the Beach Boys from the capital's 1983 Fourth of July celebration, claiming they attracted the "wrong element."
Nancy loved the Beach Boys' music. She and the president retaliated by inviting the Beach Boys to perform at the White House. Watt got the message and quit.
The most famous example of the first lady bouncing an aide was the forced resignation of White House Chief of Staff Donald Regan in early 1987. Regan had presided over the legacy-damaging Iran-Contra affair.
"He started hanging up on Nancy," Spencer says. "'Get off my back' and hanging up on her. You didn't do that to Ronald Reagan's wife. I got called back there by Nancy. 'We've got to talk. We've got a problem.'"
Spencer went to then-Vice President George H.W. Bush. The veep had a heart-to-heart with Regan. And he resigned.
Reagan occasionally might have seemed soft, but he was totally his own man.
"Ronald Reagan did everything Nancy told him to do — if he agreed," the late Martin Anderson, a longtime advisor, once told me. "Many times he'd say no. I never saw any badgering by her. I saw a lot of holding hands."
Spencer remembers that the first lady got upset when Reagan called the Soviet Union the "evil empire." She thought that was too nasty and got Spencer in a room with the president. She asked the strategist what he thought.
"I said, 'He's right. It is an evil empire. But …'" Spencer says. "Before I could explain the 'but,' he cut me off. He said 'That's enough. What's for dessert, Mommy?'"
What Ronald and Nancy Reagan had together worked for them, the presidency and the country.
Twitter: @LATimesSkelton
See the most-read stories this hour >>
MORE ON NANCY REAGAN
How Nancy Reagan, influential former first lady, is being remembered around the nation
Nancy Reagan dies in Los Angeles at 94: Former first lady was President Reagan's closest advisor
From 'Diff'rent Strokes' to high fashion, Nancy Reagan was giant of 1980s
Must-read stories from the L.A. Times
Get the day's top news with our Today's Headlines newsletter, sent every weekday morning.
You may occasionally receive promotional content from the Los Angeles Times.