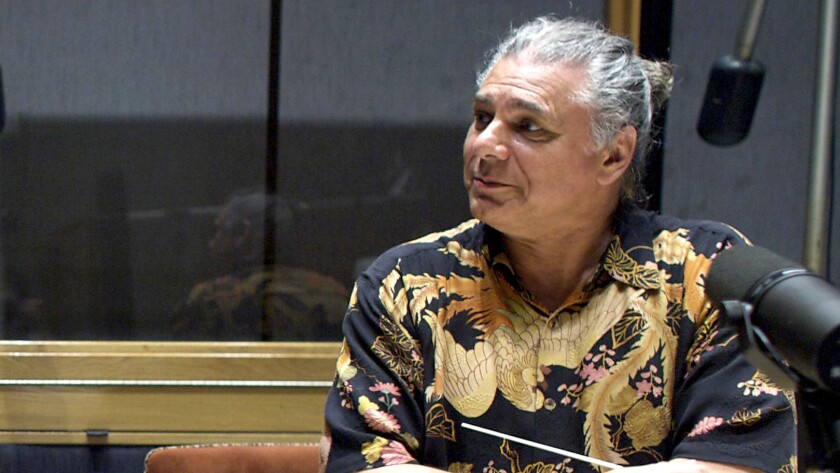 Paul Buckmaster, the arranger and orchestra conductor who provided the atmospheric backdrop and sonic flourishes for Elton John, David Bowie, the Rolling Stones and other titans of rock over the decades, has died at 71.
Buckmaster worked extensively during his long and prolific career with John, providing the orchestral arrangements for radio favorites such as "Tiny Dancer" and "Your Song," and teamed with the Rolling Stones on darker fare like "Moonlight Mile" and "Sway" on the group's "Sticky Fingers" album. And when Bowie recorded "Space Oddity," Buckmaster helped give it an ominous depth with his arrangement.
"So heartbroken. He helped make me the artist I am," John said in a tweet. "A revolutionary arranger who took my songs and made them soar."
Buckmaster died Tuesday, his representatives, McDaniel Entertainment, announced on Twitter. A cause of death was not given, nor was it disclosed where he died. He had been living in Los Angeles for decades.
Born in London on June 13, 1946, Buckmaster started playing the cello when he was 5 and spent a month — at the urging of his mother, a concert pianist — in Italy auditioning for a scholarship to a music conservancy in Naples. His future spoke of classical music, not rock 'n' roll.
But when he was approached to lead a small orchestral group and back up the Bee Gees during a two-month concert tour in 1968, an unexpected career path opened.
Soon he was in the studio with other musicians before being asked to do the arrangement for John's second album, which produced the hit "Your Song." Buckmaster said he accepted the job eagerly, gliding over the reality that he had no practical experience as an arranger.
"When I got home, and sat down, the enormity of what I had taken on hit, as I quickly realized that it wasn't going to be all that easy," he said in an interview with Xecutives.net. He said he went to the library and borrowed two symphony scores — one by Beethoven, the other by Haydn — in hopes of puzzling out a method for arranging a pop song.
It apparently worked, and Buckmaster was quickly invited into the inner chambers of rockdom — Bowie, the Stones, Leonard Cohen and Harry Nilsson all used Buckmaster to help provide an extra layer of warmth or a depth that guitar or organ couldn't fully capture. He recorded "You're So Vain" with Carly Simon and teamed up with Miles Davis during the recording of "On the Corner."
When "Space Oddity" first became a regional hit in England, Buckmaster said Bowie's record company balked at releasing the record in the U.S. until the Apollo 11 space mission was complete. Bowie's song of a disastrous space voyage seemed wrong on all fronts as a nation waited for Neil Armstrong and Buzz Aldrin to return from the first moon landing. When the capsule returned the astronauts safely, the song was released in the U.S. and helped supercharge Bowie's career.
As the years went by and musical tastes shifted or circled back to past eras, Buckmaster remained in demand, working with Guns N' Roses, Stevie Nicks, No Doubt and, more recently, Katy Perry, Keith Urban and Taylor Swift. He also composed the score for "Twelve Monkeys," the sci-fi noir film with Bruce Willis and Brad Pitt.
He won a Grammy Award in 2002 for best instrumental arrangement for his work on "Drops of Jupiter," a song by the rock group Train.
---