Paul Prudhomme, Louisiana chef who popularized Cajun cooking, dies at 75
Chef Paul Prudhomme, left, talks with Cannon Wiest as he looks at the stock pot at his French Quarter restaurant, K-Paul's Louisiana Kitchen, in New Orleans, in 2007.
(Bill Haber / Associated Press)
American chefs Paul Prudhomme, left, Larry Forgione, Jonathan Waxman, Jimmy Schmidt, Alice Waters and Bradley Ogden gather in New York to pay tribute to the late food writer James Beard in 1985.
(Ed Bailey / Associated Press)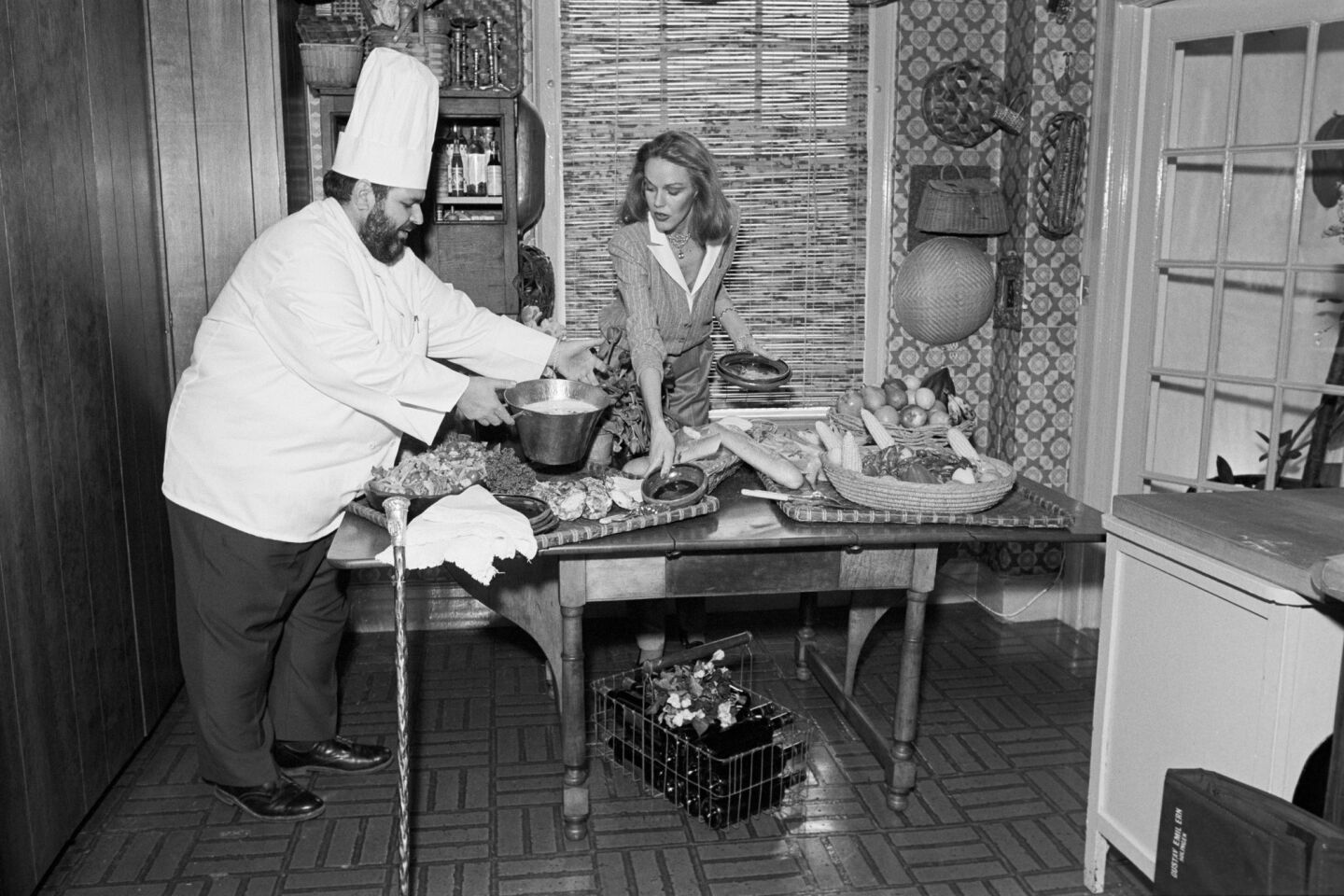 Chef Paul Prudhomme and fashion buyer CeCe Kieselstein-Cord prepare food together in 1981.
(Susan Wood / Getty Images)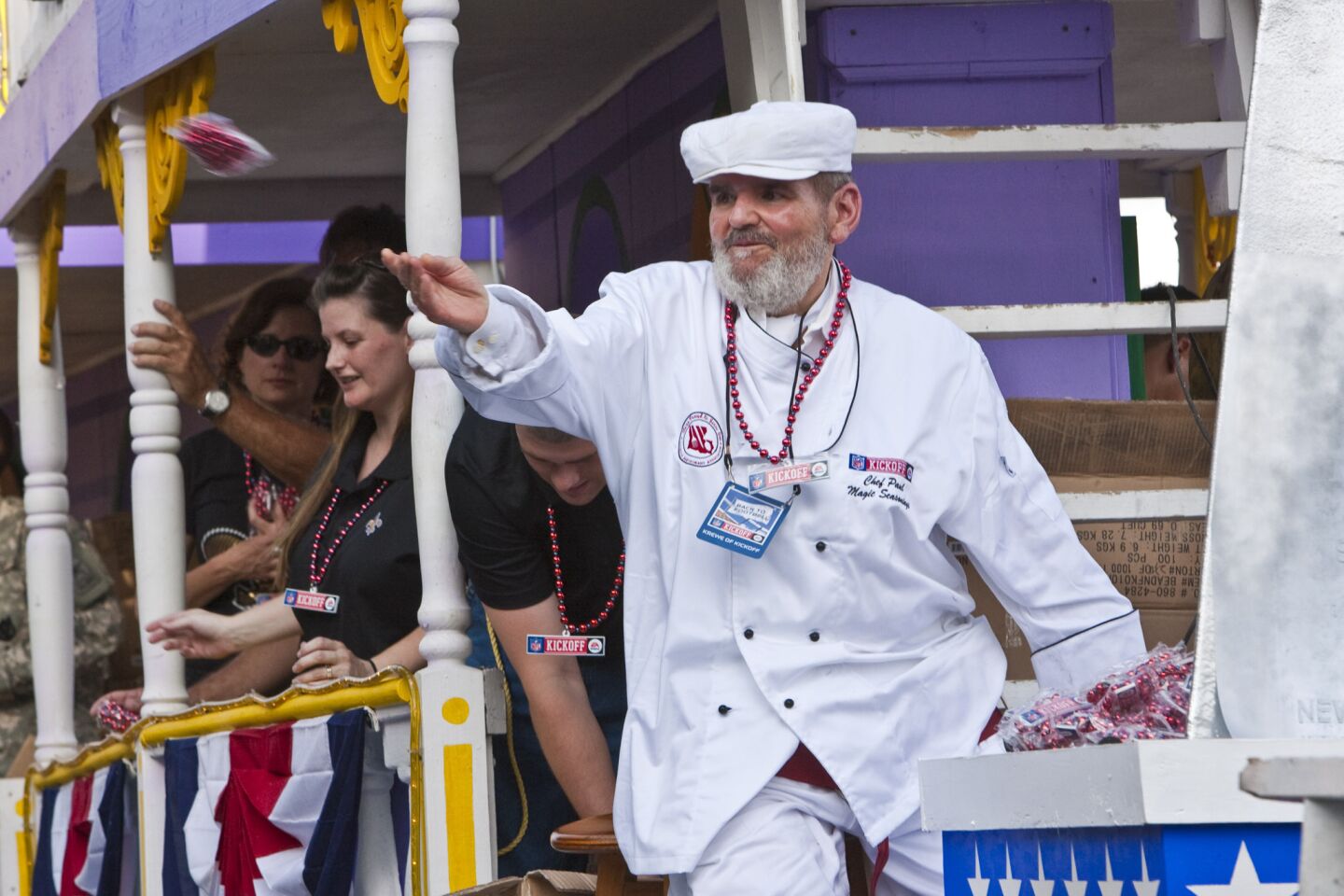 Paul Prudhomme tosses beads from a float during the 2010 NFL opening kickoff parade in New Orleans.
(Skip Bolen / WireImage)
Paul Prudhomme speaks at the Culinary Institute of America at the New York Marriott Marquis in 2012.
(Simon Russell / Getty Images)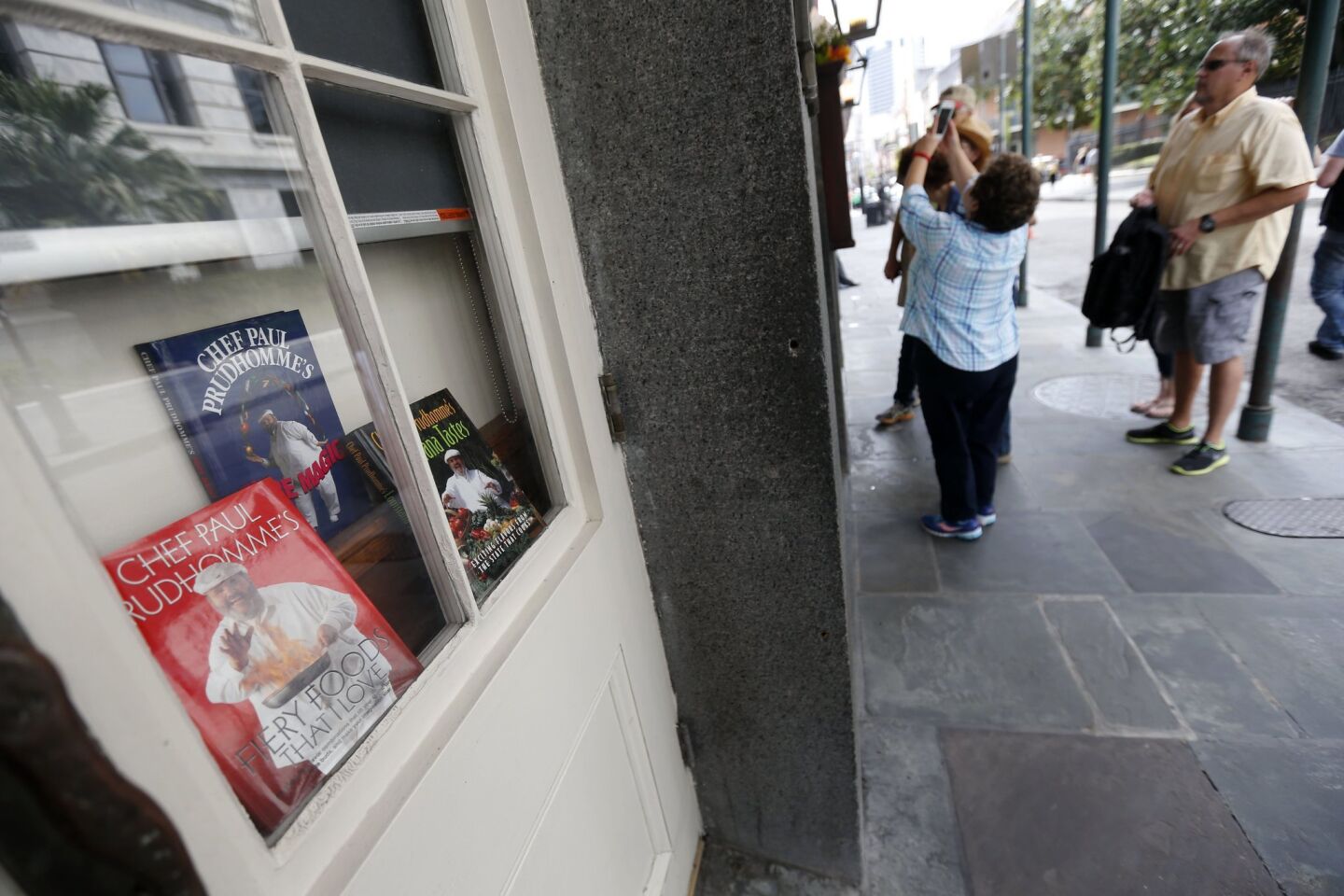 People take photos of flowers placed outside K-Paul's Louisiana Kitchen in the French Quarter of New Orleans after the death of Paul Prudhomme, the restaurant's founder, was announced on Oct. 8, 2015.
(Gerald Herbert / Associated Press)
Chef Paul Prudhomme opened his now-legendary New Orleans restaurant K-Paul's Louisiana Kitchen in 1979, but the moment that made him a national phenomenon — and helped change the direction of American cooking — came about a year later.
In the tiny kitchen of the restaurant he rented for $50 a month, the chef experimented with pan-frying fish using very high heat. Finally satisfied with the results he got by using a cast-iron skillet, he deemed the dish ready for customers. In March 1980, blackened redfish made its debut.
"We did [it for] 30 or 40 people," he said in a 2005 interview with the New Orleans Times-Picayune. But within days the 64-seat restaurant was full. And within weeks, Prudhomme said, "there were huge lines."
As fame grew for the little restaurant, the chef's influence spread widely and sparked a movement.
Prudhomme, 75, died Thursday in New Orleans after a brief illness, said Tiffanie Roppolo, chief financial officer of his company, which includes the restaurant and spice products sold in markets across the country.
Details on the cause of death were not available.
"He really was the first person who gave Americans a sense of the importance of our regional cooking," food writer and editor Ruth Reichl said Thursday. "And we started thinking, 'If Cajun cuisine is so great, what about what they're doing in New England and other places?'
"It was a big moment."
Prudhomme's cooking was Cajun, but very personal, fired by his imagination and based on fresh, local ingredients. And before it became widely popular for chefs to use basic ingredients they produced themselves, Prudhomme was growing peanuts, raising chickens and butchering animals to make his own sausages and patés.
People flew across the country to eat his roast duck in pecan gravy, jambalaya and, of course, blackened redfish. The latter was so popular that he eventually had to limit the dish to one per table. With other restaurants copying the dish, the humble redfish was in danger of being fished out.
"He created a dish that was so monumental that they had to put a ban on the product," fellow celebrity chef Emeril Lagasse told the Times-Picayune.
Another signature dish was his gumbo. Times Test Kitchen director Noelle Carter was an intern at his restaurant in 2004 when she watched Prudhomme make a batch.
"He started with a roux in an old cast-iron skillet, heating the oil to almost smoking before whisking in the flour," Carter said. "He jokingly called it Cajun napalm."
Although he was a big man — his weight at times ballooned to more than 500 pounds — and already famous, Prudhomme's tone was gentle.
"It impressed me how soft-spoken Chef Prudhomme was," Carter said, "especially in a day and age where it seems every celebrity chef has to shout and make a scene."
Chez Panisse founder Alice Waters met Prudhomme in 1979 when they were among six rising young chefs invited to prepare a meal for Food & Wine magazine at New York's famous Tavern on the Green restaurant.
Unlike Prudhomme, who brought an entourage of assistants, Waters had only one helper: Jean-Pierre Moulle, later Chez Panisse's executive chef. They were making oysters on the half shell, baked whole garlic and grilled lamb — for 80.
"Paul came over to me and said, 'Do you need help?'" Waters recalled Thursday. "I said, 'Oh, I don't think so.' He looked at us and said, 'I think you need help.' Then he called his people and said, 'You two make the fire outside, you two help open oysters, you two help Jean-Pierre, you two help Alice make the dessert.'
"We never would have made it without him. We would have been just embarrassed. When I think back on it, it just was the most beautiful … generous, wonderful thing that he did for me.
"He just had a soulful kindness and unforgettable passion."
He was born July 13, 1940, in Opelousas, La., the youngest of 13 children. His parents planned to name him Gene Autry Prudhomme, after the cowboy star, but a priest said he had to have the name of a saint, so he was named Paul Eugene. Everyone called him Gene as he was growing up — he didn't know his real first name for several years.
Prudhomme's mother taught him to cook from a young age. "I would stir things," he told the Daily World in Opelousas in 2010, "and when it looked this way or that way … we'd get it off the wood stove and she would do the next step to it."
Prudhomme opened his first restaurant, Big Daddy-O's Patio, in the area, but it folded shortly after. His next two restaurant ventures also failed, but he kept at it.
Moving to Colorado in the 1960s, he met with more success, taking over a restaurant in Denver, and two more in the area. But he sold them when his mother was diagnosed with cancer, and moved back home to help with her care.
In the 1970s, he worked at a series of New Orleans restaurants, finally landing at the large and well-touristed Commander's Palace, which specialized — like most fine restaurants in the city at that time — in French cuisine. The owner, Ella Brennan, found his approach to food rooted in Louisiana traditions refreshing.
"He was going to work for us as a lunch chef for a while, to see if we liked each other," she told the Times-Picayune in 2005. "Paul wasn't in the kitchen a week and he was chef of the whole restaurant."
Prudhomme brought a sense of play to the staid menu, introducing dishes such as Cajun popcorn that became popular and earned him notice.
He began dating a waitress, K Hinrichs, and together they opened K-Paul's. They eventually were married there.
When the restaurant, which famously didn't take reservations, took off, the long lines to get in were part of the experience. "I remember someone saying getting into K-Paul's was harder than getting into East Germany," Michael Batterberry, founding editor of Food & Wine magazine, told the Times-Picayune.
Diners ate at long, communal tables, and in keeping with the unassuming atmosphere a "Gone Fishing" sign would appear on the door when Prudhomme declared it closed for vacation.
He became a fixture on television shows, and although he tried various schemes to lose weight — at times he took off more than 100 pounds on a diet — he remained rotund, saying he felt best at about 350 pounds.
Not all ventures went well. A restaurant he started in New York failed, and after a while, local diners grew tired of the long lines and shunned K-Paul's. Finally, in the 1990s, it began taking reservations.
Hinrichs, who was popular with customers for her playful attitude (she placed stars on the faces of diners who finished their food), died of cancer in 1993.
In recent years, Prudhomme, who wrote nine cookbooks, was "semi-retired," Roppolo said. He visited the spice operation every day, Roppolo said, and occasionally dropped in at the restaurant.
"He tasted everything," she said. "It's his namesake."
He is survived by his wife, Lori, and a brother, Eli.
david.colker@latimes.com
Times staff writers Elaine Woo and S. Irene Virbila contributed to this report.
ALSO:
Chantal Akerman, acclaimed feminist filmmaker, dies at 65
BASE jumper Johnny Strange dies in wingsuit jump in Swiss Alps
Kevin Corcoran, known to generations of Disney fans as 'Moochie,' dies at 66
Must-read stories from the L.A. Times
Get the day's top news with our Today's Headlines newsletter, sent every weekday morning.
You may occasionally receive promotional content from the Los Angeles Times.