Roberta Weintraub, former L.A. school board member, dies at 83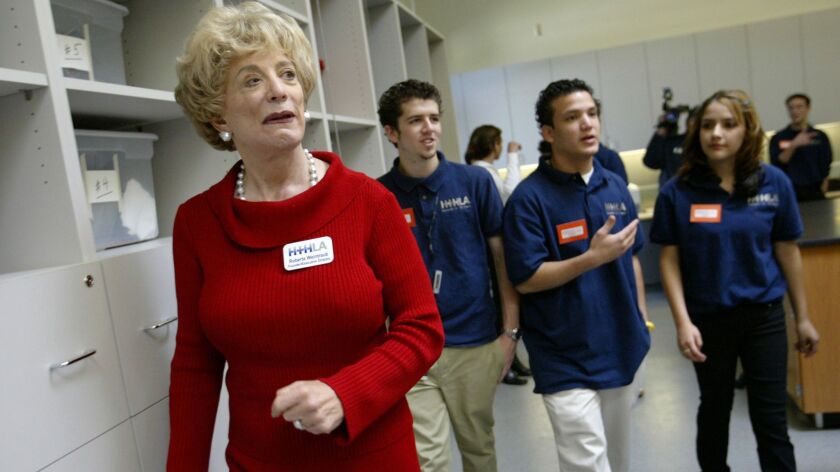 Roberta Weintraub emerged as a polemic figure in the anti-school-busing movement that swept the San Fernando Valley in the late 1970s.
Elected to the Los Angeles school board as an activist, she became a coalition builder, being elected president four times during her 14 years as a school board member.
After an unsuccessful run for Los Angeles City Council in 1995, Weintraub moved from politics to what admirers call her most important work, blending her passions for education and law enforcement.
Weintraub, who founded the Police Academy Magnet School Program, died early Tuesday after a long fight with glioblastoma, an aggressive brain cancer. She was 83.
Former Los Angeles Police Chief William J. Bratton called Weintraub "the guardian angel of the Los Angeles law enforcement community."
In the late 1990s, Weintraub brought the Los Angeles Unified School District and the Los Angeles Police Department into a partnership, founding the Police Academy Magnet School Program to teach high school students the principles of law enforcement, constitutional law and the criminal justice system.
The program has grown to nine campuses.
"With graduation rates that consistently exceeded other school programs, most of these young people went on to college or the military," Bratton said in an email to The Times. "Some of my favorite moments with her while I was chief were the graduation ceremonies of these young cadets and police officers."
"She was an extraordinary woman," added former Los Angeles Police Chief Charlie Beck, who got to know Weintraub through the police training programs.
"The first motivation for Roberta was always kids," Beck said. "She saw this as a way to mold them to a career in which they could be very successful, or preparation for life if they don't become police officers."
In addition to her efforts in law enforcement training, Weintraub in 2004 founded High Tech High, an innovative charter school on the Birmingham High School campus with a focus on science, math and technology.
In 2007 Weintraub returned to law enforcement with a new initiative to fill the gap between high school graduation and the 20-year, six-month minimum age to become a police officer.
Weintraub started the Police Orientation Preparation Program, which combines criminal justice programs provided by the Los Angeles Unified School District, the Los Angeles Police Department, the Los Angeles Community College District and Cal State L.A.
"Together, these programs have touched the lives of thousands of students who are now proudly serving in a variety of roles across many agencies," Bratton said.
A third-generation Angeleno, Weintraub was raised in a household where fighting for the underdog was a way of life, a statement released by her family said.
She attended public schools and graduated from UCLA in 1960. She worked on John F. Kennedy's presidential campaign, participated in the civil rights movement and obtained a certificate in state and local government from Harvard University's Kennedy School of Government.
As a board member she earned a reputation for arguing her beliefs bluntly. She called Rita Walters — then the only African American school board member — a "bitch" during a radio broadcast and sought expulsion of students caught carrying weapons to school.
She also pushed for more magnet schools and helped open the first school-based health clinics that dispensed contraceptives.
Though she entered politics as an anti-busing activist, Weintraub later formed alliances across ideological lines, including with Walters.
"Roberta loved breaking down silos, and was singularly determined to make sure that politics, ideology and bureaucracy never got in the way of getting the right things done," said her close friend Alan Arkatov, professor and Katzman/Ernst Chair in Educational Entrepreneurship, Technology and Innovation at USC.
"That meant a woman riding a conservative electoral wave from the Valley would work closely with a liberal like Jackie Goldberg to make sure that everyone had access to high-quality education and health services. Roberta was the original 'Just Do It' civic leader."
She also went through personal changes. In 1985, her 17-year-old son, Michael, died in a car accident.
She became a fitness fanatic and helped create Students Run LA, a program that encourages children to embrace physical fitness and make healthy nutritional choices.
She hosted a television show, "School Beat," that won an Emmy.
She became known for her flashy suits and dangling earrings. She was divorced and remarried.
After the Northridge earthquake, Weintraub left the severely damaged Sherman Oaks home where she had lived for nearly 30 years and moved to the Westside.
The 1995 defeat for City Council ended her political career but launched a new one.
"There's a lot of women who have made contributions in the city; for me she stands near the top," said former school board member Marlene Canter, who followed Weintraub to the board and idolized her leadership.
"A lot of people, after they're in office, they slow down," Canter said. "Not Roberta. She continued to grow and find new ways to contribute to Los Angeles."
Weintraub is survived by her husband, Ira Krinsky, her son Richard Weintraub, daughter-in-law Liane and grandchildren Ava and Cole. Her stepson Brian Krinsky, his wife, Estelle, and their daughter Lauren also survive her.
(A celebration of Weintraub's life will be held Sunday at 10 a.m. at the Los Angeles Police Academy in Elysian Park, 1880 North Academy Drive, Los Angeles.)
Twitter: @LATDoug
---
Must-read stories from the L.A. Times
Get the day's top news with our Today's Headlines newsletter, sent every weekday morning.
You may occasionally receive promotional content from the Los Angeles Times.