Roger Moore dies at 89; debonair British actor played James Bond in 7 movies
Roger Moore, the suave British actor who starred in seven James Bond movies and brought a likable, comedic dimension to the unflappable secret agent, has died after a short battle with cancer, his family said Tuesday. He was 89.
From 1973 to 1985, Moore was Agent 007 in "Live and Let Die," "The Man with the Golden Gun," "The Spy Who Loved Me," "Moonraker," "For Your Eyes Only," "Octopussy" and "A View to a Kill."
He was often compared with Sean Connery, the Scottish actor who originated the film role and in many ways was the prototypical Bond.
"I'm often asked, 'Who is the best Bond?'" Moore wrote in his 2012 book, "Bond on Bond."
"Apart from myself?" I modestly enquire. "It has to be Sean."
"Sean was Bond. He created Bond," Moore wrote. "He was a bloody good 007."
From 1962 to 1969, Moore starred on TV's "The Saint" as the rakish Simon Templar, a modern-day Robin Hood who targeted wealthy villains. In his later years, he was a globetrotting goodwill ambassador for UNICEF, a job he embraced after his friend Audrey Hepburn cajoled him into it. In 2003, he was knighted for his charity efforts.
Roger Moore, left, was back as Bond again in "The Spy Who Loved Me," here taking on Jaws (Richard Kiel).
(United Artist / Getty Images)
Barbara Bach and Roger Moore, stars of the James Bond movie "The Spy Who Loved Me," leaning on the "amphibious" Lotus Esprit.
(Hulton Archive / Getty Images)
Roger Moore poses as 007, with a Lotus Esprit Turbo, on the set of the James Bond movie "For Your Eyes Only" in Cortina d'Ampezzo, Italy, March 1981.
(Keith Hamshere / Getty Images)
Roger Moore is flanked by Tanya Roberts, left, and Grace Jones on the set of the 007 action film "A View to a Kill," near Paris on Aug. 17, 1984.
(Alexis Duclos / Associated Press)
Three Bonds -- Timothy Dalton, left, Roger Moore and Pierce Brosnan -- gather in London on Nov. 17, 1996, to celebrate the life of American producer Albert R. "Cubby" Broccoli.
(Alastair Grant / Associated Press)
Roger Moore gestures during an interview in Los Angeles, April 22, 1996.
(Chris Pizzello / Associated Press)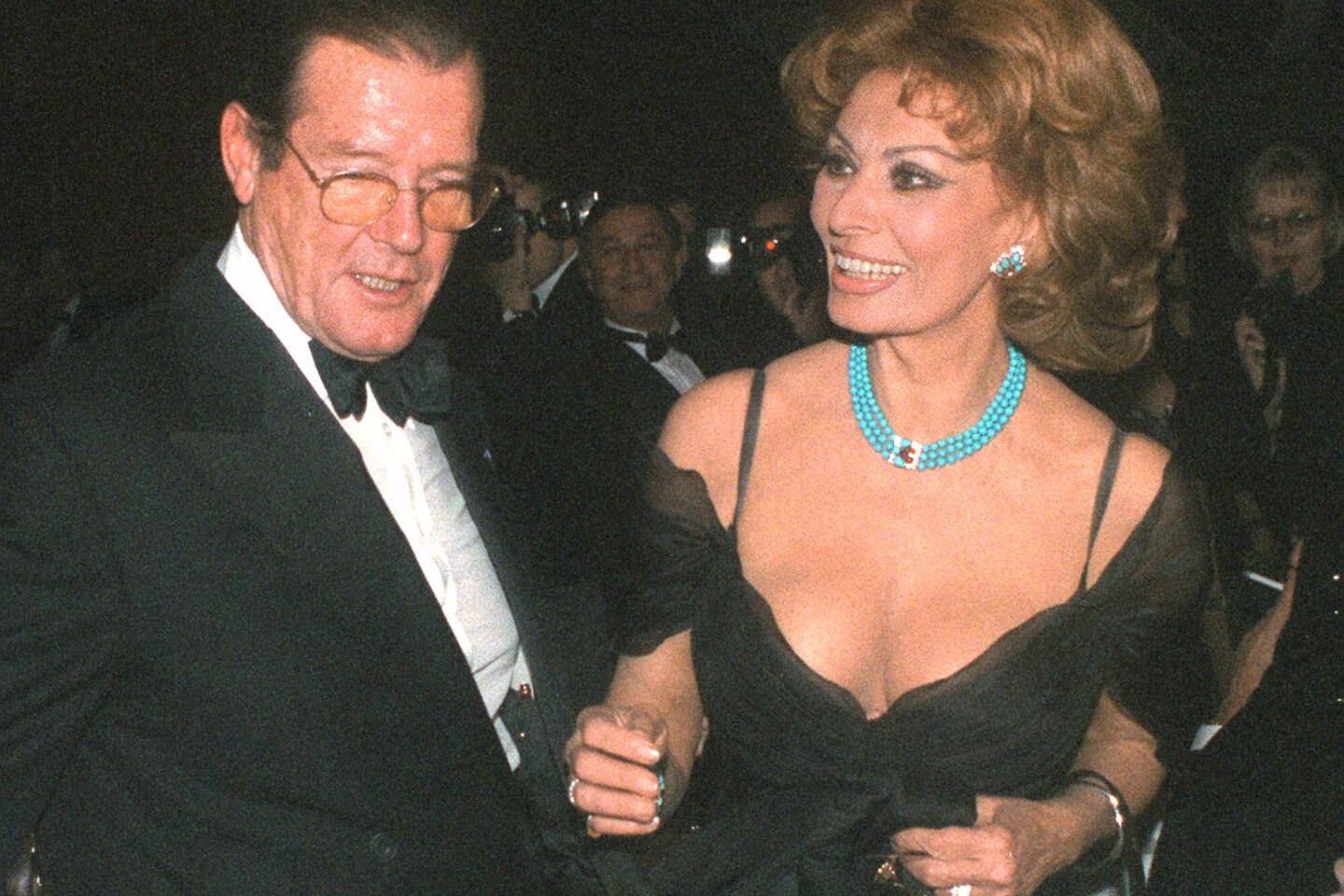 Roger Moore and Sophia Loren head to their table at the Frankfurt Opera Ball in Frankfurt, Germany, on Feb. 13, 1999.
(Bernd Kammerer / Associated Press)
Roger Moore and Christina Tholstrup in London on March 27, 2000.
(Toby Melville / Associated Press)
Roger Moore, left, and singer Bob Geldof at the UNICEF charity gala Cinema for Peace in Berlin on Feb. 10, 2003.
(Jens Kalaene / AFP)
But he was best known as Bond, James Bond—the dashing British spy who, in Moore's hands, never met a woman or a pun he could resist.
In private, he had distinctly un-Bondlike qualities.
He was a hypochondriac. He feared heights and loathed guns, perhaps because a friend accidentally shot him in the leg with an air rifle when he was 15. And he didn't care for vodka martinis, Bond's trademark cocktail; Moore said that if he had just 24 hours left to live, he would order a dry Tanqueray gin martini, with three olives on the side.
In contrast to Connery's dark, rough-hewn good looks, Moore was fair.
"I was fortunately always offered jobs because I was so pretty," he told the London Evening Standard in 2003. "Women used to complain about it!"
I was fortunately always offered jobs because I was so pretty. Women used to complain about it!
— Roger Moore to the London Evening Standard in 2003
Moore was one of seven big-screen Bonds. The others were Connery, followed by George Lazenby, Pierce Brosnan, Timothy Dalton and Daniel Craig. David Niven was Bond in "Casino Royale," a 1967 spoof that was not part of Eon Productions' "official" Bond franchise.
At 58, when Moore announced that he would finally hang up his Walther PPK, he was the oldest of all the Bonds.
Moore recalled that when he took his young son Geoffrey to lunch one afternoon in the early 1970s, he endured an interrogation that would rattle even the suavest superspy.
Asked if he could beat up anybody in the restaurant, Moore said yes, of course he could.
But Geoffrey persisted.
"What about if James Bond came in?"
"I'm going to be James Bond," Moore reminded him.
"No, I mean the real one," Geoffrey said. "Sean Connery."
Decades later, Moore delighted in telling the story of his son's unnerving frankness – while noting that he had gone on to star as Bond in seven movies over 12 years, and had so thoroughly distinguished himself from his most celebrated predecessor that the words "shaken, not stirred" never passed his lips.
Moore later said that Craig had the best build and better acting abilities than the other Bonds.
The subject has been debated as long as maniacs bent on world conquest have sprung open trapdoors and fed their enemies to the ravenous sharks below.
Compared to Connery, Moore conveyed "much more of the flavor of the Etonian dropout that Fleming envisaged," wrote Steven Jay Rubin in "The James Bond Films: A Behind The Scenes History."
He "brought to the role a sophisticated sense of comedy which was not a feature of Connery's style."
When making love to sexy "Bond girls," Moore managed to toss off one bad double-entendre after another without being thrown out of bed. Confronting the world's most demented thugs, like the steel-toothed, flesh-ripping Jaws (played by the towering Richard Kiel), he could seem almost natural when explaining that his new friend had "just dropped in for a quick bite."
Moore claimed there wasn't much of a trick to it; he was going for laughs, he said, not high drama.
"I only had three expressions as Bond," he joked. "Right eyebrow raised, left eyebrow raised, and eyebrows crossed when grabbed by Jaws."
Critics were sometimes unkind.
The New Yorker's Pauline Kael likened Moore in "The Spy Who Loved Me" to "an office manager who is turning into dead wood but hanging on to collect his pension."
Moore himself confessed to feeling too old for the Bond role a couple of years before he gave it up.
"After 'Octopussy,' I resigned myself to thoughts of retirement," he said. "There are only so many stunts an aging actor can tackle, and only so many young girls he can kiss without looking like a perverted grandfather."
Born Oct. 14, 1927, in London, Roger George Moore was the only child of police officer George Alfred Moore and his wife Lily Pope Moore.
As a teenager, he showed some talent for art and landed a part-time job as an animator-trainee at a movie studio that made World War II military training films.
He also worked as an extra on films in London and, for two terms, attended the Royal Academy of Dramatic Art.
"They taught me to talk 'properly' without a South London accent, the art of mime, fencing, ballet (I wasn't too keen on that) and something called 'basic movement,' which consisted of wearing swimming shorts and bending and stretching whilst swinging my arms," he wrote in his 2008 memoir, "My Word is My Bond."
One of his classmates was Lois Maxwell, who became the brisk but playful secretary Miss Moneypenny in 14 Bond films.
Moore struggled like many other actors.
He picked up jobs in London plays, but also modeled for women's magazines and knitwear ads. In 1953, he appeared on Broadway in "A Pin to See the Peepshow," a play that opened and closed on the same day.
Still, his performances in early TV dramas brought him recognition from Hollywood, where he signed on with MGM and appeared with Van Johnson and Elizabeth Taylor in "The Last Time I Saw Paris" (1954). Other films followed, including "The King's Thief" (1955) with David Niven, a close friend who cavorted with Moore for decades at their Swiss chalets and in Monaco, where Moore settled to avoid what he felt were excessive British taxes.
Before Moore's breakthrough role in "The Saint," there were other TV series, including "Ivanhoe" and "The Alaskans." Moore also played James Garner's refined British cousin Beauregarde on the TV western "Maverick."
After "The Saint," Moore starred with Tony Curtis as playboy-investigators in "The Persuaders!" a 1971 series more popular in Europe than in the U.S.
"There was no sudden moment when I was famous," he told the York Press, a British newspaper, in 2014. "It was all sort of gradual. It went from one begging letter a month to 400."
Asked how he dealt with that, he said: "I keep writing them."
He did many other movies but remained most closely identified with Bond. In 1981, he played a Bond wannabe – in actuality a girdle magnate – in the zany "Cannonball Run" with Burt Reynolds, Farrah Fawcett, Sammy Davis Jr. and other big names.
Moore took home a best-acting Oscar in 1973—but kept it for less than 24 hours.
He and Liv Ullman were presenters when Native American activist Sacheen Littlefeather declined the award on behalf of Marlon Brando for his title role in "The Godfather." Moore took the statuette to his overnight digs at the home of Albert "Cubby" Broccoli, the Bond producer, where armed guards picked it up the next morning.
Moore was married to ice dancer Doorn van Steyn; British actress Dorothy Squires; and Luisa Mattioli, an Italian actress he met in Rome while filming "Romulus and The Sabines" (1961). Those marriages ended in divorce.
In 2002, he married Kristina "Kiki" Throlstrup, a former neighbor on the French Riviera who connected with Moore over their individual struggles with cancer.
In addition to Throlstrup, his survivors include the children he had with Mattioli: Geoffrey, Deborah and Christian.
With typical self-effacement and Bondian charm, Moore described all his wives as "lovely ladies with bad taste in men."
ALSO
Dina Merrill, heiress and actress, dead at 93
Roger Ailes, polarizing and controversial Fox News founder who changed cable news, dies at 77
Chris Cornell, who helped reignite hard rock in the 1990s with Soundgarden, dies at 52
---
UPDATES:
7:20 a.m.: This article was updated throughout with additional details.
The article was first published at 6:30 a.m.
Sign up for Essential California for the L.A. Times biggest news, features and recommendations in your inbox six days a week.
You may occasionally receive promotional content from the Los Angeles Times.